Succulents are a kind of plants that store water in their leaves, stems, or roots. They are adapted to water storage and thrive well in low light. They have thick fleshy tissues as compared to other genus and species of plants. Succulents don't like a lot of humidity and best thrive in dry climates mostly. Low light succulents are one of the varieties of cactus.
Some succulents store water in their stems (e.g., cacti) while mostly store water in their leaves (e.g., agaves). Such sort of plant is found in more than 60 plant families. Some of them prefer warm temperatures, some can withstand freezing temperatures too, however, there is the kind that shows color change when given a shock (such as extreme sunlight).
Best Succulents for Low Light to Grow as House-plants
Low light succulents
Low light succulents require minimal exposure to sunlight and do well under artificial lights too. They are low maintenance plants that do quite well with minimal care. Low light conditions are a location away from a window indoors or in a lightly shaded setting outdoors.
Following are the best low light succulents. They can be divided into the following categories
Varieties to display on a tabletop, desk, etc.
Types that grow in beautiful baskets
Kinds that produce beautiful flowers
The Variety That Grows on Tabletops
Snake plants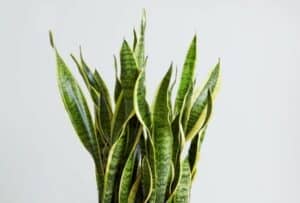 Botanical name: Dracaena trifasciata or Sansevieria trifasciata.
Snake plane is commonly known as mother in law's tongue. They are ideal for beginners because they are almost impossible to kill.
Requirements:
They are drought resistant can live in low lights but also adapt to bright light under unfavorable conditions.
Overwatering, they can cause rotting.
Size:
They have large varieties that grow from few inches to few feet tall.
Their leaves mostly grow in an upward position in a curly manner, similar to snakes.
Leaves:
They have stiff banded and upright leaves which are sometimes broader and yellow to brown.
Can grow up to 2 feet long.
Uses:
They were kept as treasured plants in china when first cultivated because they release oxygen unless other plants release carbon dioxide, hence considered good for purification of air.
Toxicity:
They are mostly toxic to animals like cats and dogs. If ingest by humans, they cause pain and nausea while in animals they cause excessive salivation with pain and extreme nausea.
Lance Aloe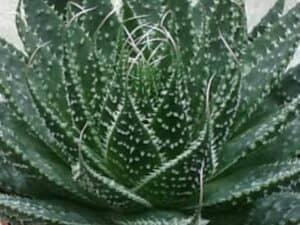 Botanical name: aloe aristata
Lance aloe is commonly known as "aloe". Aloe is a conservatory evergreen perineal houseplant. It is a low-maintenance houseplant that shows dramatic foliage and grows successfully on low or poor soil.
Requirements:
For best growth requires well-drained potting soil and bright light but it does well without these conditions too.
Better to water them as low as possible.
Size:
It mostly grows 8 inches tall with a spread of about 20cm or about afoot.
Leaves:
They contain thick fleshy leaves that store a sufficient amount of water, lanced shape with thick white spots.
Toxicity:
It can be poisonous to animals like cats and dogs.
Panda Plant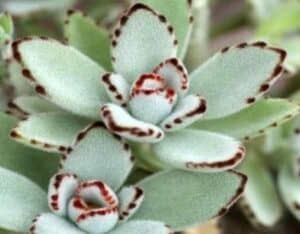 Botanical name: Kalanchoe Tomentosa
Panda plant also known as soldier ears thrives well in low to medium indirect light. Direct light sometimes damages their leaves
Size:
They grow beautifully in 30cm to 90cm in height and spreads about 60cm to 90cm
Leaves:
The leaves of these succulents are covered in soft fuzz making them irresistible to touch.
Reddish-brown markings are present at leaf edges with white fur like that of a panda.
Uses:
They can be used as garden plants such as beds and borders, patios, and containers.
Toxicity:
They are toxic and can cause vomiting and diarrhea. They can be fatal if ingested in large amounts.
Hanging Low Light Succulents
The string of hearts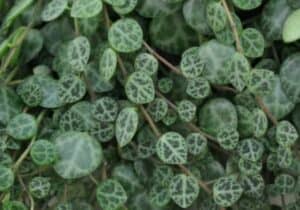 Botanical name: Ceropegiawoodii
Strings of hearts sometimes also called rosary veins are tiny succulent plants that grow both in high and low lights but blooms only in ample light conditions. Too much sunlight can scorch the plant.
Requirements:
They require periods of drought between their watering.
Requires periodic rotation of plant for proper growth on all sides.
Overwatering results in the yellowing of leaves and eventually leaf loss.
Size:
Heart-shaped with slender veins can grow up to 12 inches long.
Leaves:
They bear tiny variegated leaves, the veins of which sometimes grow 3 inches long.
Uses:
They are mostly used for ornamental purposes.
Toxicity:
The plant is not toxic itself, but the leaves and stems can hook and grab onto other things easily.
Burro's tail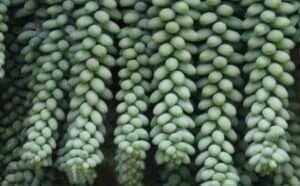 Botanical name: Sedum morganianum.
They are easy to grow and propagate and look perfect in hanging baskets. Propagation is sometimes even by the fallen leaf.
Requirements:
Requires full to partial exposure to the sun, grows well in low to medium light too.
Morning sun provides the perfect low light for its growth, requires an ample amount of water as required by other low light succulents.
Can be scorch in extreme conditions of light and water.
Size:
The plant grows beautifully up to 48 inches or 120 cm
Leaves:
Beautiful twisted leaves are seen which are surprisingly fragile they simply fall off with a gentle touch.
In need of propagating a new plant using a leaf, make sure to get a clean pull of leaf from its stem.
Uses:
They are used as houseplants in areas that receive a low amount of light.
Toxicity:
They show no toxicity to animals.
Flowering Low Light Succulents
Flowering low light succulents are the best indoor succulents plants. They are as follows.
Wax plant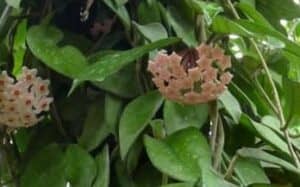 Botanical name: Hoya carnosa
They are stunning and long-lived indoor plants, unique plants native to southern India. They are epiphytic and best for houseplants.
Requirements:
They need bright indirect light, high light may burn the plant.
Frequently watering the plant is necessary to keep the soil moist.
They require an optimum temperature of about 65-degree celsius.
Size:
Can be as short as 2' or as long as 4'
Leaves:
The leaves are star-shaped, with a thick leathery surface.
The leaves are somewhat creamy-textured along with pink clusters of flowers.
Contain long vines that grow along with the leaves.
Uses:
Popular houseplants often use for their strong aromas. For this purpose, they are also used in powders, creams, and lotions. They are also known for their use as pollutant removers in nurseries and indoor environments.
Toxicity:
It produces waxy latex which is toxic if ingested in a large amount. But it doesn't mean that the plant is toxic.
Holiday Cacti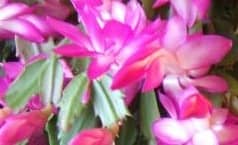 Botanical name: Schlumbergera truncate.
Holiday Cacti is an epiphytic plant that typically blooms around the US thanksgiving period. The other member of this family is S. x Buckley which is also known as Christmas cacti as blooms around a month later.
Requirements:
As the name suggests, they do not enjoy a high amount of lights as the other cacti. A minimal amount of light helps the plant to bloom. Like other cactuses, these plants do not thrive in humid, arid climates.
Size:
Height: 0 ft. 6 in. – 1 ft. 0 in.
Width: 1 ft. 0 in. – 2 ft. 0 in.
Leaves:
Their leaves are sort of hairy. Technically this plant has no true leaves; they are cladodes (a type of stem)
Stem section:
The color of the stem is white and pink. The surface is smooth and glabrous. They are sessile, thick with hairy ends.
Uses:
They are used in hanging baskets as houseplants
Toxicity:
The schlumbergera plant is not poisonous to humans and cats. But the fibrous substance of plant can cause vomiting and diarrhea.
Propagation of low light succulents
There are various and different methods of propagation of low light succulents. Some of them are mentioned below.
Propagation from leaves:
The most broadly used technique for the propagation of low light succulents is through leaves. The initial step is to take a leaf from the parent plant. You can utilize the fallen leaf or delicately pluck out one from the actual plant. Continuously utilize a rotator and pulling movement while pulling out a leaf with the goal that it doesn't break halfway.
Ineffectively culled leaves can bring about harmed roots. The next stage is to put the culled leaf on the paper-made towel and ensure that the closures of the plant have altogether dried.
This will guarantee that they will not rot when planted once more. Following a time of not many days, place the leaves on top of the low light succulent soil.
Try to put the leaves under brilliant daylight and splash them with water at whatever point the dirt dries out. This must be done three times per week. Following a range of few weeks, the roots will start to grow, and the baby succulent plant will develop.
At the point when the baby succulent plant will accomplish tallness of two inches, eliminate the leaf, remove the plant from the dirt pot and replant it. Try to forestall extreme tension on the roots on the grounds since you need to cover them with pot soil.
Low light succulents care
Low light succulents have irregular shapes and heavy textures. They incorporate a wide variety of colors and blooms and thrive in almost every season. Low light succulents are not a floral family but a diverse group of plants that add dramatic effect placed in any container.
Low light cactus is one of the numerous types of low light succulents; there is a bunch more to discuss. The following is a brief guide to caring for low light succulent plants.
Small and miniature containers
Small and tiny containers for indoor cultivation of low light succulent are a safe bet. When the weather is too cold outside, it is not favorable to grow them in cold weather and harsh conditions.
In the spring season, you can sow them directly in the soil but your flora will die out as soon as winter will strike. So, small and miniature pots are ideal for rare succulent and exotic succulent plants.
Correct positioning
Make sure to locate the plant in a correct and adequate position where there is lesser sunlight which will prevent excessive water loss.
Keep away from drafts
Keep your plant away from doors, walls, and air vents to avoid being harmed by draughts.
Fertilize them thrice a month
Make sure to water the low light succulent species with a measured amount of water because excessive water can result in their death.
With that make sure to fertilize the species thrice a month with any suitable fertilizer. It's time to water the plant when the top three inches of soil are dry.
Related Posts:
Summary
Low light succulents are easy to grow and handy plants. They grow slowly and hardly need any pruning. If you choose low light succulents for your inside space, you can avoid fungus and insects easily. You definitely should choose low light succulents to enhance and augment your indoor space.