A kind to its relative philodendron, Homalomena Selby is a tropical plant native to the humid rainforests of Southeastern Asia. This flora is among those hundred species of tropical plants in the aroid family of Arecaceae. Their name refers to flat moon plants.
They are clump-forming evergreen flowering perennials usually used now as household plants. The plants grow into beautiful shrubs. 'Selby's' compact growth habit contributes to its appeal for indoor collections. Often praised for its tolerance of low light, disease resistance, and ease of care.
Family: Arecaceae
Subfamily: Aroideae
Genus: Homalomena
Cultivator: Homalemona Selby
Varieties of Homalomena Houseplants
The varieties of Homalemona Selby may include:
Emerald Gem: they have beautiful dark green heart-shaped leaves
Purple Sword: present with green and silver-spotted foliage and an underlying burgundy color
Selby: green spotted leaves with dark green edges.
Pewter Dream: these are the plants that have a powdery gray sheen on their green foliage
Lemon Glow: present with oval leaves of a vibrant greenish-yellow
Features and Characteristics of Homalomena Selby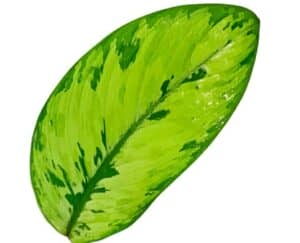 Leaves:
The leaves are thick, lush, large, and leathery. They develop from the center of the plant and grow upwards and outwards.
The leaves appear to be waxen. The leaves are shaped like a heart or a semi-heart.
Foliage and stem:
A Homalomena Selby plant features oval, light green foliage with dark patterns, and heavy dark markings present all over. The striking is characterized by light to medium oval foliage with dark green sprouts.
Height:
The mature plant reaches a height of about12 18 inches with a spreading of about 15 to 18 inches. The tall leaves grow in an upright position contributing most to their height.
Needs and Requirements of Homalomena Selby For Good Growth
Temperature requirements
These plants are easy-to-go plants. Because they belong to a humid, warm, tropical background, just like others they do well in warmer temperatures. As a houseplant, Homalomena Selby needs a temperature of 60-90 degrees Fahrenheit (16-32 C.). It can survive in temperatures as low as 40 degrees Fahrenheit (4 degrees Celsius) with little to no damage.
Humidity tolerance requirements
Homalomena Selby is a sort of humidity-loving plant. Lack of moisture around them can make them look ailing. Thus, do not hesitate from making extra efforts to enhance the water content in the air around them. Always allow the top 2 inches of the soil to dry out.
Light tolerance requirements
Homalomena Selby likes medium and indirect light exposure but can also continue living in lower for it to grow quite slowly. Direct exposure to sunlight can burn the leaves. Homalomena houseplants thrive in medium to low light environments, but they really flourish in medium light. Overexposure to the sun will scorch the plant, resulting in burnt spots.
Drought resistance requirements
Even though they are not very frilly about frequent watering, Homalomena plants don't fit fine under complete water-deficient conditions. They need a constant supply, through spraying or naturally humid air.
Fertilizer requirements
Feed with a slow-release fertilizer once every four to five months following the instructions on the packet.
Pressure tolerance requirements
Unfortunately, these plants are not strong and tough enough to resist pressure, because they are highly sensitive and twist around with a touch. Also, keep them away from pets and children, so they don't crumb on the leaves and destroy them.
Disease and pest resistance requirements
One of the main reasons why they are loved as houseplants is because they are pest and disease resistant. It is a rare site that Selby gets ill or unwell. However, a plant living in scarce conditions is almost always prone to such problems.
Toxicity
Better to keep this plant away from yours pets and children and also indoors. Be careful with where you place them. Homalemona Selby is a very toxic plant, so you must be extra cautious with it. Do not let anyone ingest it. Otherwise, it would be quite fatal.
Homalomena Selby Propagation
Propagation with stem cuttings
The first step to propagate Homalomena Selby plants via stem cuttings is to take a sharp and fine pair of scissors and cut a piece of the stem of the plant. The leaves in the periphery and on the center can be omitted. Before you replant the stem cutting again in the soil, make sure to dry it out for some days and prevent it from rotting.
The second step is to bury the base of the stem in the soil so that it starts growing again. Baby selby homalomena will grow in a week and all the old leaves will be replaced. Always use multiple and various leaves and provide the plant correct amount of sunlight and water to ensure better propagation.
Propagation from leaves
The most widely used method for the propagation of Homalomena Selby is through leaves. The first step is to take a leaf from the same family plant. You can use the fallen leaf or gently pluck out one from the plant itself. Always use a rotator and pulling motion while plucking out a leaf so that it does not break off midway. Poorly plucked leaves can eventually result in damaged roots.
The next step is to place the plucked leaf on the paper-made towel and make sure that the ends of the plant have thoroughly dried. This will ensure that they will rot when planted again. After few days, place the leaves on top of the Homalomena Selby potting soil. Make sure to place the leaves under bright sunlight and spray them with water whenever the soil dries out.
This should be done thrice a week. After a span of fewer weeks, the roots will begin to sprout, and the baby Homalomena Selby plant will grow. When the baby plant will attain a height of three inches, remove the leaf, take the plant out of the soil pot and replant it. Make sure to prevent excessive pressure on the roots because eventually, you need to cover them with pot soil.
Propagation using Seeds
You would require new seeds to propagate Homalomena Selby from seeds. Pick the seeds from the base of developing H. Selby plants. It is vital to wash the seeds in acidic water before utilizing them. A seed germination soil blend should likewise be prepared.
A coco-peat mix additionally functions well. Spread new seeds on top of the mix until it is prepared. Seeds can be delicately covered. Be certain the container is presented to backhanded light and is kept at room temperature. The seeds will require thirty-five or even seventy days to grow.
Propagation using Tissue Culture
Propagating Homalomena Selby plants from root cuttings is the most ideal approach to guarantee a good outcome, despite the fact that it tends to be trying for amateur groundskeepers. But, as long as you are careful, it isn't particularly troublesome. A plant is taken out from its parent plant by its foundations and planted in another holder in this cycle.
It is fundamental to hold a recently planted plant in fractional daylight. In around six to eight days, the new plant ought to have the option to set up its underlying foundations.
Precautions:
Potting media used for the propagation of plants should be well-drained and free from pathogens, which could affect and stun the growth of a plant. As with any pests, be sure to keep your eye out for them & take control as soon as possible. They spread from houseplant to houseplant very quickly.
Varieties of Homalomena houseplants
There is a large variety of Homalomena Selby plants comprising almost a hundred and more species. However, most of these plants are not widely available on a commercial scale. Some of the Homalomena species that are commercially available for ornamental purposes are as follows.
Emerald Green: Emerald Green is a fascinating Homalomena plant. It is known for its dark, heavy, shiny, and slimy heart-shaped leaves.
Purple Sword: The purple sword is another Homalomena plant that is used for ornamental purposes with green and silver hues.
Selby: Selby is ornamental Homalomena species with elongated leaves that are lighter to dark green.
Pewter Dream: Pewter Green is powdery gray and is widely used for indoor decorations.
Lemon Glow: Lemon glow comprises oval and rounded leaves that are yellow. The color is super vibrant and beautiful for indoor spaces.
Related Posts:
Summary
Homalomena Selby is an extensive family of plants. Like all other plants, they are easy to grow and handy and takes very little effort in cultivation and growth. They grow slowly and need pruning periodically. You can never go wrong if you are choosing this plant or any other plant of this family as ornamental pieces inside your home or for your indoor spaces.
Precautions should be taken while handling them considering their higher toxicity threshold. If you choose homalomena Selby for your inside space, you can avoid fungus and insects easily.