Every plant lover can agree with the fact that a stunning, low-maintenance plant that has a unique appearance is the perfect adoption. Well, there is a plant from the genus of Alocasia that will make your eyes glued to it as soon as you see it. Let's welcome, Alocasia Odora Variegata.
This striking tropical plant is the next perfect upgrade to your patio, lawn, or sitting room. It adds to the freshness in the atmosphere and has beautiful, wide leaves with white variegation. In fact, this plant is often known as 'The Elephant's Ear' due to the oversized nature of leaves. Alocasia odora Variegata is native to tropical regions in Asia and Australia and loves to thrive in highly humid, warm areas.
Are you excited to learn more about this plant? Keep reading to get awe-struck.
Alocasia Odora Variegata Classification
Family: Araceae
Subfamily: Aroideae
Genus: Alocasia
Species: Odora
Genus Alocasia:
The genus Alocasia is a genus comprising of tropical and subtropical flowering houseplants. It belongs to the tropical Asian region and East Australia. It comprises 97 accepted species that have different shapes and sizes. Some famous species are Alocasia Augustania, Alocasia odora, and Alocasia Robusta.
These perennial plants are widely known for their beautiful feature which includes brad leaves, unnoticeable blooms, etc. The stems have small stalks that connect leaves to stems and keep them upright towards the sun.
The leaves are found in a variety of shapes. Some of them are cordate- heart-shaped and some are sagittate- arrow shapes with edges pointing downwards. The length of them ranges between 8-37 inches depending upon the environment. a unique thing about them is that there is the growth of miniature flowers which aren't much visible. Usually, they are hidden behind the petioles.
Like other tropical plants, these babies also need timely checks and care. Although they are widely seen as pot plants that are kept indoors, they can also be raised in a greenhouse. These houseplants are pretty adaptive in terms of the environment but are not used to extreme temperatures. They stay happy in warm weather. Overall, they are an excellent addition to patios, lawns, and even indoor sitting areas.
From this genus, there is a very exquisite plant that draws attention to itself by its beauty. Are you interested in knowing about that plant? Keep reading and you will get amazed as you learn about Alocasia Odora Variegata.
Features of the Alocasia Odora Variegata Plant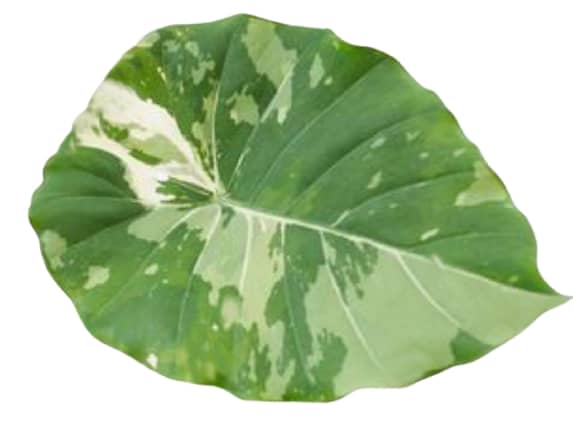 Size:
If Variegated Alocasia Odora is provided with a suitable, healthy environment, their growth is at a fast pace. Within 2-3 months, they can reach up to a mature height. Under good care, they can reach up to a height of 2-8 feet and spread about 3-4 feet. hence, they do require space horizontally and vertically as well. This should be kept in mind while choosing a location for this plant.
You should make sure that once the plant matures, it should have enough space for it and not struggle in this aspect. It is highly advised to not crowd different plants so keep a separate space available for this perennial.
Leaves/stem:
This tropical plant has pretty unique and beautiful leaves. Each leaf is different, with different hues of green and a hint of white on them. Some have a deep green shade while others have blended color variations.
Do you want to know what's most interesting about them? The leaves are in the shape of a heart which makes them very appealing. Each succulent stem has one wide, marbled leaf which stays the same throughout the year. Well, yes, that means this plant maintains its health in all four seasons.
These upright plants also have flowers that usually bloom only during the summer and spring seasons. Although the foliage is their main attraction, sometimes fragrant flowers add beauty to these plants.
Alocasia Odora Variegata Toxicity:
When it comes to toxicity, you should take extra care. Always keep your kids and pets away from your adopted odora Variegata babies. This is because if this plant is chewed, licked, or ingested, it could be fatal. There is a high possibility of being poisoned by Alocasia odora variegated. Hence, it is better to take precautions instead of cures.
The juice of the leaves has high levels of calcium oxalate. It is an insoluble chemical and its crystals can cause severe skin infections if there is direct contact. Other severe side effects include inflammation of the mouth, tongue, throat, and swelling of the tongue as well.
Other than this, if we focus on a general threat to health, that can also not be ignored. Plants often have a high amount of bacteria sitting on the leaves and stalks. This could be due to poor care or unsuitable growing conditions. Whatever the reason is, the threat is still there. Therefore, take extra care when you are around this plant.
Dormancy:
This plant does not grow during winters but that does not mean that it stops retaining its health. During this period, it only maintains its beauty. However, fertilization and propagation shouldn't be done during this period. Just rest and allow your plant to enjoy some time off as well.
Alocasia Odora Variegata Care
Taking care of alocasia odora variegata is a bit tricky since they demand specific temperature, water, and light requirements. However, you should know that major thinking has to be done at the initial stage only. You should have a plan ready when you get this plant and then keep adjusting it until you finally crack the code.
There is no shortcut, you should keep a close eye on your plant to know if you have to make any changes. Do not worry, it is not that hard as it sounds. Once you get the hang of your plant's needs, it becomes very easy to raise this perennial plant.
Have a quick look at a summarised guide of how to take care of Variegated Alocasia Odora:
Water levels: Average levels
Light: Varies plant to plant
Humidity: High levels
Fertilizer: During growing season- summer and spring
Let's move forward to a detailed guide about how to help these plants thrive well:
Water requirements
Although alocasia is a moisture-loving plant, there is still a water limit that you should keep in mind. They do not like to get dry, but also the soil should never be drenched in water. The ideal technique is to water them till the soil gets completely moist. After that, you should wait till the top layer dries out.
Now the question arises that how do you know that? You can simply use your finger and insert it into the soil. Check if the first 3 inches have gotten dry. If you are unsure about it, moisture scales can also be used for an accurate reading. If the soil is dry, water the plant but only till it again gets damp.
Remember, you should avoid over-watering at all costs. Another tip is to also check the pot's bottom to see if there is any water leakage. Sometimes the topsoil gets dried quickly due to direct sunlight, but from the center and bottom, it's still drenched in water. Hence, be careful and water wisely.
If much attention is not provided in this area, water-logged soil can cause root rots to occur. This leads to roots dying and then eventually the plant will die too. If such a situation occurs, leave the plant in partial sunlight to get dry. After that, re-pot the plant and trim the dead roots. Make sure the soil and pot you choose are both well-draining.
Light requirements
There is no particular guideline for sunlight level since that varies from plant to plant. The ideal is that it depends on leaves. If the plant has leaves that have more green shade than white, your plant should be kept in a well-lit and bright spot.
However, light must not be direct, instead, choose a spot with indirect sunlight. The idea behind this is that green areas of leaves contain chlorophyll which needs sunlight to photosynthesize. To provide the plant with enough energy, these leaves require more light than leaves with a higher white ratio.
Keep in mind, that over-exposure can also burn the leaves. Not only this, but foliage can also get weak and damaged. Scorching sun rays can be blocked by using a shade cloth or even a curtain. Otherwise, artificial lights also work well for these plants.
Soil requirements
Alocasia odora Variegata demands soil that is acidic to neutral PH 5.6-7.5. It must be well-draining and airy to not retain water for long periods. The texture shouldn't be loamy, nor too sandy.
A suggested mixture is bark, peat moss, and perlite. Pay close attention to the texture. Other than that, never compromise on the quality of soil because the minerals in soil have a major impact on a plant's health. Hence, use a top-notch quality soil mixture.
Temperature and Humidity requirements
Alocasia Odora Variegata prefers growing in warm temperatures. It does not thrive well in extreme climates. If your temperature falls below 60 Fahrenheit or goes above 80 Fahrenheit, the plant's growth is hindered.
If you live in an area where weather changes are harsh, you should relocate your plant. Relocate to a spot where you can control the temperature to prevent your houseplant from dying. Moreover, you should also focus on the fact that these plants are not a fan of direct air sources. Hence, maintain a distance between them and fans, heater or air conditioner as well.
As you already know, alocasia odora is native to tropical areas and that is why it's a humidity-loving plant. If there is no sufficient natural humidity available, there are various ways in which you can increase humidity levels.
One way is to do misting often to avoid getting the surface of leaves getting dry. If you can afford it, an indoor artificial humidifier is also an option that can contribute to increased humidity levels. Another easy technique is to group several moisture-loving plants to boost up the humidity levels.
Fertilizer requirements
It is preferred that fertilization should only be done during the growing season-summer and spring. The idea behind this is that this plant is dormant during winters so there is no need to fertilize in that period. Liquid, granular can be used in minimal doses often in the growing season. However, keep in mind that spraying must be done at least 6 inches away from the plant. This saves the root from being burnt. Also, make sure you do not use a cheap or low-quality fertilizer. This could be fatal for Alocasia odora variegated.
Repotting requirements
This has to be only once a year. Make sure you choose a bigger, well-draining, breathable pot and put fresh, nutrient-rich soil in it.
Alocasia Odora Variegata Propagation
Propagation can be done easily after winters, during the growing season. Propagation can also be managed during repotting. Have a look at a detailed guide of how to propagate Alocasia Odora Variegata:
Take out plant from the pot and clean any excess soil on it
Keep all rhizomes separate and place them in pots with well-draining soil
Position the rhizomes upright and make sure they do not stumble or fall.
Water when the need arises
Make sure temperature, humidity, and light are appropriate. (Refer to the guide above)
Related Posts:
Summary
Alocasia Odora Variegata is a very graceful, statement plant that belongs to tropical, subtropical Asia and eastern Australia. It has a perfect size which makes it appropriate to be used as an indoor aesthetic decor piece to any cozy corner.
This elegant plant has long heart-shaped leaves which have blended shades of white and green. In fact, the white variegation on them classifies them as Alocasia odora Variegated.
They are an excellent addition to your patio, kitchen corner, or even your balcony corner. It demands a little extra attention but doesn't every beautiful thing need extra care?