Who does not like to have rare succulents to adorn their interior? They are small in size and look beautiful, and while some of them can be grown in small pots, some easily grow outside. If you take good care of a succulent, it will surely be a sight to see for quite a long time. Though just like with every plant, they can be either really easy to find others may be hard to come across.
If you are planning to grow your own there are many that do not need much care and can be grown with little attention. These succulents are long-lasting can be left on their own without worry.
In this list of top 10 rare succulents, we will show you some really beautiful ones that grow in the deserts of North America and Africa.
Conophytum Subglobosum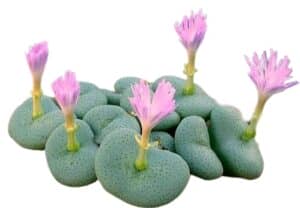 This succulent is from the conophytum genus, which is part of the Aizoaceae family. They usually are found only in the Namibian Desert as well as in South Africa. That's why they are included in our list of rare succulents. Its name comes from the Latin word Conus, meaning cone, and from the Greek word phytum, meaning plant. They usually grow rather slowly.
Conophytum Subglobosum is green in color and has many small black dots on it. On its top, you will see white and yellow-colored flowers which will resemble quite a bit with daisies.
They thrive usually in seasons of rain, but not in the summer. But the most unique aspect of the conophytum subglobosum is its flowers. Though you'll get to see the flowers blooming only in the months of fall. In months of fall also, the flowers will have their petals open at night time and will close once daytime starts.
The leaves do possess a scent but it is very faint. The root system is rather rudimentary and filamentous. They are usually pollinated by moths that are nocturnal.
Pachyphytum Compactum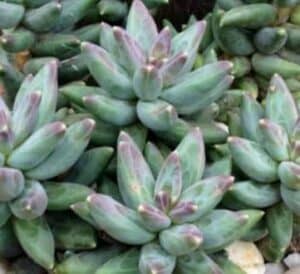 Pachyphytum Compactumbelongs to the family of Crassulaceae. These are found only in Mexico though, which makes them one of the rare succulents. The name is derived from two Greek words, pachys, which means thick, and phytum which means plant.
The plant is also known as little jewels. It has long and pointy leaves, that are a mix of green and grey colors. Though the ends of the leaves have veins which makes them very rare. It's because of the leaves though that the plant sort of looks like a gemstone, that's why it is called a little jewel. It doesn't require any kind of sunlight and can grow with ease in shady areas, casually minding its own business.
Temperatures below -6 Celsius will easily be able to kill the plant. Therefore care must be taken to ensure that the plant be kept where the temperature doesn't go below 7 Celsius
Though being a plant found in deserts it is able to tackle quite a lot of heat. The leaves that are the lowest though should be monitored. And when they dry up is when you should water this succulent.
Othonna Capensis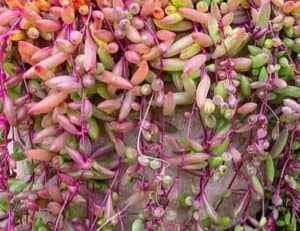 Othonna Capensisis is what can be truly one of the rare succulents. As it grows only in South Africa. It belongs to the Othonna genus which is a part of the Asteraceae family. It has two nicknames though, little pickles as well as a ruby necklace.
This exotic succulent needs somewhere from a lot of sunlight to some partial shade. It is best to keep this succulent outside. Not really suited at all to be grown inside spaces that have no sunlight getting to them.
Don't expect much activity from it in summer though as it is dormant in those times. It can grow up to about a foot in length, that's about 30.5 centimeters. In terms of width, it can grow to about two feet or some 61 centimeters.
Watering this succulent is just like watering any other, make the soil completely wet, and when it is dry, water the plant again. Growing it is also easy, by cutting the stem. Though the Othonna Capensis is not really strong to survive cold winters, the most it can take in summers is about -7 Celsius.
Ariocarpus Trigonus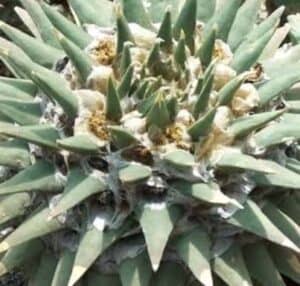 AriocarpusTrigonusis a part of the Cactaceae family. Being one of the rare succulents it is found only in the Nuevo Leon and Tamaulipas regions of Mexico. Another name for this succulent is the seven-star cactus.
It can grow up to 25 centimeters in length, and rises over the ground level, but just slightly. The leaves are a mix of yellow and green colors. The top is round, the stem can go up to 30 centimeters in width. The tubercles are a mix of yellow, brown, and grey. They can go from being about 8 centimeters long to about 3 centimeters wide. The root is of tap kind.
But the factor that really makes the Ariocarpus Trigonusan exotic succulent is the flowers. They can go from being cream-whitish to yellow-whitish in color. The flowers can be about 4 centimeters long and about 5 centimeters in diameter. The flowers come in a sheen that is of satin.
One can usually find it to be growing in large colonies and huge patches. Unfortunately, some of its previous Mexican habitats are now being used to make aloe vera, displacing this succulent.
Tephrocactus Articulatus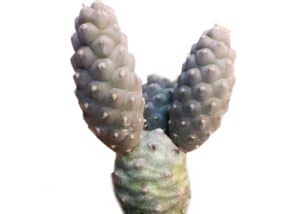 Another addition to our list of unusual succulents is the Tephrocactus articulatus. It is rare because it actually originates in the deserts of Argentina. However, some of them are also found in places like Phoenix, which is in Arizona. It belongs to the Opuntioideae subfamily of the Cactaceae family. A common name for it is paper spine cactus.
The Tephrocactus articulatus is a succulent though that grows a bit slowly. It can be grown from seeds as well as by cutting the stem off. The segments are little and can fall off easily, as they are attached rather loosely and are shaped like pinecones. TephrocactusArticulatus can grow to about a foot in length.
The flowers are shaped like bells and have a center that is yellow. They can be about 4 cm in diameter, which is about 1,6 inches.
As the TephrocactusArticulatusis a cactus and grows in a very warm and sunny place, which is usually either the Chilean desert or the state of Arizona in America they require not much water to be given to them.
Euphorbia Obese
The euphorbia obesa is part of the rare succulent plants because of how it looks like. A baseball that is very decorated. That's exactly why it is one of the rare succulents is called a baseball plant too. These are usually found in the South African province of the Cape.
Usually blooms in the summer and has a very greenish-grey type color. As it's very round, it will grow to about 8 cm in length. Needs quite a lot of sunlight to grow. So you have to keep it where it can get about 4 hours of sunlight on a daily basis.
It will remain dormant in seasons of fall and winter. Though being a cactus it will bloom in spring and fall. The euphorbia obesa does not require much water to be given to it, otherwise, it might die due to overwatering. It needs the average room temperature to grow in, so you would not want to keep it outside in direct sunlight.
Lastly, you might want to report it if the diameter of this succulent is pressing against the wall of the pot.
Adromischus maculatus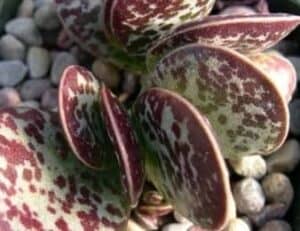 This rare succulent plant is usually found in the warm provinces of the Eastern and Western Cape of South Africa. Other names of it are potted adromischusand the calico hearts
It has a rather wood-like stem from which its small leaves that look like spades, originate from. The succulent has the ability to grow up to 35 cm in length, which is about 14 inches. The color is rather variable. Some will have blotches that are just plain green.
Though some will be in brown, and some succulents will be with maroon blotches. The blotches are why it is called maculatus, which means spotted.
This rather exotic succulent can grow in diameter to about 30 cm, or some 12 inches, with tube-like inflorescences, which will have lobes that either pink in color, or white.
Since the adromischhus maculatus cannot stay outside in frosty conditions, it must be grown inside. This succulent can usually stay in bright light but with a shade that is partial.
The succulent can need fertilizer on an occasional basis. It will bloom during the spring-summer seasons.
Echeveria X Imbricata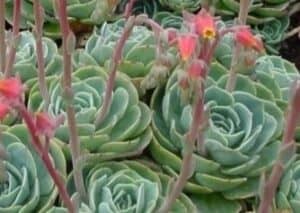 The leaves of this rosette-shaped unusual succulent are a blue-green mix. These flesh-like, saucer-shaped hug the main rose and that results in a lot of circles that overlap with each other. It can grow in soils that can be either neutral, alkaline, or basic. The succulent can be found in the arid climates of Mexico.
This succulent needs a regular watering session for its first year. Though after the first year it may be watered after longer durations. In width, it can spread to about half a foot in width, or 15 cm and 20 cm in length. One might want to watch out for aphids, mealybugs, and vine weevils though as they can harm it.
The echeveria ximbricata will grow in soils that are well-drained but also sandy. Has a tendency to grow in partial to sunny shade but must be kept indoors at all times. It will usually bloom, like all plants in this list, in summers and spring. You'll find it dormant in the winter and fall seasons though. Should be grown in patios.
Graptoveria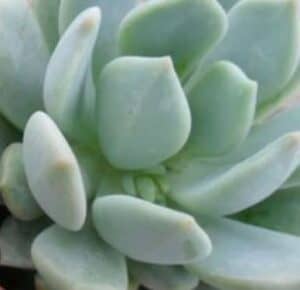 Another unusual succulent from the Eastern Cape of South Africa makes it to the list. The Adromischuscristatus, which is its actual and biological name, has aerial roots that are fine. Its branches are short and erect and can grow up to 50 mm maximum. It is also called the Key Lime Pie.
Thegraptoveria's leaves can be found in two colors, green and greyish-green. The leaves can be about 13 mm in width. It will send up long stalks that will be tubular in nature. These stalks will eventually become its flowers spring and will be white with red shades.
The soil the graptoveria needs soil to be very sandy and must be well-drained. It will grow inside within shade very easily on really hot days. But it must be given sunlight of about 6 hours on a regular basis on slightly warmer days.
Its water intake should be kept minimal in winters, just enough to keep the leaves plump. As is common with succulents that grow in South Africa, The graptoveria will bloom in summer and spring.
Haworthia cuspidata Variegate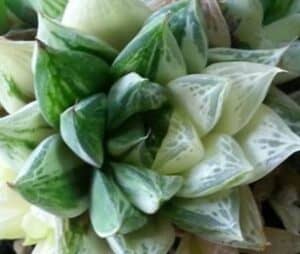 This rare succulent plant has leaves that are very pointy and shaded in green and white. Though in some places the leaf seems to be totally white. It is yet another succulent that originates in dry deserts. This succulent too blooms in the weathers of spring and summer. The haworthia cuspidate variegate will stay dormant for the colder months of fall and the entirety of winter.
This succulent needs soil that is porous and a container that will drain the water well. In summer the rosette in the center will make some way for blooms that will rise and will produce stalks that will be several inches tall.
The succulent will have to be protected though as it grows in the desert. Won't be able to survive frosty weather. This succulent has the ability to go through rather longer durations of drought. The haworthia cuspidata variegate also can live in lower light, so you can keep it in places that are sort of dim. But it still should get some sunlight daily.
Related Posts:
Conclusion
All the rare succulents mentioned in this list will generally fare well in hot climates, provided the right amount of care and attention. All of them are, as the title says, rare succulents. That is why many of them can not found with ease, and even if you can find one, it will be an exotic one.
They need an adequate amount of sunshine. But also the right soil and containers, fertilizer, and water to help them grow into beautiful succulents!