If you are looking for a rare yet botanically famous indoor plant that's easy to care for, Scindapsus Treubii Moonlight is a plant for you. This eye-catching plant has thick oval-shaped green leaves with a silvery sheen that fills your heart with the joys of spring.
According to NASA, Treubii moonlight is a natural air purifier because it removes the home residual organic pollutants like aldehyde and xylene and helps freshen up the air.
Let's learn more about the Scindapsus treubii moonlight plant along with its origin, care, propagation, and more.
Scindapsus Treubii Varieties
This rare plant has two main varieties based on the color of the shade.
Scindapsus Treubii Moonlight harbors green leaves with a silvery glaze in the center.
Scindapsus Treubii Dark has deep green-blackish leaves without any silver shade in them.
Classification of Scindapsus Treubii Moonlight
This plant is a rare tropical flowering aroid plant.
Family: Araceae
Subfamily: Monsteroideae
Genus: Scindapsus
Species: S. treubii.
Origin and Distribution
This plant originates from the rainforests of Southeast Asia. These plants are widely distributed across South-East Asia, Queensland, and the Pacific Islands (Oceana). Moonlight treubii sweeps on the moist ground to seek support and later climbs up the host trees as they grow. They are also grown massively on a big scale for the means of selling.
Features of the Scindapsus Treubii Moonlight Plant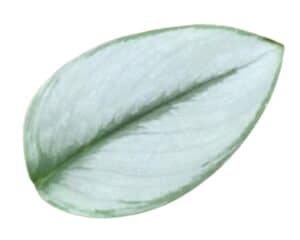 Foliage and Stem
Another common name of Scindapsus treubii moonlight is "Sterling Silver" as the milky green oval or heart-shaped leaves have a tint of glazing silver color in the center of leaves. The stem is smooth. They may rarely bloom inconspicuous flowers indoors.
Size
Scindapsus moonlight plant is a rare epiphytic creeper. Given the growth-encouraging support of a bamboo stick, moss pole, or brass sphagnum pole, this plant can grow as tall as 6-8 feet with leaves as big as 4-23 inches long. The support is needed to make sure the leaves reach their full potential of size.
Evergreen
Interestingly, Scindapsus treubii moonlight is a slow grower houseplant and requires minimum care, it stays green, fresh, healthy, and radiant throughout the year.
Temperature tolerance
These plants are highly adaptable to a range of temperatures and varying climates. Keep the plants in a warm spot as they can become cold sensitive if the temperature falls below 10 degrees Celsius
Humidity Tolerance
Essentially, rainforest plants require 90% of humidity. As much as moonlight treubii loves humidity, it still is very tolerant to a less humid environment. You can mist the plant once in a while. Install a humidifier if you live in a dry region.
Drought tolerance
We all know that there's hardly any tropical plant that is a drought-resistant plant. These plants flourish well in the presence of a particular level and duration of watering.
Disease and Pest Resistance
Typically, Scindapsus moonlight is very good at resisting pests and diseases. Though in some cases, they too can become susceptible to pests' attacks.
You can use neem oil spray as a preventive measure. If you see insects, use a good quality insecticide spray to take care of insects. It's always wise to wear a mask and protective clothing while handling harmful chemicals.
Toxicity
Sadly, if ingested it can pose adverse side effects to both pets and humans. It is safe to keep the plant away from the reach of pets and kids to avoid any health problems.
Longevity
Under the right care and conditions, Scindapsus treubii moonlight can live for many years to come.
Dormancy
The plant growth may slow down in winters due to dormancy. Avoid giving your plant any extra nutrients, water, etc. They continue to grow at a faster pace in the spring season.
Scindapsus Treubii Moonlight Care and Maintenance
This plant is an ideal choice for all plant lovers out there. Scindapsus moonlight is generally easy to maintain & care for. The plant grows well in a warm temperature with bright sunlight. It only requires water when the soil is one to two inches dry, an occasional misting with filtered water, and a regular soil medium with orchid bark.
Let's learn about the plant requirements in more detail.
Water Requirements
The plant needs a moderate amount of water to keep the soil moist. Use a well-draining pot so that the soil doesn't get soggy. Before you water, make sure that the soil is dry by one to two inches. You can check the dryness with your finger.
Avoid excess watering as the roots may start to rot.
If you have just bought a new plant, keep a close eye on its requirements.
Use filtered water to avoid any unwanted mineral deposition in the plant.
Soil Requirements
Luckily, these plants need a regular houseplant soil medium. A well-draining succulent soil mixture or loamy soil will keep the plant happy. You can add perlite for adequate aeration. In home-based soil potting, you can add orchid bark and perlite in equal proportion.
Sunlight Requirements For Scindapsus Treubii Moonlight
Scindapsus Treubii plants enjoy bright indirect light and don't grow well under direct sunlight as this light can Scorch and burn the plant. The plants' leaves can turn yellow and the foliage growth can also slow down if placed in a shaded area for too long.
Here's a tip for you! Place the plant next to the east or west-facing window or window covered with curtains that filter out the radiations. You can use artificial filtered lights as well.
Temperature Requirements
As the origin of these plants is South-Eastern Asian tropical forests, they prefer warm temperatures. The ideal temperature range varies from 12 to 28 degrees Celsius.
Although these plants are generally temperature tolerant, cold temperatures below 10 degrees Celsius wilts the leaves. Always place the plant in a warm spot during winters. Also, avoid placing your plant next to an air conditioner.
Humidity Requirements
Being tropical, Scindapsus treubii moonlight loves to grow in a humid environment. Make sure to maintain the ideal humidity level of 40 to 60% at home. You can also use a humidifier or mist the plant occasionally. An insufficient level of humidity can result in the yellowing of leaves.
Fertilizer Requirements
It's best to fertilize the plant once every month during the growing seasons of spring and summer. High content of nitrogen in fertilizer is required as this luxuriates the foliage.
It's good to use organic fertilizers like vermiculite and fish emulsion. Avoid the use of synthetic salt-based fertilizers. There's no need to fertilize during dormancy as the nutritional requirements are minimum.
Pot Requirement
A simple pot with draining holes will do the job. A terracotta pot is a great option. Be cautious while using a plastic pot because this can cause root rotting.
Always add extra support for these climbers such as moss sticks, sphagnum sticks, etc. Without support, the foliage will struggle to grow in a mature plant.
Fortunately, there's no need for re-potting unless the plant's roots are outgrowing the draining holes or the pot. Also, if you observe any infection or water clogging, replace the topsoil with new recommended soil.
Grooming and Pruning
You can easily trim the extra or out-of-shape growth of leaves in growing seasons.
Scindapsus Treubii Moonlight Propagation
Season
The ideal days to propagate the plant is during the warm days of the growing season (spring and summer)
Method
Take clean sterilized gardening instruments i-e a sharp knife or a shear
Cut off 3-4 inches long stem below a node (a future site of roots growth)
Make sure to remove any leaves if present at the bottom of the stem cutting
Place the cutting in a moist soil pot. Add perlite and peat moss in equal proportion
Cover the pot with a clear plastic bag to ensure an adequate amount of humidity supply. Allow aeration to inhibit unwanted microbial growth.
Place the pot under indirect sunlight and at a warm temperature.
When the roots start producing within 3 to 4 weeks, shift the plant to a large-sized potting mixture.
Follow the care mentioned above and enjoy your beautiful silver glazing plant.
Related Posts:
Final Words
Scindapsus treubii moonlight is a rare tropical epiphytic plant. It has green leaves filled with a silver glaze. Isn't it one-of-a-kind foliage? This plant is resilient to varying conditions.
A piece of good news for beginners and plant enthusiasts with busy routines is that this plant requires easy-to-follow care and moderate conditions to grow.
These plants not only give a warming dose of happiness but will also freshen up the air in your house. Lastly, keep the plant away from the reach of kids and pets because treubii moonlight is a toxic plant.