If you are looking for an exotic rare plant that is easy to grow and maintain then Philodendron mexicanum is the right choice for you. These rare plants have the best and most unique foliage. If you wish to see aesthetically beautiful plants in your home gardens then you will definitely love this evergreen plant.
This beautiful climber plant can be perfect for your home, apartments, and offices, or workplaces. This plant showcases an amazing blend of colors with leathery dark green mature leaves and shiny light green young leaves.
It belongs to the Araceae family and genus Philodendron ( flowering plants – with almost 489 species). Genus Philodendron is not very well known, as these plants are rare.
However, these plants are recognized for their beautiful foliage and aesthetic values. Philodendron Mexicanum is a species mainly found in the rainforests of Mexico and the Chiapas region but is also grown in Central America.
Identification of the Philodendron Mexicanum Plant
Philo Mexicanum possesses a scandent stem that is likely to climb for growth and has elongated leaves which are longer than broader. Its foliage is medium to gray-green and triangular in structure. Roots of these plants branch at tips and you may also notice swollen nodes along the length of the root as well.
Carefully plant them in your garden because these plants are usually hemi-epiphytic and may harm your favorite tree growing right next to it.
Scientific Classification
Family: Araceae
Subfamily: Aroideae
Genus: Philodendron
Features of the Philodendron Mexicanum Plant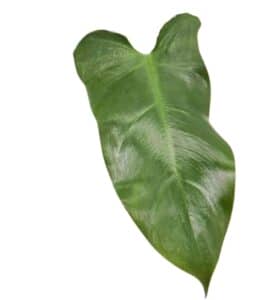 Evergreen plant
This plant is evergreen so you wouldn't have to wait for this plant to grow its leaves back after shedding them. You will be able to see their beautiful leaves throughout the year.
Foliage and stem
The foliage of Mexicanum Philodendron is the characteristic of this particular species. These have narrow triangular leaves which are also referred to as "dog-eared". The texture of the leaf is semi-glossy with gorgeous green color. The underside of the leaves is maroon to magenta in color.
Height
If kept under the right conditions, a fully mature plant can grow up to 2 feet tall. And considering this height, large foliage, and relatively weaker stems you might have to give it some external support to keep it upright.
Toxicity
An important thing to remember is that these plants are toxic and hence, not suitable for ingestion. So keep these gorgeous plants out of reach of your pets and children. Otherwise, you may need to seek medical help as irritation and inflammatory symptoms arise in case of mishandling incident with this plant.
Flowers
Philodendron Mexicanum grows inflorescence in the form of small, green spathes which look like tiny hoods with ruby inside. This inflorescence is not flowers because the actual flowers are very small to be easily seen with bare eyes. These flowers grow along the spadix.
Growth rate
The growth rate of Philo Mexicanum is highly dependent on how you keep them. They can grow up to 2 feet tall if you provide them with the best favorable conditions.
Drought-resistant
Being a tropical plant, it doesn't have drought resistance. So don't expose these plants to rough and dry environments as these conditions are not favorable to these plants. They like humidity and require regular water.
Durability
It is a perennial plant with evergreen properties, which means it can live more than 2 years if provided with proper care and nourishment. So it has high durability.
Dormancy
Mexicanum Philodendron goes dormant during the winter season and conserves food and water. Their growth rate stops in winter so the best way is to avoid over-watering, propagation, and pruning.
Disease And Pest Resistance
These plants are not resistant to pests or diseases. They are prone to diseases like leaf spots and pests attacks from aphids and mealybugs. But strong and healthy-looking plants are not vulnerable to these problems.
These problems are faced by only those plants which are weak and don't get adequate environment. So to keep your plants healthy-looking you must provide them with proper care and optimum conditions.
Grooming and pruning
As stated earlier you don't have to groom and prune these plants continuously as they grow in an organized manner naturally. So you only need to provide them some support to grow and keep them clean.
Philodendron Mexicanum Care
The plant needs bright lights but avoids direct sunlight. As already discussed these plants love moisture in the soil and the air. You may also add an adequate amount of fertilizers and as this plant thrives best at an optimum temperature so avoid keeping them in clod temperatures.
Water requirements
Their care includes lots of regular watering but you need to set a schedule as they can't tolerate being over-watered and love irrigation. First, check the soil texture by placing your fingers in the soil or using a moisture meter. When the top 2 cm of soil seems to be dry, you can re-water the plant.
Humidity
Philodendron Mexicanum can be kept in humid environments because they are moisture-loving plants. You can use indoor humidifiers to provide them the moisture they love.
Temperature
These are tropical plants so they don't have cold-resistant properties. So you need to keep this plant above 55 F°. But don't keep them in too high temperature as this may damage the plant.
Soil requirements
Good soil quality is necessary for a healthy Philodendron Mexicanum. You should use a mixture of rich, organic soil and keep it well-drained. It does not like being over-watered and can become waterlogged and suffocate in a matter of minutes. If you want to make some amendments to improve your soil's quality then try using Peat and perlite. And try keeping the pH from acidic to neutral ( 5-7).
Sunlight
These plants need bright sunlight and love being in the sun but they can't survive direct sunlight so avoid direct exposure to the sunlight. In tropical areas, this plant grows as hemi-epiphytic under the shade of other taller trees which form a canopy. They need the same environment in homes as well so keep them in that corner of your house where they can get maximum indirect sunlight. Try to provide them 70-85% of exposure to the sun.
Fertilizer requirements
There are two options for fertilizing these plants. You can either use slow-release fertilizers and feed your plants 3 times a day or you can use some other plant foods and feed them every couple of months. Make sure to use fertilizers of high quality which don't contain harmful or toxic chemicals and salts. In order to fertilize your plant correctly, spread the fertilizers at a 6-inch diameter at the base of the plant.
Maintenance
These plants don't need any extra care or added effort and are easy to maintain. So you can effortlessly take care of them and grow in your garden or keep them inside your house.
Propagation of Philodendron Mexicanum
Are you planning to propagate these plants in your home garden? Then you need not worry because these stylish plants are most easy to propagate and even easier to maintain. These plants can easily propagate through the barries which grow on them and you can also use stem cuttings from the plant.
By using stem cuttings:
To grow them using a piece of stem, simply take a mature Mexicanum and cut a part of its stem. However, keep the cutting 2-3 inches long and put it in a pot with the correct mixture of soil.
Then put the pot under bright, indirect sunlight and provide it with optimum temperature, humidity, and adequate water.
By using berries:
If you desire to grow Philodendron Mexicanum using its berries then you should look at the plant when it's producing them. Take a few berries from your plant and cut them open. Take out the seeds from them and wash them thoroughly. Don't forget to dry the seeds properly.
Get a pot, fill it with the right amount of soil and dig a tiny hole in the soil.
Place the seeds in the hole and sow them properly.
Provide the growing seeds with adequate nutrients, optimum temperature, and humidity. Place this pot in bright sunlight under some shade.
Timeline
Day 1-7: You need to choose a method to propagate Philodendron Mexicanum and then place the seeds or stem whatever you decided.
Week 2-3: With correct environmental conditions and the right care both seeds and stem cutting will start forming roots.
Month 2-4: You can see the baby plant and now shift it to a bigger pot because the growth of Philo Mexicanum is relevant to the size of the container.
Related Post:
Final words
This exotic rare plant species, Philodendron Mexicanum is an extremely lovable and stylish climber that can add amazing beauty to your home gardens. You can easily cultivate it anytime because this evergreen plant is easy to grow and needs no special effort. However, you can use above mentioned tips and guide for a healthy-looking plant in your own garden.