Anthurium 'ace of spades' is an evergreen tropical plant with dramatic heart-shaped leaves, striking dark venation, coupled with a velvety-textured touch. This plant is one of the most beautiful houseplants in the genus. Ease of growing and low maintenance with striking characteristics makes this species an excellent choice for indoor plant collectors.
Classification of Anthurium 'Ace of Spades'
Family: Araceae
Subfamily: Pothoideae
Genus: Anthurium
Species: Crystallinum
Origin and Distribution
Anthurium 'ace of spades is a hybrid of unknown parentage and origin. It grows in Big Pine Key, Florida.
Features of the Anthurium 'Ace of Spades' Plant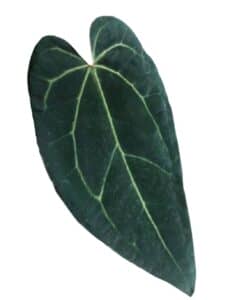 Foliage
This plant has dark green colored, velvety-textured, and cordate or heart-shaped leaves. The leaves show enchanting changes as they grow from red in their vegetative stage to bronze and finally change to dark-green on maturity. These leaves are around 2ft wide and 2.5ft long. The inflorescence stands upright and is smaller than the leaf.
Size
The medium size of anthurium 'ace of spades' is another striking feature that makes it a great option for indoor plant collectors. This plant is 2-3 feet tall with a broad spread. You can place it in a group of small plants and let it dazzle and shimmer its neighboring plants.
If you want to put it alone at a corner of a room, do not hesitate, the heart-shaped leaves will spread a colorful flair to your room and will complement any decor.
Broad-leaved evergreen
With the needed care – 'ace of spades' anthurium can stay fresh and green throughout the years to come. Once they get used to your new space, they can not stop beautifying the whole atmosphere of your indoor space. However, just like any other anthurium, they may lose their leaves one by one over time. Because of its long-lasting advantage, it is one of the most sought out plants.
Drought tolerance
Are you worried about not being good at taking care of plants? Do you follow a busy schedule that can somehow restrict you from daily plant care? Don't worry because Anthurium 'ace of spades' hybrid is a succulent for water.
The thick leaves can save water for drier days when you forget to water. They can survive for some days without water and you can easily let the inflorescence bloom by watering it again.
Disease resistance
This plant is usually free from contracting any disease or pest. Luckily, This plant is not so attractive for pests except spider mites which you can easily remove by rubbing the leaves with cotton balls soaked in neem oil.
Maintenance and Care of Anthurium 'Ace of Spades'
This plant is a low-maintenance indoor plant. Water the plant nearly four times a week. Soil needs to be well-draining and moist. Soil pH range needs to be 6.1(mildly acidic) to 7.5 (neutral).
Temperature between 18-26 °C and indirect bright light is favorable. Fertilize this plant once every two months. A high humidity level is required. It is wind-hardy in its growth zone 10-11. It can easily be propagated by stem cutting.
Let's discuss the requirements of this plant in some more detail,
Water Requirements
This plant grows well in relatively moist soil. Water the plant 2-3 times a week. The leaves can store water for a few days, let the soil or substrate surface dry up to 1 inch deep before watering again.
Avoid hot or cold water to prevent any stress on the plant. It is best to use lukewarm water. Watering periodicity must increase if the soil is fast draining and decreases in winter and rainy seasons.
Soil Requirements
'Ace of spades' anthurium thrives well in slightly acidic to neutral pH. This plant requires well-draining, aerated and organic matter enriched soil. Here are a few things you can do to avoid compaction and difficulty in aeration,
Sand
Orchid mixture
Perlite
Try a DIY potting mix by mixing sand and cocopeat in equal proportion.
Sunlight Requirements
Anthurium 'ace of spades' needs exposure to indirect bright light or dappled shade to maintain its dark green color. Avoid placing the plant near the window with direct sunlight. Too much light can cause sunburn and too little light can result in a slow growth rate and lightening in color shade.
Temperature Requirements
'Ace of spades' Anthurium is in love with warm temperatures ranging from 20-26°C. It grows best when the temperature stays warm throughout the year. Luckily, it can withstand low temperatures only for a short time but can become adversely sensitive to cold and May frost if the temperature falls up to 10°C. Always keep the plant indoors and in a warm spot of your house in winters.
Humidity Requirement
Nearly all the tropical plants blossom well in high humidity. Anthurium 'ace of spades' as a tropical plant, needs an 80% of humidity level. It is easy to grow the plant in a terrarium as the humidity is high. However, barely 10-30% humidity indoors. The plant needs moisture in the air to keep its magnificent leaves fresh and dark green, but it is not achievable indoors. Here are a few ways you can maintain humidity indoors,
Misting the leaves with dripping haze provides enough moisture
Pebble filled tray
Humidifiers
Grouping houseplants
Fertilizer Requirement
This plant does not need constant nourishment. Fertilize the plant once every two months. Flowering plants with striking leaves require a high content of phosphorus in the fertilizer. Always dilute the fertilizer 1/4th of its strength or use water-soluble fertilizers. Avoid fertilizing the dry soil as it can potentially damage the roots.
Pruning
The breathtaking size of Anthurium 'ace of spades' makes it warm and attractive thereby, it is hard for a plant enthusiast to prune its beautiful leaves.
Prune the leaves unless the leaves are damaged. Of course, if you want to achieve a desired shape and size, you can trim it tops in spring.
Re-potting
Another benefit of anthurium 'ace of spades' is that this plant does not need to be re-potted every year. You can transplant the plant when you observe the following signs,
Withering of leaves even after watering it carefully
An outgrowth of plants through the draining hole of a pot or the cracks
Root veins become visible
Follow the step-by-step guide to re-pot the plant
Use 1-2 inches bigger pot than the previously used one
Keep the soil mixture the same so that the plant adapts to the new environment quickly
Hold the roots together
Water the potting before transplanting the plant
Propagation of Anthurium 'Ace of Spades'
You can propagate anthurium 'ace of spades with one of the easiest ways of propagation which is stem cutting. Its propagation is convenient, efficient, and functional. Propagate your plant with stem cutting at home by performing an easy-to-follow guide.
Prepare a pot with the mixture
Clean the knife or scissors with a disinfectant before cutting the stem
Choose a stem that is 3 inches long
The stem cutting must have at least 2-3 leaves at the top
Remove any leaves if present on the bottom
Place the stem cutting in the middle of the container and water it
Keep the container in a shaded and warm environment
Water the plant quickly when the substrate surface dries out
New growth will visibly start in 7-10 days indicates root development
Frequently Asked Questions
Why is the plant taking long for the leaves to grow?
New leaves usually take a few weeks to grow. As long as you are properly caring for your plant, there is nothing wrong with the plant and even if one or two leaves shed off. It may take some time for the plant to adjust to new surroundings.
How long does the plant take to grow in full size?
It takes 2-3 years to reach full maturity. During the growing season, you may observe leaves growing. Overall, annually a few leaves grow.
Why are the leaves of Anthurium 'ace of spades' turning yellow?
The yellow leaves indicate damage to the plant due to many reasons. It could be due to the use of excessive water, excessive fertilizer, etc. Save the plant by re-potting the plant with a new substrate. Always water the plants according to the guide.
What can happen if the humidity level is low for a long duration?
When the humidity level is low, the leaves can turn brown, brittle, and dry. Use humidifiers, mist, or any other mentioned means of increasing humidity. You can also use rainwater or stagnant water that is usually available to plants in their natural environment.
Is this plant toxic for pets?
Yes, Anthurium 'Ace and spades' is toxic for pets as well as humans. Carefully handle the plant while pruning or re-potting. It can cause temporary irritation to the skin and nausea, vomiting, gastrointestinal disturbance on ingestion. Keep an eye on children and pets when they are near the plant.
Related Posts:
Conclusion
In conclusion, Anthurium 'ace of spades' is the must-have anthurium for plant collectors. With the advantage of being an evergreen and drought-resistant plant, you can enjoy your plant throughout the year. It also adds a sense of peace and life to your personal space.