Symbolism is an age-old tradition of all cultures and civilizations. People have been associating their emotions with different things for ages. Love, fear, enmity, hatred, good and bad luck all are symbolized by certain things for the beautification of the culture. Positive emotions are the base of human development and have been symbolized by different things like doves, white flowers, hearts, red roses, chocolates, green gems, and cosmos flowers. The cosmos flower is a symbol of beautiful emotions like deep never-ending love, sincerity, innocence, and loyalty. It also denotes harmony and serenity. In this article, we will highlight the various aspects of Cosmos Flower Meaning, history, and some other interesting facts.
History Of Cosmos Flower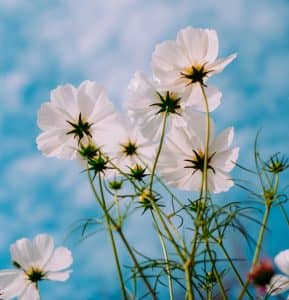 The beautiful Cosmos flower belongs to the family. Initially originated from the scrub and meadowland in Mexico, It was imported to America and South Africa from Argentine. It was introduced to American gardens in the 18th century. Cosmos and many other flowering perennial plants of the Sunflower family belong to the main family Asteraceae. The popular Daisy flower is a sister to Cosmos according to looks and biological classification. The well-ordered fragrant petals of this flower giving it a serene and calm look are the basis of its popularity. It can grow up to a height of 6 feet.
It was the priests of Spain who planted these flowers from seeds and got mesmerized by the beauty and named it Cosmos. Cosmos flower occurs in many different colors like yellow, orange, golden ( Cosmos Sulphureus) while popular species are in the shades of pink and purple( Cosmos Bipinatus).
Other Names Of Cosmos Flowers
Due to its central disc with surrounding petals, its structure looks like a basket. So it is also known as the "Basket Flower".
These flowers have different common names as mentioned below:
Spider Daisies,
Soccer mum or
pompoms
Growth Facts Of Cosmos Flowers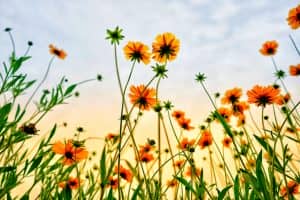 The best time to grow some Cosmos flowers by seeds is the month of September before the snowfalls. Just sprinkle some seeds and cover them with soil for up to a quarter of an inch. Seeds need about 7 weeks to turn into beautiful blooming flowers. So if you plan to sew some Cosmos seeds, you have to be patient.
The plant blooms one in a season and twice a year and is known to attract butterflies and bees.
Coming towards the growing habitat, you can grow them equally well in both indoor and outdoor environments. If they are planted indoors, you can easily convert them to add some serenity to your garden. And the interesting fact is that the innocent flower will not mind this change at all.
Cosmos adapt well to a variety of soils and prefer wet but well-drained soil. Lack of drainage welcomes diseases and issues in growth.
The low-maintenance plants do not require much water many fertilizers. These are somewhat drought tolerant, but you can not forget to water them in intense summer heatwaves.
Keep removing the dead flowers from the plant to enhance the growth.
These are delicate enough to withstand the frost. Hence, do not expect them to live in harsh snows outside. You have to plant them again for the next season.
Cosmos Flower Meaning in Greek Culture
Cosmos is derived from a word of Greek Language "Kosmos" meaning "order" and "the universe's harmony". This cultural concept makes the flower a sign to depict the serenity and calmness of the universe and nature. As the Greek gods believed that nature is in perfect harmony.
Cosmos Flower Meaning In Floral World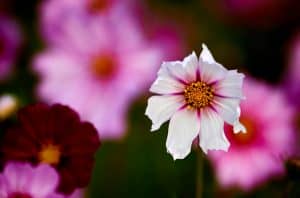 As you know, red roses depict true love and the white jasmine flower shows wishes for a healthy long life, similarly many flowers depict certain signs. The Cosmos flower due to its mild and simple outlook depicts never-ending love.
One of Cosmos Flower's meaning is innocence and sincerity. These flowers are used to show the innocence of kids and modest loyal lovers especially females.
The Pink Cosmos denotes all delicate things like love, kisses, and hugs. The most beautiful form of love, "the mother's love" is also denoted by this flower. It is also a good gift for your girlfriend or other close female relations in your life, pink being the feminine color. Pink Cosmos also shows the beauty and gifting it to someone means that they are beautiful in your eyes.
White Cosmos typically denotes friendship, peace, and modesty.
Scarlet Red Cosmos is a sign of intense love and sensual attractions.
The Yellow Cosmos flower is a sign of positivity, exciting beginnings, success, and positive energy. So if you want some good vibes for yourself or someone else, getting or sending a bouquet of Sunny Yellow Cosmos is a good option.
Chocolate Cosmos Flower Meaning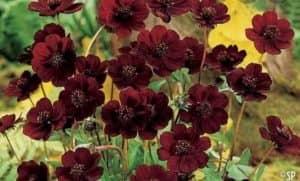 This is another form of light and delicate Cosmos. This species is dark brown to reddish-brown with a soft velvety surface. Its distinctive fragrance resembles that of chocolate, giving it an interesting name. The more interesting fact is that you can not eat it!! The Cosmos astrosanguineus are easily cultivatable plants with the mouthwatering fragrance getting stronger as the sun dies. This variety is extinct in the wild as it does not reproduce by self-pollination. If you get to see this beautiful flower in wild around you, it means that it is a cultivar and a selective propagation. This is usually cultivated by vegetative propagation methodology or tissue culture technology. These flowers can be grown both outdoors and indoors. They need around 5 to 7 hours of full sun to bloom beautifully.
Intense Love:
The chocolate cosmos flower meaning is to communicate your feelings of intense love. The shy ones who want to convey their emotions to the loved ones can give a beautiful bouquet of the Cosmos and it will give words to their deep emotions. This flower is a depiction of passion, desire, and sensuality. Simply stating, the Chocolate Cosmos Flower means "nobody else can love you more than I do". So you do not need to do much effort to show your love, just send a bouquet of beautiful Chocolate Cosmos Flowers and you are done. Interesting, isn't it?
October Born Babies:
In the modern world, October is said to be the month of anniversaries and birthday parties. This is the peak time this velvety chocolate beauty gets bought and gifted. Here the chocolate cosmos meaning is to show feelings and good wishes. October-born people get these flowers as a frequent gift. These flowers are associated with this month in particular because they make a good warm look for the upcoming cold season.
Ornamental Flowers:
People also use them widely as ornamental flowers in the flower decoration for the venues of the functions. These are good cut flowers so they are popular in all kinds of decorations and bouquet making.
Second Anniversary:
The Cosmos flower is also associated with the second anniversary of weddings. It has the philosophy that the second year is also a pleasant and exciting one, just like the first year. This connection with the second anniversary is its linkage to true and ever-increasing love.
Masculinity:
Due to its bright and strong color, the chocolate cosmos meaning is Masculinity as well. Giving it to someone shows that "you are attractive and manly for me." If used for the decoration of someone's birthday or other function, it depicts the strength and masculine beauty of that man.
The Cosmos Flower Symbolism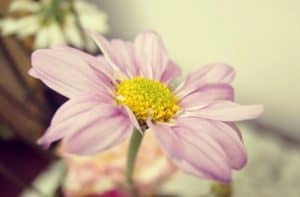 The Cosmos flower has a whole detailed symbolism attached to it by the ancestors of human cultures. The flower of Love is pretty famous as an expression of love.
Valentine's Day:
Valentine's Day is the day of love and Cosmos is the flower of love. So this flower is commonly gifted on Valentine's Day on the 14th of February.
World Kindness Day:
This flower was used in the World Kindness Movement by the end of the 19th century. Being a sign of kindness, it was used as a symbol of the movement.
Tourism:
One aspect of Cosmos Flower Symbolism is that it depicts tourism on minor levels due to its minor and simple structure. The species Cosmos Hanatsumi symbolizes the Harvest Hill festivity. This place is an attraction for tourists due to the annual flower picking festival. In September and October, tourists walk long distances and collect flowers to take them home. They pay a good accumulated amount as the entrance ticket which is denoted by the Cosmos flower.
Cosmos Flower Meaning In Spirituality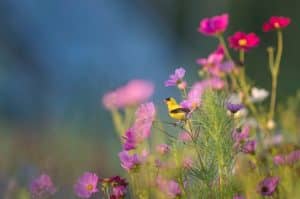 In the world of spirituality, the Cosmos flower is attached with several unique and interesting facts. People from ancient cultures have used these flowers to follow their rituals and beliefs.
Energy blockages clearance:
One such belief is that it opens the energy blocks and if used along with jewelry items, it is believed to bring vibrant energy and health for the wearer.
Petals of longevity:
In the old ages, people believe it was a flower of longevity. If a petal is added to the base of the vine glass, it is considered to bring good health and long life for the drinker.
Throat Chakra Enhancements:
One Cosmos Flower Meaning in Spirituality is that it is related to the throat chakra. It will open the energy blockages and charge up the throat region and it is believed to help people with issues in speaking. Public speakers used to keep the flowers around to enhance their energy while in public. As throat chakra is related to the throat region, this flower is spiritually attached with the powers of peaking and convincing.
The Geometry of 19 Circles:
In ancient spirituality concepts, the Cosmos flower has its 19 circles. This is considered to produce positive vibrations around the person and in the atmosphere. So it attracts all kinds of pleasant and positive energies. The mathematical and universal laws are related to the 19 circles in the Pythagoras Theorem, the Pyramids, Tree of Life, The Merkabah, and the squaring of the circle. This adds to its importance in sacred geometry. It is also used in the construction and beautification of churches, temples, and pyramids.
The protective Cosmos:
It is considered to be a sign of protection. In experimentation with bio resonant devices, the flowers were found to increase the positive energy.
Related Post:
Conclusion
The simple Cosmos flower has been associated with different symbols for ages. Ancient cultures have their uses and symbolism attached to them. The Cosmos flowers are associated with love, peace, beauty, loyalty, and innocence. The modern world considers Cosmos flowers as a sign of positivity and good vibes.
These flowers have significant importance in the spiritual world being attached with longevity, protection, and convincing communication through the throat chakra. Simple and low maintenance flower has a whole set of meanings and symbolism attached to it.