Attractive and highly resilient plants are always in demand. We are introducing a tough guy, the Sansevieria Fernwood plant. This African native snake plant is almost indestructible unless you water it in excess. The long emerald green leaves with pointed ends and snake-like striped patterns in lighter shade may reach up to a height of 4 feet.
This is one of the few plants which can survive equally well in a range of light including shade to bright indirect light. This makes it the best choice for the indoor decoration of your homes, basements, and offices. Moreover, it does equally good when you opt to group it with other plants on your patio. Interesting? Let us learn all the important facts about the Fernwood Snake Plant and its recently famous hybrid, the Fernwood mikado plant.
Sansevieria Fernwood Classification
Family: Asparagaceae.
Species: S. Fernwood.
Genus: Sansevieria. (Dracaena, according to APG III classification system)
Genus Sansevieria
This is a popular genus of flowering plants, native to Asia, Madagascar, and Africa. According to the APG 3 system of classification, a number of plants from this genus have been added to the genus Dracaena.
This is a diverse genus including both thin-leafed and hard-leafed plants. The hard-leafed species are commonly native to dry climates. On the other hand, the plants with soft foliage belong to tropical and sub-tropical areas.
This genus is associated with a number of common names referring to the shape and pattern of the leaves. These names include Snake plant, mother-in-law tongue, bowstring hemp, and the devil's tongue.
Sansevieria Fernwood Common Names
Fernwood Snake Plant.
Mother-in-law's tongue.
The last two names are the common names associated with all the members of the genus.
Features of the Sansevieria Fernwood Plant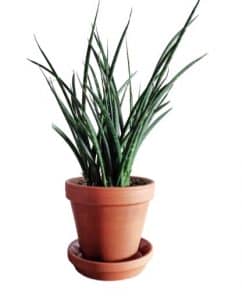 The average height of a mature plant ranges between 2 to 4 feet.
Numerous elongated leaves with pointed tips grow in all directions. These leaves join at the base to form the plant body.
The length of the mature leaf is simply the height of the plant i.e. about 2 to 4 feet.
Flower
These plants do bloom, although it's a rare sight. You may see your outdoor plant blooming in spring.
Numerous tiny flowers grow on a long stock which is about 1 meter in length.
Toxicity
These plants are toxic for both humans and animals. Ingestion may lead to serious health issues like vomiting and nausea. Thus, keep your kids and pets away from these plants.
Air Purification
All the members of the genus are popular for their air-purifying properties. They can convert the carbon dioxide gas into oxygen, even in the absence of the sun after the sunset. In addition, they clean the air by removing toxins like xylene, benzene, and formaldehyde.
Sansevieria Fernwood Mikado
Fernwood mikado is one of the recent hybrids of the Fernwood Sansevieria plant. The dark green leaves with light shades of mottling have a characteristic round or cylindrical shape. With maturity, the leaves form an arch in an outward direction forming a typical fountain-like shape.
All the requirements of this hybrid plant are pretty similar to that of the parent plant, as described in the next section.
Sansevieria Fernwood Care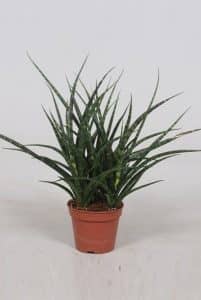 These plants are 'hard to kill'. They are even known as 'indestructible plants' unless you over-water them. Let us have a look at the different requirements of the plant.
Water Requirement
These plants have minimal water requirements. You have to follow a simple strategy of watering the plant after the soil gets dry. In summer, it will be enough to water the plant once a week. On the other hand, the water requirement further decreases on colder days. Once in two days will be fine to keep the plant going in the fall and winter.
These plants are highly sensitive to over-watering and soggy soil. Extra sips of water would be nothing lesser than poison for the plants. Any water standing at the base may lead the plant to root rot, eventually killing your Fernwood Snake Plant. Thus, one of the most important parts of Sansevieria Fernwood Care is to avoid over-watering.
Sunlight Requirements
Bright indirect sunlight is ideal for the plant. Howbeit, they are tolerant to different levels of sunlight including the shade. Exposure to direct sunlight is harmful to the plant, especially for a longer duration at peak hours. However, a little basking in the pleasant morning sun may do no harm to the long leaves.
Additionally, they do pretty well in artificial light. This feature makes them an excellent choice for basements and offices.
Soil Requirements
Loose and well-drained soil are ideal for the plant. The PH should be between 6.1 to 7.8. You can use a commonly available cactus mix.
Wet and mucky soils are a big no-no for Sansevierias.
Humidity Requirements
These plants generally like to live dry. So, they don't need much humidity. High levels of moisture in the surroundings may lead to leaf rot and fungus.
Temperature Requirements
The ideal temperature range for the Sansevierias is between 21 to 32 °C.(70-90 °F). These plants like to stay warm. Moreover, they have poor tolerance towards winter and cold. Thus, we prefer transferring them to warm regions, as soon as the temperature falls below 10 °C.
Fertilizer Requirements
These plants would be good with extra nutrition. Give a monthly dose of some suitable fertilizer once a month in spring and summer. Good quality domestic plant fertilizers go pretty well with the plant. Use them according to the instructions on the pack.
Pot Requirement
The rhizomes and underground root systems need good space to flourish. So, large and deep pots are preferable for the Snake Plants. Growing them in small pots may lead to poor growth and unhealthy foliage.
Growth Zone
Ideal USDA growth zones for these plants are 9a to 11. Additionally, they can do pretty well outdoors in a larger range of zones including 4a to 11.
Sansevieria Fernwood Propagation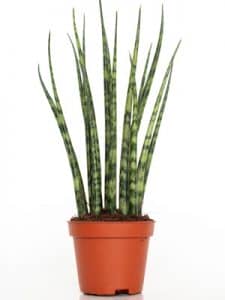 Sansevierias can be propagated by a number of methods. Popular methods are as under;
Leaf cuttings.
Rhizomes and tubers division.
Bulbs or Corns.
Offsets (Pups).
Propagation From Leaf Cuttings
Take a sharp knife and cut some mature healthy leaves in half.
Plant them in moist sphagnum moss or soil.
Make sure the soil covers at least the bottom quarter of the leaf-cutting.
Now, simply put the container in indirect sunlight.
Water Propagation
You can select to use water instead of soil. It would be great to use mineral water. Moreover, you can also use tap water after letting it stay in the jar overnight. This will make chlorine and other toxins settle at the bottom and will not disturb the growth.
Just dip them in a jar of water keeping the cut end and 1/4th of the leaf piece under the water.
Change the water once a week or when it gets murky.
Propagation from Offsets (Pups)
This is the easiest method to get a decorative Snake plant in a few months. You just need to wait for the plant to produce the offsets.
Take a sharp knife and cut the puppies from the parent plant.
Gently, take them out from the soil.
Plant them in the moist substrate.
Place the baby plant in a warm place with indirect sunlight.
Related Post:
Growth Timeline
Let us have a look at an estimated growth procedure of the plant along with its requirements. We hope it helps you with the common questions about the propagation and initial care.
Day 1- Day 30: Water the soil/substrate mildly just after the soil gets dry. In the case of water propagation, you just need to change the water weekly. Baby roots start developing after the third week in water. Growing them in a glass jar is pretty enjoyable. As you can see and root growth. Kids usually enjoy and learn a lot from this activity.
However, root development usually starts late in soil, probably after the end of the sixth week.
Day 30- Day 60: Baby shoots start developing in this stage. Keep water the substrate as you were doing previously. Make sure you avoid over-watering at all stages.
Day 60- Day 120: After the end of the second month, you can transfer them water grew baby Fernwood Snake Plant in the soil or any other well-drained growing medium.
Day 120 onwards: The plant finally turns into a grown-up with a number of leaves and a settled underground rhizome.
Sensevieria Fernwood Mikado for Sale
If you are looking to buy the plant, we have good news for you. You can easily get it through Amazon and they will deliver it to your doorstep.

Summary
The Sansevieria Fernwood is a popular Snake plant popular for its extreme resilience, shade tolerance, and attractive foliage. The long emerald green leaves with striped patterns in lighter shade have pointed ends and a joined base. This plant has a number of hybrids.
The Sansevieria Fernwood mikado is a popular hybrid with long cylindrical leaves growing in a characteristic fountain-like pattern. The plant needs water after the soil gets dry. Moreover, it can survive a number of light conditions like bright indirect light and partial shade. Besides being air-purifiers, these plants are toxic in nature. Thus, keep your kids and pets away from these plants.