Are you looking for a climber philodendron with tolerance for low light and dryness with long beautiful leaves? Let us introduce you to the Philodendron Jose Buono. The thick and velvety dark-green leaves reach a length of about 2 feet on maturity. Moreover, the white to cream splashy variegation make them look attractive enough to attract the eyes.
These leaves grow on stems about an inch in thickness. This epiphytic perennial climber can grow gigantically big and reach above 10 feet outdoors. Howbeit, it remains under 4 feet in an indoor environment. You can use this broad-leafed Philo to beautify any place on your lawn. Additionally, it is an excellent choice for terrestrial pots and hanging baskets. Let us learn more about the Jose Buono Philodendron Plant along with its care and propagation.
Philodendron Jose Buono Classification
Family: Araceae.
Genus: Philodendron.
Philodendron Jose Buono Other Names
Variegated Spade Leaf Philodendron.
Philodendron 'Variegatum'.
Philodendron domesticum.
Some sellers also sell it under the name Philodendron Ilsmanii.
The sellers of Florida name it as 'Giant Hastatum'. This is due to its close resemblance with the Hastatum plant.
Philodendron Jose Buono Plant Features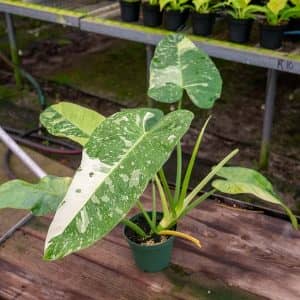 The height of this Philo depends upon the availability of the space. In an outdoor environment, it may reach up to a height of 12 feet. However, its growth is pretty slower and remains usually remains under 4 feet.
The stem of the plant is as thick as around 1 inch.
Leaves
The leaves of this gigantic plant are elongated, spade-shaped, about 1 to 2 feet in length.
Philodendron Jose Buono
Toxicity
The plant has the typical Philodendron toxicity, just like other members of the family. Ingestion may lead to ulceration and allergic reaction of mouth and oesophagus. Thus, keep your kids and pets away from it.
Philodendron Jose Buono Care
Let us have a look at one of the easiest to grow Philodendrons.
Water Requirements
The basic strategy of Philodendrons is to water after the upper layer of soil gets dry. Two to three times will be enough in summer. However, the watering requirement of the plant decreases in winter. Thus, once or twice a week will do the job.
It is important to mention here that Philos never go with wet feet and soggy soil. Thus, over-watering is harmful to the plant.
Sunlight Requirements
Philodendrons usually need 70 to 85% sunlight. Bright indirect light is ideal for the plant. Howbeit, they can tolerate partial shade as well. In addition, avoid putting them in direct sunlight.
Temperature Requirements
Just like other philodendrons, this plant does great between 55 to 80 °F. They have poor tolerance towards winter and frost. Thus, if you are a dweller of cold zones you need to keep them warm in fall and winter.
Soil Requirements
Rich and well-drained soil are suitable for these plants. Moreover, you can also use sphagnum moss and soil like mixtures like vermiculite-peat and perlite-peat. Importantly, avoid soggy, sandy, and muddy soils for the Jose Buono.
Humidity Requirements
They are tolerant towards a dry atmosphere which gives them a tough nature. However, the ideal situation for these plants is above average humidity which results in healthy foliage.
Fertilizer Requirement
These heavy feeders need extra nutrition for healthy growth. You can use a house plant fertilizer for a monthly dose throughout spring and summer. On colder days, the nutrition requirements of plants usually decrease. Thus, you don't need to fertilize in the months of fall and winter.
There are many low-grade fertilizers available in the market which causes salt formation in soil. Thus, we always suggest avoiding using them.
Pot Requirements
These climbers need a sphagnum pole or support to get the proper support. Moreover, make sure the pot has drainage holes at the base.
Pruning Requirement
You can prune the plant annually; preferably from the lower sides closer to the base. This will enhance the appearance and health of the plant.
Growth Zones
The plants can do well in patios in USDA zone 4 to 11. However, in colder zones towards the north, don't forget to bring them indoors as soon as the fall arrives. Zone 9a to 11 is ideal for total outdoor growth.
Propagation of the Philodendron Jose Buono Plant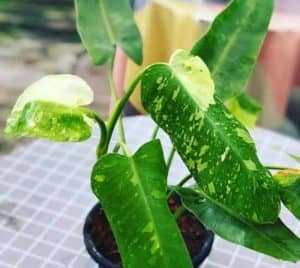 You can easily propagate the plant by stem cuttings. The ideal season for this propagation starts from early spring and lasts till summer.
Method
Take a sharp knife to cut about 5 to 7 inches of stem from a mature and healthy plant.
Remove some leaves from the lower sides, keeping at least 3 at the top.
Now, plant the cutting about 3 inches deep in the moist substrate.
Keep the pot in a warm place with indirect light.
Caution
It is always better to wear gloves as a precautionary measure. This is better to avoid any harmful effects of the toxic philodendron plants.
Growth-Timeline
Let us have a look at an estimated growth process of the plant.
Day 1 to Day 30: Keep the plant in a warm and humid place with indirect light. Water mildly when the soil gets at least 90 % dry. Root development usually starts after the third week.
Day 30 – Day 60: You may observe the shoot development after the fifth week. Keep watering the soil mildly about thrice a week. Always avoid keeping the soil soggy.
Day 60 onwards: If you keep the baby plant with proper care, plenty of shoots would be there at this stage.
Now, simply follow the Philodendron Jose Buono Care mentioned above and enjoy seeing your Philo flourishing!
Related Posts:
Summary
The Philodendron Jose Buono is a popular climber. The elongated dark green spade-shaped leaves with white and golden variegation make it look pretty attractive. This plant has tolerance for low light and humidity, making it one of the easiest philodendrons. The care for this plant includes indirect light and watering after the soil gets dry. The plant is toxic in nature, so keep kids and pets away from the Jose Buono philodendron.