Are you a fan of unique plants? We are introducing a popular Hoya which is elegant and attractive enough to gain your admiration. Hoya retusa is an evergreen flowering plant native to India. The plant consists of long and thin vine-like stems.
A large number of green, thin cylindrical leaves grow on the stems. A mature leaf is around 5 inches in length with a tiny heart-shaped crown at the top. Tiny white fragrant flowers with reddish coronas grow to beautify the plant throughout the months from spring to fall.
This plant is perfectly suitable for both indoor and outdoor ornamentation. You can use it in a terrestrial pot or in a hanging basket. Additionally, with a little effort, you can even train it to climb on support. Let us know more about the low-maintenance, grass-leafed hoya plant.
Hoya Retusa Classification
Family: Apocynaceae.
Genus: Hoya.
Species: H. retusa.
Genus Hoya
This is a diverse genus of about 700 evergreen flowering plant species. You will be surprised to know that new species keep on getting added to the genus. This Asian native was named by the botanist R.Brown.
Hoya Retusa Common Name
Grass-leafed Hoya.
Wax plant.
Porcelain plant.
The last two names are the general names of all the plants of the genus Hoya.
Hoya Retusa Plant Features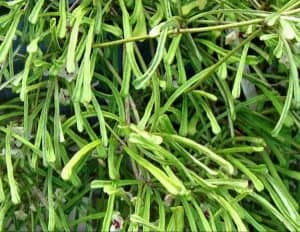 Height and Structure
The plant may reach up to a length and width of about 15 to 20 inches.
The plant body consists of a large number of vine-like, unorganized long and thin stems joined at the base.
A large number of flat, thin, and cylindrical leaves grow in clusters on the stems.
The length of each leaf is about 3 to 5 inches.
Hoya Retusa Flower
The flowers of the plant are quite different than the typical cluster Hoya flowers.
These usually bloom singly and sometimes in clusters, unlike other Hoya flowers who always bloom in clusters.
Each flower is off-white in color with a reddish corona in the centre. Moreover, the size is around 0.5 cm in size.
These waxy flowers producing a typical lemon-like fragrance.
The bloom season is from spring to fall,
Toxicity
The plant contains the typical Hoya milky latex inside. This is toxic in nature. Contact with the skin can cause severe allergic reactions. Moreover, ingestion is quite dangerous for both animals and humans. Thus, always keep the plant out of the reach of kids and pets.
Hoya Retusa Care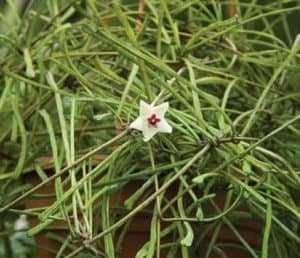 Just like other Hoyas, the retusa is also low-maintenance plant.
Water Requirement
The water requirement is medium, just like other Hoyas. In summer, water the plant just after the upper 3 inches of the soil get dry. Twice or thrice a week will be enough to do the job. However, the water needs of the plant usually decrease in winter. Thus, once to twice a week will be enough.
The amount of water at a time depends upon the type of substrate in use. Heavy soil needs mild watering. Howbeit, you can water freely if the soil is lightweight and free-draining. Always avoid over-watering. As the Hoyas never approve of wet feet and soggy soil.
Sunlight Requirement
Bright indirect sunlight is the ideal condition for the Retusa Hoya. They can do well in medium and artificial lights. Low lights usually don't show a healthy impact on the foliage. If the plant is getting limpy, unhealthy, and discolored, you need to check upon the light availability.
Temperature Requirement
Hoyas usually like to be in 50 to 80 °F. The Retusa Hoya plant usually needs pleasant and low-temperature. One of my friends also experienced a lack of bloom in a warm place. Thus, we always suggest a lower temperature(around 50 °F) for the poor-blooming ones.
These plants are not wintered hardy. Thus, shift them to warmer spots as soon as the fall arrives.
Humidity Requirement
These wax plants are humidity lovers. They can do well in a normal domestic humidity level as well. On dry days, try measures like a pebble-water tray and a humidifier to provide adequate moisture. Grouping the plants also creates a healthy moisture level for the plant.
Soil Requirement
Hoyas generally need well-draining soils. A mixture of peat, orchid mix, and perlite in equal proportions do pretty well for the wax plants.
Fertilizer Requirements
Added nutrition show good results on these plants. Howbeit, they are not the 'hungry babies'. In the growing season, give a monthly dose of compost tea or fish emulsion (dilute). Commercially prepared fertilizing mixtures for domestic plants are suitable enough. However, the nutritional requirements of the plants decrease on colder days. Thus, don't fertilize the plants.
Pot Requirements
If you are specially going to buy a pot, consider a terracotta pot with drainage holes at the base. These plants like to dry out quickly.
Pruning Requirements
You may remove a few unhealthy leaves, especially the older ones. This enhances the health and appearance of the plant.
Growth Zone
These plants are ideal for the USDA zones 10 to 11.
Hoya Retusa Propagation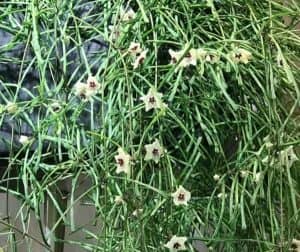 If you want to propagate the plant, it's good news for you. These plants are easy to propagate by stem-tip cutting in the growing season.
Use a sharp knife to get a 7 inches long stem cutting from its growing end.
To prepare the medium, water it generously and wait for a day.
Plant the base about 3 inches deeper in the prepared growing medium.
Now, put the plant in a warm place with high humidity and indirect light.
Water Propagation
These plants can be propagated in water as well. Just fill a jar with sterilized water and dip the stem cutting in it. You can also use tap water after letting it stay overnight in the jar. This will allow harmful constituents like chlorine to settle down.
You just need to change the water once a week or when it gets murky.
Growth Timeline
Day 1 to 30: Keep misting the soil after the upper layer of the soil gets dry. Avoid watering heavily. It is better to use a spray bottle. Root development starts around the end of the third week.
Day 30 to Day 60: The shoot development will be prominent in this stage. Keep following the low watering routine. You can convert the water propagated plant to soil.
Day 60 onwards: A number of stems and leaves will be developed up till now. The baby plant will be in an attractive and ornamental state.
Related Posts:
Summary
Hoya retusa is an evergreen flowering plant with unique foliage. Small, long, thin, and cylindrical leaves grow on thin vine-like stems. Each leaf has a heart-shaped indent on the top. The plant blooms with tiny white flowers with maroon centres with lemon-like fragrance in spring to fall.
The Hoya retusa care includes bright indirect light, humidity, mild temperature, and watering after the soil gets dry. The plant has the inner toxic latex which is allergic to be in contact with. Thus, keep an eye on kids and pets, and don't let them mingle with your Retusa Wax Plant.