Are you looking for a low-maintenance miniature Hoya vine? Let us introduce you to a perennial climber, the Hoya curtisii plant. It grows horizontally to form tight mats on the soil, turning into a cascading dangler later.
The small and olive green succulent leaves are mottled with grey and have pointed apex. Moreover, this compact grower gets beautiful star-shaped flowers, growing in clusters to enhance the outlook of your thick-leaved vine.
This is a proud native of Asian countries, mainly Malaysia, Thailand, and the Philippines. Suitable for both indoor and outdoor environments, this is a nice choice for making pots and hanging baskets. Still with us? Let us know more about the Curtisii Hoya Vine along with its care and propagation.
Hoya curtisii Classification
Family: Apocynaceae.
Genus: Hoya.
Species: H. curtisii
Genus Hoya
Hoya is a genus of about 300 tropical plants. Robert Brown, a famous botanist named the genus in tribute to his friend T. Hoy. The majority of the members of this Asian native genus are evergreen plants with thick succulent leaves. Moreover, they have adventitious roots to help them climb on the nearby supports. This diverse genus includes both epiphytic and terrestrial species.
These plants have flowers appearing on clusters on the peduncle tips. The tick and shiny foliage and flowers are responsible for a number of common names associated with the genus. These names include wax vine, waxflower, and wax plant.
Hoya Curtisii Common Names
Hoya Aloha
Porcelain flower
Fung wax flower
Features of The Hoya Curtisii Plant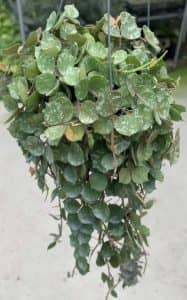 Height and Length
The plant usually reaches a height of about 2 to 3 inches and starts cascading down afterwards. The length of the vine is around 20 inches.
The plant is a slow grower in the beginning. Once established, it looks pretty compact and healthy.
Leaves
Each mature leaf is between an inch and 2 in size.
Hoya curtisii Flowers:
The plant blooms beautiful and fragrant flowers. These have white to link-pink cylindrical petals in a share-shaped pattern with the central crown in a brighter shade.
These Hoya curtisii flowers are unique in structure and grow in clusters.
The curtisii plants are not common bloomers. However, you may see this plant blooming beautifully with proper care like adequate watering and light.
Hoya Curtisii Toxicity
Hoyas are usually toxic in nature. Ingestion is unsuitable for both pets and humans. So, keep the plant away from kids and pets.
Hoya Curtisii Care
These are easy to propagate plants. If you are a beginner and looking for a Hoya vine, this Curtisii Hoya is pretty suitable for you.
Water Requirement
The water requirement is medium. The basic strategy is to water right after the upper layer of the soil gets dry. We usually estimate a weekly frequency of about three times in summer. On the other hand, colder days reduce the watering requirement to about once a week.
Folks! Make sure you avoid over-watering. Additionally, soggy soil and wet feet are highly unsuitable for this Hoya vine.
Sunlight Requirement
The Hoya curtisii light is the indirect sun to partial shade. You can simply keep it in a sunny window indoor. Alternatively, a dappled shady spot outdoor can keep the plant happy.
Exposure to direct sunlight is harmful to these delicate peeps.
Soil Requirement
Any light, well-aerated and well-drained soil will be suitable as the Hoya curtisii soil. If you are considering commercial mixes, just go for any suitable house plant mixture.
Humidity Requirement
The succulent leaves of the wax plant have tolerance for different humidity levels. In summer, you can combat the extra dryness by mild misting. However, just make sure you avoid keeping the foliage wet for long. This could be an invitation to issues like rotting and fungus.
Temperature Requirement
The ideal temperature range for this Hoya Vine is 30 to 40 °F. These have poor tolerance towards cold and frost. Thus, make sure you keep them at a temperature above 10 °F. It is recommended to transfer the vine indoors at some warm spot right after the month of September. This is especially important for the colder zones.
Pruning Requirement
If the vine is getting too long for your decor, you can simply prune it. Just remove a few leaves from the lower sides, preferably the older ones. This will help to maintain the health and appearance of the plant.
Hoya curtisii Propagation
The ideal and easiest method of Hoya curtisii propagation is by stem cuttings. Moreover, you can also grow them by sowing seeds. However, this is a relatively slow process and needs more care.
Season
The best time to propagate a Hoya is the middle of spring until the middle of the summer.
Method
Select a well-grown healthy plant for propagation. Just take a sharp knife and cut about 5 to 7 inches from the stem, preferably from the growing end. Make sure your cutting has growing points (nodes) on it.
Remove a few leaves from the lower side leaves keeping a few at the upper side.
Dip the lower side in the growth hormone and pat to remove any excess. If you don't have the hormone in hand, you are good to go without it.
Now take the pot with the moist substrate and make a 3 inches hole in it. Make sure you keep at least 3 nodes under the soil. Plant the cutting and firm the soil around.
It would be great you plant a few cuttings. Just make sure you keep them at a distance of around 10 inches in the soil.
Seed Propagation
Just sow the seeds in the spring season in a suitable growing mixture. Keep the pot at a warm temperature with indirect light. A temperature of about 65 to 75 °F is ideal for the development of the seed. Just keep the soil moist and wait for the baby plants to grow out.
Timeline
Let us have a look at the estimated growth pattern of the plant. We hope this will be helpful for you in the Hoya curtisii propagation.
Day 1 to Day 30: Just keep the setup at some warm spot with indirect light of medium intensity. Water the soil frequently by spray or misting to keep the soil partially moist. Water after the soil gets mildly dry.
Root development usually starts after the third week.
Day 30 to Day 60: In case of proper care, you will see tiny leaves coming out of the stems around the beginning of the second month. Keep the soil moist and warm as in the first stage.
In the case of seed propagation, tiny shoots usually develop in this stage. All the care and pampering are similar to the cutting propagation.
Day 60 onwards: The cuttings will be developed into baby plants by now. On the other hand, tiny shoots will be seen growing and developing to form the tiny plantlets. Just follow the Hoya curtisii Care shared above and Boom! Be ready to enjoy the growth of this beautiful vine!
Related Posts:
Summary
Hoya curtisii is an evergreen terrestrial tiny vine. It grows horizontally by forming dense mats and starts cascading down afterwards. Foliage consists of small round to heart-shaped green succulent leaves with greyish mottling growing compact along the vine branches. Moreover, in proper care, fragrant white to light pink flowers with brighter centres grow to beautify the compact vine.
The Hoya curtisii Care includes warm and medium-lift space with frequent waterings right after the soil gets dry. Beginners can easily grow and enjoy this low-maintenance plant. This Hoya vine is a nice choice for making both indoor and outdoor pots and hanging baskets.