Cheers to another beautiful low-maintenance Philodendron, suitable for everyone including the beginners! We are introducing the Philodendron mamei which are simply like a piece of cake to grow. The large, dark-green leaves have prominent silvery variegation, making them popularly known as Silver Cloud Philodendron. Moreover, the veins run deep throughout the leaf surface, making them look pleated.
The leaves of this tropical perennial are lesser leathery as compared to many of the famous Philos. Perfect for indoor pots and containers, you can grow them outdoors in yards and patios as well. Want to know more? Please keep reading to enjoy a summarized guide about the Mamei Philodendron Plant.
Philodendron mamei Classification
Family: Araceae
Genus: Philodendron
Species: P. mamei
Genus Philodendron:
This is one of the most popular genera including about 500 perennial plants including both climbers and non-climbers. C. Plumier introduced it back in the 16th century.
Philodendrons are hybridized on large scale, making a range of different plants. These are famous for both indoor and outdoor plantations. Moreover, they have gained popularity in art, folk, and medicine since ancient times.
Features of the Philodendron mamei Plant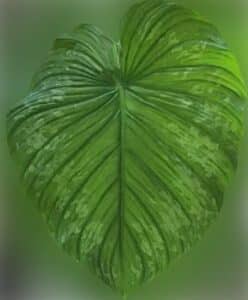 Size:
Big-heart-shaped leaves grow on long stalk-like stems which can get about 4 feet in height. The stems have closely growing nodes, which give a fuller appearance to the foliage.
A mature indoor leaf can get about 5 to 8 inches in size. However, in outdoor open space, you may find the mature leaves getting as large as one and a half foot long in size.
Flower:
The plant blooms rarely showing a typical Aroid flower. White to pale flowers are seen in the warm days of spring and summer.
Toxicity:
High levels of calcium oxalate crystals in the Philodendron foliage makes them toxic for both animals and humans. Ingestion can show health issues like nausea, vomiting, and diarrhoea in animals. On the other hand, it can cause allergy to skin and ulceration in the mouth and throat. So, kids and pets should stay away from these plants.
Air-purification:
These plants are a part of NASA's list of air-purifying plants. They remove toxic components from the air like formaldehyde and benzene.
Philodendron mamei Care
One of the easiest Philos to grow, this one is a nice option for everyone including the beginners.
Quick Guide:
Water: Moderate (Water right after the upper layer gets 70% dry)
Sunlight: The bright indirect sun.
Humidity: Average to high.
Fertilizer: Mild doses in the growing season.
Let us have a detailed understanding of the care and maintenance of the plant;
Water Requirements
The basic 'soak and dry' strategy work perfectly for this peep. Just water the soil thoroughly and wait for the upper soil to dry out before watering again.
If the plant is new to you, it is better to check the soil for moisture. You can do so by inserting your finger or some stick about three inches in the soil. If it comes out dry, it is time to water.
The watering frequency is variable and mainly depends upon temperature, sunlight, and humidity. About once or twice every seven to twelve days for spring and summer is a nice estimate.
The cold temperatures decrease the watering requirements of all the Aroids. So, don't water more than once every fifteen to twenty days.
Wet and soggy soil can suffocate the roots. This results in issues like fungus, pest attacks, and root rot. Thus, make sure you strictly avoid over-watering.
Sunlight Requirements
The Philo mamei needs about 70 to 85% sunlight. Bright to medium filtered sun is ideal. However, they can survive well in low light conditions. This makes them perfect for your under-lit indoor corners.
The color of the foliage indicates light requirements. According to the natural mechanism to manage light absorption, silvery variegation is produced to decrease light absorption. Thus, bright green leaves show that the plant needs more light. On the other hand, silvery variegation indicates a need to restrict light.
Soil Requirements
Well-draining and rich soil is ideal for the Mamei Philodendron plant. You can add sand for enhancing drainage while mulch and garden compost for better fertility of the soil.
For a potted plantation, simply use a rich and quick-draining all-purpose soil for this plant. You can add perlite for enhancing drainage. Also, clumps of organic materials like cocoa bark, coconut husk, and peat-moss in the soil. This will give a surface to the roots to climb upon for absorbing moisture.
Temperature Requirements
These natives of Ecuadorean forests love to stay warm. The temperature range of 55 to 80 °F is ideal for them.
Just like the majority of other Philodendrons, these plants have poor tolerance for cold and frost. So, people of colder regions better grow them in pots or containers. Moreover, they need to transfer them indoors to some warm spot before the temperature falls below 50 °F.
Philodendron mamei Humidity Requirements
The Silver Cloud Philodendrons, being natives of tropical areas, love to stay in humid conditions. However, they can do pretty well in average conditions.
In winter, when the moisture level drops in the air, they may need extra care. You have to maintain the adequate moisture level by different measures. This is particularly for the plants placed indoors in heating systems. A frequent misting about 3 to 4 times a week is a good and easy way. Also, you can use a wet sponge to clean and moisturize the leaves. However, make sure the plant is well-ventilated. This is necessary to avoid soggy foliage which invites different plant issues like fungus and root rot.
Other humidity increasing methods include using a room humidifier or a pebble-water tray under the pot. Moreover, you can group a few plants to increase the overall moisture level around them.
Fertilizer Requirement
These large leaves love to enjoy the extra nutrients given in form of fertilizers. Use a mild dose every month when the plant is growing actively in spring and summer. Using organic matter like bark and leaf litter is also a good source. However, commercially prepared fertilizer mixes, commonly available in the market are perfect to ensure balanced nutrition.
Over-fertilization and cheap products are quite harmful as they make crystals in the soil. This can scorch out or even kill the foliage. So, experts recommend using a mild concentration of a graded fertilizer, almost half or quarter of the stated concentration.
Pot Requirements
Use a spacious pot with drainage holes at the base. Make sure you add support like a sphagnum moss pole for these creepers. A pot with a 10-inch diameter and 10-inch depth is a good size for an initial plantation.
In the juvenile state, these plants can be used for making hanging baskets as well. However, pots and containers are best for them, especially in the grown-up stages.
Re-potting Requirements
The Philo mamei is good to go in the same pot for about a year. The plant getting prominently larger than the pot is another sign you need to repot. These plants don't necessarily like to grow root-bound.
Choose a pot 2 to 3 inches larger than the current and not more. Besides, some people even convert their indoor potted plant to some wide outdoor space.
Pruning Requirements
You can cut and remove the damaged and unhealthy leaves. This will give a healthy appearance and good health to your plant.
Growth Zones
Residents of USDA growth zones 9b to 11 can grow the plant outdoors throughout the year. On the other hand, USDA zones 4a to 11 are suitable for indoor and patio growth.
Philodendron mamei Propagation
Making new Mamei plants is quite easy. You can enhance your collection for decoration or gifting. The plant-loving peeps in your social circle will surely love this beautiful and easy plant as a gift.
Propagation by Stem-cuttings
The easiest method for propagation is planting a few stem cuttings in the warm season of spring and summer. Make sure you complete around the middle of the summer to ensure successful propagation.
Method
Use a sterilized knife to cut a few cuttings from the stems of a healthy plant. Better to cut from the soil end of the vine with at least 3 nodes and aerial roots to enhance the rooting process.
Pinch and remove the leaves at the lower end, keeping at least one or two at the upper end.
Fill a pot with a well-draining growing mix. This should not stay wringing wet but ensure the even spread of moisture. A mixture of sphagnum moss and perlite in a 1:1 ratio is a good option. This pot can be a small pot for initial rooting after which you can transfer the cutting to some suitable large pot. Alternatively, you can simply plant them in the pot you choose to grow them in.
Plant the lower ends of stem-cuttings with at least one node about 3 inches deeper in the mixture. Spray some water to ensure good moisture.
Place the setup in medium indirect sun. The planting process is complete until you wait for about 3 to 4 weeks for the development of roots. You can finally plant them at your desired place.
Initial Care
In the initial two months, just water the growing mix mildly, as you don't want to wash out the cuttings. Once the plantlets get established, you can simply follow the Philodendron mamei Care as shared in the previous section.
Precautions:
Philodendrons are toxic and can cause skin allergies. So, don't forget to wear gloves before cutting and handling the plant.
Related posts:
Summary
Philodendron mamei is a low-maintenance plant tolerant for different light levels including low light. This makes it a nice choice for both indoor and outdoor plantations. The large leaves are dark-green in color with pleated veins and silvery variegation. This tropical perennial aroid can get about 4 feet tall with leaves getting about 1.5 feet long in the outdoor plantation.
You can grow them in pots, containers, hanging baskets, and yards. Besides, make sure you are careful about the toxicity of the plant. Ingestion and close contact is harmful to us and animals. So, keep them away from the plant and contact medical aid in case of emergency.