Say hello to another beautiful and unique Philodendron famous for both indoor and outdoor plantation. The Horsehead Philodendron scientifically known as the Philodendron Bipennifolium is a perennial climber. The shiny green leaves grow in unique shapes somewhat resembling a violin or the head of a horse.
Moreover, in open space, these lobed leaves can get as large as 3 feet. This plant is a nice option for growing as a vine in a hanging basket or as a potted plant with support. Moreover, you can grow it outdoors as well, to see it getting stronger and taller in your yard or patio.
And above all, this beautiful and low-maintenance package flourishes without demanding much of your efforts. Interesting? Let us learn more about the Philodendron Horsehead Plant.
Horsehead Philodendron Classification
Family: Araceae
Genus: Philodendron
Species: P. bipennifolium
Genus Philodendron:
This genus has been popular in art, folk, and medicine for ages. However, C. Plumier officially introduced this collection of more than 500 perennial plants in the 16th century.
Philodendrons include species with different growing habits like climbers and non-climbers. Moreover, they are popular for both indoor and outdoor plantations.
Other Names of Horsehead Philodendron
Fiddle leaf Philodendron.
Panda Plant.
Splash Gordan Plant.
Synonym: Philodendron wayombense.
Incorrectly sold under the title Philo Panduriforme.
Philodendron bipennifolium Plant Features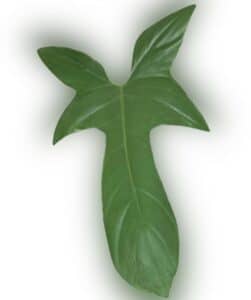 Size
The climber can get about 3 meters tall with a width of about a meter or half.
Leaves
The Philodendron bipennifolium juvenile is totally different from the mature form. Young leaves are small and oval without any lobes. These simple leaves grow to form irregularly lobed foliage of the mature plant. This difference in foliage makes the mature plant look like an entirely different species with no resemblance to the young Bipennifolium.
Coming towards the mature foliage, an average mature leaf can grow up to 18 inches to as large as 3 feet.
The leaves have different sizes and shapes due to morphogenesis. Each leaf shows a different irregular structure. This differentiates each of them not only from the leaves of other plants but also from the ones on the same plant.
Flower
The plant blooms typical aroid flowers. The inflorescence consists of the characteristic off-white spathe and spadix. Moreover, tiny green fruits are born by the plant after getting mature at an age of about 15 years.
Toxicity
All the members of the genus are toxic to humans and animals. This is due to the high ratio of calcium oxalate crystals. Consequently, ingestion can cause allergies, nausea, and stomach disorders. So, keep your kids and pets away from it. Moreover, don't delay contacting emergency medical aid in case of emergency.
Horsehead Philodendron Care
Easy to care for and grow, this one is a suitable option for everyone including beginners.
Quick Guide:
Water: low. (After the soil gets dry)
Sunlight: Partial shade.
Humidity: Average to high.
Fertilizer: Mild concentration in the growing season.
Let us have a deeper understanding of "how to grow the Horsehead Philodendron?"
Water Requirements
The Philodendron bipennifolium likes to stay in moderately moist soil. Follow the 'soak and dry method' popular for Aroid watering. Drench the soil with water and wait for it to get dry. Of course, you don't have to make the plant stay dry for long. Instead, water right after the soil gets dry.
You can check the moisture condition of the soil by touching the upper layer. Also, you can insert your finger or some stick about 3 inches deep. Water right after you find the stick or your finger coming out dry.
The frequency of watering depends upon environmental features like temperature, humidity, and sunlight. So, a plant in higher temperature and bright sun will need more water. An estimated frequency for the warm days of spring and summer is about once to thrice a week. Of course, this depends upon the time the soil takes to get dry.
In low temperatures, plants get dormant and the soil takes longer to dry. This decreases the water requirement prominently. So, don't water for more than once every fifteen to twenty days in fall and winter.
Soggy and wet soil can suffocate the roots causing issues like fungus and root rot. So, avoid it at all costs.
Sunlight Requirements
Bright indirect light is ideal for the plant. A north or an east-facing window is a suitable place for indoor plantation. In the outdoor yard, select a place under some tree or some wall to create partial shade.
Direct sun is harmful to the foliage. Also, a long exposure can cause yellow spots and can even scorch out the plant to death in severe cases.
Soil Requirements
The Philodendron Horsehead plant needs well-draining soil. Loamy soil with clay, sand, and slit is a good option. Besides, you can simply use a packed Aroid growing mix for your indoor pots.
The soil should be slightly acidic with an ideal PH range of 5 to 6.
Temperature Requirements for Philodendron bipennifolium
The plant stays happy in the ideal Aroid temperature range of 55 to 80 F. These plants like to stay warm with a low tolerance for cold and frost. A temperature below 50 °F can freeze and even kill the plant.
People of colder regions should prefer growing them indoors. Alternatively, they can bring the plants indoors to some warm spot before it gets cold in autumn.
Humidity Requirements
These natives of tropical rainforests tend to stay in humid conditions. So, you have to ensure an adequate humidity level for your plant.
There are many popular methods to enhance the moisture level around the plant. One of the easiest ones is to use a pebble-water tray under the pot. This will help the foliage to absorb according to its requirement.
Misting the plant with the help of a spray bottle is another common method. However, you need to make sure that the foliage doesn't stay wet for long. The reason behind this is that wet and soggy foliage attracts plant issues like fungus and plant root.-
Other measures include using a humidifier or grouping the plants together to ensure good humidity around the plant.
Fertilizer Requirement
Your Horsehead Philodendron will love the additional nutrition. Use a balanced Aroid fertilizer once or twice is a month in spring and summer.
Over-fertilizing is quite harmful as it can kill the plant. To avoid this, experts recommend avoiding using higher concentrations. It is always better to use mild doses preferably half of the stated dose.
Plants go dormant with a decrease in temperature in fall and winter. Thus, always stop fertilizing after the end of summer.
Pot Requirements
The plant likes to grow root-bound. So, choose a pot spacious enough for the root ball but should not leave any free space. Also, make sure there are drainage holes at the base.
These hemi-epiphyte plants need support to grow. So, you have to provide the supporting pole or plant hooks to support it. In potted and container plantation, you can use a sphagnum moss pole inserted in the soil/potting mixture. The size of this pole has to be selected according to the desired size for your plant.
Re-potting Requirement
The Philodendron bipennifolium will be good to go for about 2 to 3 years in the same place. However, you can refresh the soil after a year or two to enhance the nutrient availability for the plant.
Compact roots can stress causing a troll on the health and appearance of the plant. So, make sure you repot before this situation.
As far as changing pot is concerned, you don't need to use a new pot every time at the repot. The same pot will serve enough for about 3 to 6 years. When deciding on a new pot, select the size an inch bigger than the previous.
Pruning Requirements
The damaged and unhealthy leaves are kinds of a burden for the plant. So, removing this burden timely shows good results.
Growth Zones
The plant is hardy throughout the year in zones 9 to 11. So, people can even grow them outdoors without any issue. On the other hand, USDA growth zone 4 to 11 are suitable for indoor and patio plantations.
Horsehead Philodendron Propagation
Thinking about making some more Fiddle leaf plants? Keep reading for this easy and fun process. Popular methods include stem-cuttings and air-layering.
Propagation by Stem-cuttings
March and April are ideal times for the propagation of the majority of Philodendron plants. To be precise, the mid of spring until the mid of summer is the perfect time to make some new Philos.
Method:
A proper cutting method is essential to ensure successful propagation. Use a sterilized knife to get a few cuttings. Cut below the leaf node while adding at least two leaves and aerial roots in the cutting.
Dip the lower end in growth hormone and fill the desired pot with a well-draining potting mixture. Sphagnum moss is a nice option for this.
Plant the cuttings in the potting mix and mist it with water. After that, place the pot in the indirect sun of medium intensity. Make sure you keep the mix partially moist by misting it very mildly.
After about three to four weeks, the cuttings will develop tiny roots. You may now take them and plant them in your desired place.
Initial Care:
Keep misting the soil of the planted cuttings mildly in the first two months. The rooted cuttings will start developing the shoots after about 5 weeks. Now, you can finally follow the Philodendron bipennifolium Care as mentioned in the previous section.
Precautions:
Don't forget to avoid the toxicity of the Philodendrons by using protective measures like gloves.
Related Posts:
Summary
Horsehead Philodendron, scientifically known as the Philodendron bipennifolium is an Aroid climber. The hemi-epiphyte can get about 3 to 4 meters tall. Each shiny green leaf shows a different number and sizes of lobes. Moreover, these leaves may get about as large as 30 inches in size.
This plant is a nice choice for making hanging baskets, pots, and containers. Also, it is equally suitable for both indoor and outdoor plantation in a moderately warm atmosphere.
Bright indirect sun, mildly moist soil, and high humidity are what keep the plant happy. On final notes, keep the kids and pets away from the toxicity of this beautiful, multi-lobed vine, the Philo Bipennifolium. Additionally, contact emergency medical aid in case of ingestion.