Let us greet another beautiful succulent! This is a low-growing, clumping ornamental plant, the Peperomia graveolens. This perennial lilliputian expands to form small bushes that merely grow up to 30cm tall. The elongated, grooved, and transparent green leaves with ruby red edges and undersides grow from reddish stems. This bright appearance refers to its common identity as the Peperomia Ruby Glow.
The plant is a decent option as a small decorative plant for indoor tables or shelves. Moreover, you can grow it equally well for outdoor plantations and fillers. Besides the beauty, this Peperomia is pretty easy to grow without demanding much from your time and expertise. Please keep reading to learn more about the Peperomia graveolens Ruby Glow plant.
Peperomia graveolens Classification
A German botanist first collected the sample of this plant in 1973.
Higher Classification: Radar Plants.
Family: Piperaceae.
Genus: Peperomia.
Species: P. graveolens.
Common Names
Can you imagine a small ruby red bush with green leaves at the top? The reddish edges of the foliage and bright red stems make it commonly known as;
Peperomia Ruby glow
Ruby Glow Peperomia
Ruby Glow Succulent
Features of the Peperomia graveolens Plant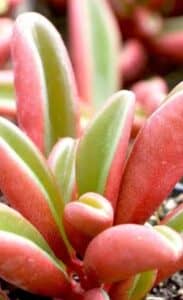 Size:
The succulent expands slowly to form a small bush. It remains under 30cm high and expands up to about 70 cm wide. However, indoor peeps can grow taller while they expand to absorb more light.
Leaves:
The mature leaves are around 2 to 3 inches in length.
Flower:
In warm seasons, the plant bears flowers about 3 inches and pale green to off-white, resembling the tales of rats. These flowers are generally unscented. However, a close sniff will make you feel the typical unpleasant whiff. This justifies the name, 'bad-smelling, the meaning of 'Graveolens'.
These flowers grow on long stalk-like stems, which look no less than the 'Radars of the plant'. This unique feature of these plants makes them a part of the popular classification, the Radar Plants.
Toxicity:
These plants are mildly toxic. So, make sure your pets and kids stay away from it. Ingestion results in issues like allergies, nausea, and diarrhoea. Thus, don't delay seeking emergency medical aid in case of ingestion.
Peperomia graveolens Care
A little succulent care and these Ruby Red low-growing bushes will flourish easily.
Quick Guide:
Water: Moderate and consistent.
Sunlight: Indirect Sun.
Temperature: 65 to 75 F.
Humidity: Average.
Fertilizer: Mild doses in spring and summer.
Please scroll below to learn in detail:
Water Requirement
The Peperomia graveolens plant comes with the typical moderate watering requirement of succulents. Water the soil to soak it completely. Let it get dry before you water again.
Soggy soil and over-watering are very harmful to the plant. Besides, causing issues like fungus and root rot; it can also kill the plant as well. So, don't water unless the soil gets dry. Moreover, don't let the plant dry out completely and water right after the soil dries out.
You need to create a schedule for watering frequency by observing the dry pattern of the soil. This pattern depends upon factors like temperature, humidity, and sunlight availability. In summer, the plants need comparatively more water. Moreover, about twice a week is a nice estimate for spring and summer.
On the other hand, the soil takes longer to get dry in winter. Also, the plant gets dormant minimizing the water requirement. Hence, don't water more than about once in three weeks.
Sunlight Requirement
Where to place my Ruby Glow Peperomia? This is a common question and needs you to understand the light requirements of the plant. It likes to stay in bright indirect sun. So, an east or north-facing window is an ideal indoor place to place your little bush.
These plants do pretty well in artificial lights as well. So, you can get some growing light and place it around the Peperomia to see it flourish soon. On the other hand, a shade with the bright indirect sun is what you need to find in the outdoor plantation.
The delicate succulent leaves can not withstand the long exposures of direct sun. So, avoid placing it in the fierce sun at all costs.
Temperature Requirement
The Peperomia graveolens are not much fussy about temperature. Just place it at your room temperature and it will be good to go. An estimated ideal temperature range is between 65 to 75 F. However, cold and frost are unbearable for the plant. In addition to putting a troll on the health, a temperature below 60 F can even kill your Ruby Glow.
Soil Requirement
Well-draining and aerated soils are the ideal growing requirement for the majority of Peperomias. You can search for peat-based and rich soil to grow this plant.
Simply get a commonly available succulent plant mix. Additionally, you can also make your own mix at home by mixing perlite/sand and peat in the ratio 2:1.
Humidity Requirement
Normal and average levels of humidity work well for this easy-to-care plant. However, on extra dry days consider following some suitable measures to maintain an adequate moisture level. These measures include grouping the plants or using a humidifier. Also, you can use a pebble-water tray under the pot, which is one of the most common methods.
A mild water mist is also helpful to freshen up your plant baby. However, make sure the plant stands at a well-ventilated spot and the foliage should not stay vet for long. This is essential to avoid the plant getting soggy and suppress the susceptibility to fungus, rot, and pest attacks.
Fertilizer Requirement for Peperomia graveolens
The months of spring and summer are ideal to add some extra nutrients to the Peperomia. Monthly doses of a balanced graded fertilizer make your plant grow healthy and strong. Using a mild concentration (equal to or lower than half of the stated dose) is highly advised to avoid. This is essential to avoid over-fertilizing which will scorch and even kill your plant.
In fall and winter, the plant gets dormant minimizing nutrient consumption. Never fertilize after the end of the summer, to save your plant from over-Fertilizing.
Pruning Requirements
Prune your Ruby Glow Plant a few times a year. This will help you to give a healthy and neat look to it. Just keep in mind to start pruning with the lowest leaves. Also, cut the tips with a few leaves to avoid over-cutting.
Pot and Repotting Requirements
No frequent repottings are needed with this peep. The plant likes to stay slightly root-bound. So, moving the slow-grower to a bigger pot is not needed unless it gets prominently bigger. Moreover, don't go for this hassle unless the roots grow out from the basal holes. However, it is a good idea to refresh the growing medium every year. This will help the plant to grow healthy and avoid root rot.
Peperomia graveolens Propagation
If you are here, you must be thinking to make some new Ruby Glow succulents. Consider yourself done, as propagating Peperomias is not a very tedious task.
The most common method is by:
Rooting the stem-cuttings.
Planting the leaf-cuttings.
Propagation by Stem-cuttings
The middle of the spring until the end of the summer proves best to get some successful results.
Just take a clean knife or gardening shears. It would be great if you take a sterilized one. Cut a few stems, each about 4 to 5 inches in length. At least two to three leaves must be growing at the upper ends of the cuttings.
Dip the lower end in rooting hormone to ensure quick and healthy baby plants. However, you may skip this step if you don't have the product in hand.
Take a small pot and fill it with a mixture of peat moss and perlite in a 1:1 ratio. You can simply use a succulent growing mixture from the market and use it t avoid the hassle. People also plant these cuttings in simple clean soil from your yard and get some good results.
Moist the growing mixture mildly and plant the cuttings about 3 inches deep.
Place the pot in a place with indirect light. Also, keep misting the soil about twice a week to avoid drying.
Wait for about 6 weeks until you see tiny shoots popping out from the cuttings. Let them grow a little for about a week. After that, you can simply replant them at your desired place.
Water Prorogation
You can also root the stem cuttings in water. Simply take a small jar, fill it with tap water. Let it stay for a night to evaporate the harmful constituents like chlorine and other toxins. Using sterilized water is another option.
Just dip the cuttings about 3 inches deep keeping the leaves out of the jar. Place the jar in indirect light and weekly refreshing the water every week.
Cuttings will root out in the fourth to the fifth week. You can plant them in soil or let them flourish in water to get a beautiful water vas.
Propagation by leaf-cuttings
It would not be wrong to say that Peperomias love to grow. You can even chop a few leaves and place them on moist soil to see them growing into baby plantlets.
Simply take a few leaves and chop them into two to three pieces.
Just place these pieces on the top of a pot with a moist soil/growing mixture.
Placing the setup in indirect sun and maintaining the moisture is what you need to do.
3 to 4 weeks and you will see the pieces of leaves forming tiny roots. You can simply take them out and plant them in your desire pots. Moreover, it is also a nice idea to let them stay more until they develop baby shoots before replanting them.
Initial Care:
About two to three months of planting these cuttings, you have to be careful about watering. Be consistent and avoid letting the soil dry out. Moreover, it is better to just mist the soil in the initial month, followed by watering the soil mildly.
This will help the baby roots to settle in the new place without getting washed away by heavy watering. After about 3 months, your Peperomais are good to go with the Peperomia graveolens Care explained above.
Related Posts:
Summary
Peperomia graveolens is an Ecuador native beautiful perennial succulent. This small bush hardly grows above 15 inches. The thick succulent leaves are green with a bright red base, growing on the same bright stems.
This is a low-maintenance houseplant, which can grow equally well outdoors. And above all, this pretty peep doesn't need much more than moderate watering, indirect light, and average humidity. Make sure you are careful about the mild toxicity. Don't forget to keep kids and pets at a bay from your Peperomia graveolens Ruby Glow plant.