Are you a fan of fenestrated broad-leaf houseplants? We are introducing a species complex belonging to the family Araceae, the Monstera obliqua. Wondering about the species complex? Let us define it! It is a group of organisms that are too similar to be identified easily. However, the 'complex' status of the Obliqua is not known commonly. Moreover, the majority of people consider it as a mere 'holes in the leaves' houseplant. Surprisingly, there a number of plants in the group Obliqua, the majority of which have large holes in their leaves.
The most common in this complex is the native of Peru and is popular for its perforated leaves. Additionally, it includes Bovillians, with meagre to no perforation at all. Interesting? Let us know further about the care and propagation of the Obliqua Monstera Plants.
Monstera Obliqua Classification
Family: Araceae.
Genus: Monstera.
Species: M. obliqua.
To understand these plants better, let us get an outline of the genus.
Genus Monstera
About 48 flowering plant species combine to form the genus Monstera. These tropical American natives are named after the Latin word 'Monstera', meaning 'abnormal'. This refers to the unique perforated leaves of the majority of the members.
These plants are evergreen hemiepiphytes with aerial roots. Apart from helping the plants to climb up the trees, these roots can grow in soil as well. Monsteras are popular houseplants. Moreover, a few of them have edible fruit like the famous Monstera deliciosa.
Monstera Obliqua Common Names
These plants are associated with a number of common names.
Hurricane.
Swiss Cheese Vine.
Mexican Bread Fruit.
Window Leaf Plant.
Monstera obliqua Monkey Leaf.
Philodendron obliqua.
These plants have a close resemblance with the philodendrons. However, in reality, these are entirely different and not philodendrons at all.
Features of the Monstera Obliqua Plant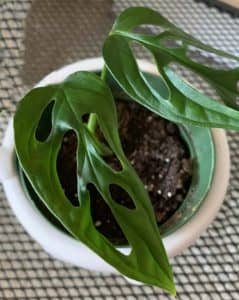 Height and Structure
The plants have a range of heights depending upon species, age, and growing space. Some of these plants can attain a maximum height of 20 inches. Moreover, some of the species can reach up to a mature height of around 15 feet.
These are the 'slim folks' of the Monstera family with a stem thickness of about 2mm.
It will be interesting to know that you can make them grow according to your choice. Young plants are usually bushy and compact in their juvenile form. While, the gown-ups may form dangling vines, bushy climbers, or pruned bushes.
Flowers
The flowers are commonly light green spadix and a white spathe. However, you will rarely see them blooming, especially indoors.
Growth Speed
The Obliqua Monsteras are generally slow-growing peeps. This is one of the reasons they are commonly considered houseplants.
Toxicity
The Obliqua complex is toxic in nature, just like the other Monsteras. Ingestion may lead to allergic reactions like sores in the mouth and oesophagus. So, strictly keep the plants out of the reach of kids and pets.
Monstera Obliqua Variegated
These varieties have lesser chlorophyll in the leaves. This gives unique lighter shades and different patterns to the leaves making the plants look more attractive.
These pricy peeps are pretty rare. If you get your hands on one, just follow the common Monstera Obliqua Care mentioned in the next section.
Monstera Adansonii Obliqua
This can be rightly narrated as M. obliqua vs. M.adansonii. The Adansonii has a close resemblance with the Obliqua Peru and is often confused with it. However, we are going to clear a common confusion.
Let us help you to differentiate the Obliqua by the undermentioned features;
The thin and crispy leaves of the Obliqua have larger holes. On the other hand, Adansonii is greener with thicker leaves and smaller perforations.
Monstera Obliqua Care
These low-maintenance evergreen plants are pretty suitable for beginners. Let us have a look at the care and requirements.
Water Requirement
The simple rule of watering thoroughly and letting the soil get partially dry between consecutive waterings. The watering frequency depends upon the temperature and humidity of the zone. You can set a schedule for watering them about twice in summer. However, once in two weeks or a weekly dose will be enough in winter. Just make sure you never water unless the soil is about 75 to 90% dry.
These plants hate to stand in water. Thus, be careful and avoid over-watering.
Sunlight Requirement
Bright indirect light makes the Obliquas happy. On the other hand, direct exposure to intense may burn the delicate foliage.
Temperature Requirement
The ideal temperature range for Monsteras is between 15 to 25 °C. These delicate peeps are not winter hardy. So, don't forget to transfer them indoors before the winter starts getting fierce.
Soil Requirement
A well-draining soil or growing mixture goes well with these plants. The ideal PH range is between 5 to 7.5.
Humidity Requirement
These tropical native plants love humid environments. On dry days, you need to follow ways to maintain about 80% moisture in the air. Consider using a pebble-water tray or room humidifier for your plant peep.
Fertilizer Requirement
A monthly dose of common house plant fertilizer in the warm days shows good results on the foliage. Nevertheless, winter decreases the nutritional requirements of the plants. Thus, you don't need to fertilize between September to March.
Pot and Repotting Requirement
If you want to get a vine, simply use a hanging basket. Moreover, these plants make good containers and pots for selves and windows.
As far as repotting is concerned, you don't need to do it frequently. These slow-dwellers can do well in the same pots for around 3 years. The roots coming out of the drainage holes are a sign that the plane needs a new pot!
Place Requirements
The leaves of this group are delicate especially the perforated types. So, they can't withstand drift. Select the space carefully without any pressure from windows, air-conditioners, and heaters.
Growth Zones
These plants are ideal in zones 9b to 11.
Monstera Obliqua Propagation
You can easily propagate them by stem-cuttings. The best days for propagation are the growing season of spring and the start of the summer.
Method
Just snip off 5 to 7 inches stems from the plant. Make sure the stem has at least two growing points(nodes).
Plant the cuttings in a moist growing medium or soil to develop the roots.
Keep the set-up in a warm spot with indirect light.
Water the soil mildly with a spray about twice a week.
You will see baby shoots coming out making you happy for successful propagation.
Water Propagation
Instead of using soil, you can simply use a jar of water. The root development will start around the third week. After a month or more, you can convert the rooted baby plants to soil or keep them in water to enjoy water-grown Obliqua.
And Yes! This propagation is as simple as it sounds. You can try it in this quarantine with your kids to have some fun.
Related Posts:
Summary
Monstera obliqua is a group of closely resembling and hard to differentiate plant species. The popular obliquas have big perforated leaves. The holes are usually more than the leaf surface. Additionally, a few obliquas have a minimum or no perforations at all, like the Oblivions.
These easy to grow and low-maintenance plants need slightly moist soil and indirect light. Moreover, these beautiful peeps are toxic in nature. So, be careful peeps! Make sure kids and pets don't play around these evergreen beauties.