A low-maintenance indoor plant with a beautiful marbled appearance! After a number of monsteras, now comes the turn of this rare variegated cultivar, the monstera deliciosa thai constellation. This is a popular cultivar of the Deliciosa Monstera, produced by a genetic mutation in the laboratory of Thailand.
The green large heart-shaped leaves have scattered patterns of cream to white variegation. These variegated patterns look nothing lesser than stars in a galaxy, referring to the selected cosmic name. Moreover, as the plant matures, these leaves get splits which finally turn into perforations, creating the specific 'Monstera effect.
Folks! You need to believe! This classy Monstera Thai Constellation is all enough to add that required 'oomph' into your interior. Interesting? Let us know more about this epiphytic aroid, the Variegated Monstera Thai along with its care and propagation.
Monstera Deliciosa Thai Constellation Classification
Family: Araceae.
Genus: Monstera.
Species: M. deliciosa.
Cultivar: Thai Constellation.
Let us have a look at the parent plant, the Montera Deliciosa, to know the plant better.
Monstera Deliciosa
Deliciosa is one of the 48 flowering species of the Monstera genus. The large green heart-shaped leaves develop perforations during growth. These perforations are the typical feature of the genus. In addition, these are responsible for the name derived from the Latin word meaning 'abnormal'.
This native of southern Mexico is famous for its delicious fruit, getting its name 'deliciosa'. It is important to mention here that this tasty fruit gets a little longer to ripe. Additionally, early and unripe consumption is quite toxic.
Following the typical Monstera trend, the Deliciosa plant is a creeper and climbs with its aerial nodes. In the wild, they can grow well without water or soil. Instead, they grab their survival by clinging to larger plants and trees absorbing the food from the host. However, they grow pretty well in quick-draining airy growing mixtures in the domestic environment.
The appearance is quite similar to that of its Thai cultivar except for the variegations. Moreover, the requirements of both the cultivar and the parent plant are also similar. You will get to know that in that later in this read.
Monstera Deliciosa Thai Constellation Common Names
The common names associated with the Monstera Thai Constellation are as under.
Variegated Swiss cheese Vine.
V.Cheese Plant.
Variegated Salad Plant.
Features of the Monstera Thai Constellation Plant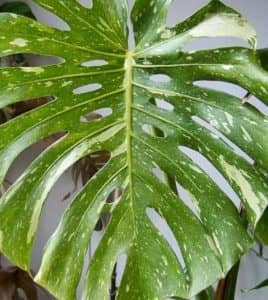 Height and Structure
The height and growth of the monstera deliciosa thai constellation are highly affected by the space and environment. A well-grown plant remains around 3 meters on maturity.
These epiphyte climbers need support to grow along for proper growth. You can use a totem or a sphagnum moss support to get the desired look. However, smaller pots without support will simply make them dangle out like vines.
Flowers
Monstera Thai grows small, non-showy, and lightly scented off-white flowers.
The blooming season is spring and summer. However, blooming is not something you can see commonly.
Fruit
In ideal conditions, fruit mature to form scaly fruit. This fruit needs proper time to ripe and tastes like a Pineapple or a Jack fruit. Unripe fruit upsets the stomach. So, be careful peeps!
Growth Speed
These are quick-growing plants. In no time, your variegated cheese plant will get expand and get bushier, needing a 'hair cut'!
Toxicity of the Monstera Deliciosa Thai Constellation Plant
Monsteras carry their toxicity nothing lesser than a legacy. Ingestion may lead to serious health issues starting from allergies and diarrhoea. So, strictly keep the kids and pets away from mingling with these toxic peeps!
Monstera Deliciosa Thai Constellation Care
Beginners and lazy peeps! Go for these low-maintenance beauties without any second thought. Let us have a look at the requirements.
Water Requirement
Water the plants thoroughly when the topsoil gets dry. Once or twice a week will be enough in summer, depending upon the temperature and humidity. However, once in two weeks or a weekly dose will be enough to keep the plant happy in winter.
Monsteras can't stand over-watering. Thus, don't water unless the upper layer of soil looks at least 90% dry. Plant standing in mulch and wet feet is a clear invitation for root rot.
Sunlight Requirement
Bright indirect light is ideal for these variegated deliciosas. However, they can do well in shade to partial shade. The thing you need to avoid for the delicate foliage is exposure to direct sunlight.
Temperature Requirement
The ideal temperature range for the plant is between 15 to 25 °C. These have poor tolerance for winter and frost. Thus, make sure you transfer this plant baby to some warm before the autumn.
Soil Requirement
A quick-drying aerated growing mixture is good to go with these plants. The suitable PH range stands between 5 to 7.5.
Humidity Requirement
The cultivars of tropical native Deliciosa plants love to be in a humid environment. Moisture level below 70% needs to be fixed. Consider using a pebble-water tray or a room humidifier to maintain the moisture.
Fertilizer Requirement
Use a common houseplant fertilizer for a monthly dose of added nutrition. These Thai constellation Monsteras love to gulp up on warm days. Contrarily, you don't need to feed these peeps in fall and winter.
Pot and Repotting Requirement
Grow them in deep and large pots ideally with support. Without support, they may grow into leggy vines. Make sure the pots have draining holes at the base.
Cutting and Trimming Requirements
This avid grower needs you to give it a regular trim. Give it a nice cut with a sharp knife or be ready to let this peep take over your space.
Place Requirements
The perforated Monstera Thai leaves are delicate and can't stand drift and air pressure. So, select a place away from drifty windows, air-conditioners, and heaters.
Growth Zones
Ideal USDA growth zones are 9b to 11.
Monstera Deliciosa Thai Constellation Propagation
Just like other Monsteras, these are easy-to- propagate plants. You can use stem-tip cuttings or grow them by air-layering to multiply your variegated beauties.
Season
Try propagating your Thai Constellation Monstera in spring and initial days of summer.`
Propagation by Stem-tip Cutting
We are going to explain the propagation in two steps.
Rooting the Cuttings
Just snip off 10 to 15 inches stems from the upper growing part of the plant. Make sure the stem has at least one aerial root. This root grows to form the new roots for the plant.
We have to plant the cutting in the water to let it develop the roots. Simply use a container or a mason jar and fill it with chlorine-free water. You can use tap water after letting it stay for the night. This will help to settle down the chlorine at the base. Kelp can be added to the water to increase the nutritional availability for the growing peep.
Dip the stem-tip cuttings in the water and place them in bright indirect light.
Change the water about once or twice a week to save it from getting mucky.
Roots will develop in about three to five weeks.
Planting the Rooting Cuttings in Soil:
Plant the rooted cuttings in a prepared moist growing medium in a container or a pot.
Place the pot in a warm place with bright sunlight. Keep watering about once or twice a week for about two months.
Five to seven weeks will show your successful efforts in the form of the baby shoot.
Boom! Enjoy the growth of your new variegated Monstera.
Related Post:
Summary
Monstera deliciosa Thai Constellation is a variegated cultivar created in the laboratory of Thailand with the help of genetic mutation. The green heart-shaped leaves with white splashed variation make it look nothing lesser than eye candy. Moreover, heart-shaped baby leaves grow to form holes which ultimately develop into typical Monstera perforations.
The Monstera Constellation Care includes indirect light to partial shade and watering after the soil gets dry. This plant ideally needs support to grow. Make beautiful indoor pots with this attractive epiphyte. However, this Monstera is toxic in nature. Thus, make sure you keep kids and pets away from your Variegated Monstera Thai Constellation plant.