Lemon Coral Sedum lives on Earth to take our hearts away. This plant is fun to grow that almost every gardener wants to grow the lemon coral in his/her garden. it is a beautiful, hardy, and versatile plant. It can be a perfect groundcover for your garden. Lemon coral is a low growing herbaceous plant hailing from New Zealand.
The vibrant combination of yellow, bright green and chartreuse colors it provides is worth appreciating.
Moreover, it's pointy, tiny, and slightly plump leaves attract every person who sees it. You can grow this plant in hanging baskets, pots, or, as ground covers in your gardens. It grows in almost all regions of the world in fertile, well-drained, and dry soil.
Lemon Coral Sedum Classification
The lemon coral plant belongs to the kingdom Plantae, and the family of this plant is Crassulaceae. As the name suggests, the genus of this plant is sedum. The tribe to which lemon coral belongs is Sedeae.
Genus Sedum
This is a large genus of flowering plants and contains almost 600 plant species. Plants that come under this genus are often called stonecrops. The plants found in this genus are mainly leaf succulents and have water-storing leaves. Plants under this genus are primarily found in the Northern hemisphere, South American, and Africa.
Common Names for Lemon Coral Sedum
Every region has its names for plants; they call them according to their convenience. Other names with which you can refer to this plant are
Lemon Coral
Lemon Coral Sedum
Sedum mexicanum lemon coral
Sedum Lemon Ball
Petrosedum reflexum 'Lemonball'
Lemonball Sedum
Sedum rupestre 'Lemonball'
Sedum mexicanum 'Lemon Ball'
Features of the Lemon Coral Sedum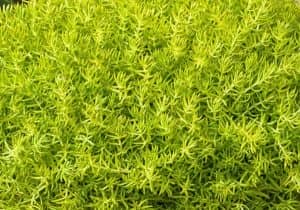 Features of a plant are most significant in deciding which plant to grow. People usually grow plants when they find the characteristics of plants according to their convenience. For example, some people grow plants indoors, so they will need some less poisonous plants that do not grow very tall. On the other hand, people who grow plants in gardens do not have any problems if they grow to a greater height. Some of the features that distinguish lemon coral plants from others are:
Height
These plants are usually grown in the form of groundcovers, so they do not have greater heights. The maximum size to which this plant can grow lies between 0.25 to 0.75 feet. Moreover, these plants are creeping plants, which means that they can spread around the ground. So, they can spread up to 1 to 2 feet in the ground.
Flowers
This plant is an Angiosperm, which means it is a flowering plant. It grows small flowers that are mostly star-shaped. The color of the flowers of this plant is lime green and sometimes gold or yellow. Flowers of this plant can grow up to 1 inch. You can call the flower inflorescence of this plant as cyme. The blooming time of this plant is mainly summer.
Leaf
The lemon coral plant has simple leaves that are mostly fleshy and prickly. The color of the leaves is usually green or yellow. The shape of the leaves is linear and can grow up to 1 inch.
Tolerance
Tolerance in plants refers to how much plants can resist challenges and survive in challenging conditions. The tolerance level of these plants is very high. These plants can survive well in droughts, dry soil, and poor soil.
Perennial
The reason the people call lemon coral sedum perennial is that it can live for many years. Due to its high resistance properties, this plant can survive for a more extended period, even when there are droughts.
Non-toxic
These plants are not toxic at all. Your pets such as a dog can nibble in the garden over these plants. If your dog enjoys munching in the garden, you should avoid using sprays in these plants. Otherwise, it can harm your dog or any other pet.
Ground Cover
These plants can make an excellent carpet for your garden. Lemon coral is the best plant to add to any floral environment due to its mounded to trailing growth habit. This plant will require a space of 16 to 24 inches to grow properly.
Lemon Coral Sedum Care
If you grow a Lemon coral plant at your home or garden, you need to follow a care routine to keep your sedum plant happy and healthy. Listed below are some care instructions for your plant.
Water Requirements
As these plants are drought-tolerant, they do not need water much. However, neglecting the water routine for these plants can turn out to be harmful to them. The best way to check if your Lemon coral plant needs water is to put your finger in your plant's soil up to your knuckle. If the soil sticks to your fingers, it means that the soil is moist enough and does not need water. However, if the soil doesn't stick your finger, you should water your plant. You are required to check daily if your plant's soil is dry or not.
Sunlight Requirements
The lemon coral plant can grow best in full to partial sunlight. You can grow this plant indoors as well as outdoors. When you grow a lemon coral plant indoors, make sure that it does not directly face the sun. Keep this plant in the east or south direction in your room.
Temperature Requirements
You can grow your lemon coral plants in hot as well as cold temperatures. This is the reason lemon corals are called easy growing plants and can grow anywhere.
Soil Requirements
Your lemon coral sedum can grow at its best in well-drained, fertile, and dry soil. This plant can also thrive in sandy to gravelly soil.
Fertilizer Requirements
You should use water-soluble fertilizers to grow your lemon coral plant at its best. Fertilize your lemon coral once a month or according to the needs of your plant.
Lemon Coral Sedum Propagation
These plants are really simple when it comes to propagation. Lemon coral sedums are also referred to as self-propagating plants. You can propagate these plants in three different ways. The plants can propagate from tip cutting, seeds, and stem cutting. Lemon corals that you propagate from cuttings are most likely to flower in the first or second year. On the other hand, plants reproduced from seeds flower in the third year.
The following are the three methods in which you can propagate your Sedum mexicanum lemon coral plant.
Propagation by stem cutting
Firstly you need to dig around the base of an existing plant.
Cut a few stems from each plant.
You can plant these stem cuttings into a tray containing fertile and damp soil or plant these cuttings directly into your garden.
Propagation by seeds
For propagating your lemon sedum plant with seeds, you need to place the seeds you have in damp soil
As soon as you put these seeds in the soil, gently press them down in the soil.
You are required to keep these seeds between 85 and ninety five-degree Fahrenheit.
Tip cutting
Firstly, take 6-inch tip cuttings from the tip of a pre-existing lemon coral plant.
Remove the lower leaves from cuttings if there are any.
After that, place these cuttings into the bottom half of the soil where you want to grow your plant or in a tray.
You will have to wait for 2 to 3 weeks to know if the cuttings were placed right. You will see that tip cutting is putting out roots when it feels snug in the soil.
Related Posts:
Summary
lemon coral sedum plants are amazing plants for growing in your gardens, and they also look beautiful in baskets and pots. These are low growing and herbaceous plants; that's the reason they are called as ground covers.
The most impressive bit about these plants is that they are non-toxic, making you worry less about your pets that roam around freely at home. Moreover, these plants tend to survive in droughts and poor soil conditions because they can store moisture in their roots and stems. Although these plants love heat, but can also tolerate the cold temperature. You are never going to get tired of growing these plants.