Everybody knows the Hoyas all the love they attain for their waxy leaves and clusters of colorful tiny flowers. Hoya wayetii is another common Hoya, known as a perennial flowering vine. The succulent leaves are green in color with the borders getting somewhat brownish in bright light. Small bunches of numerous tiny reddish to mauve flowers grow on the vine in warm days to enhance its beauty.
The long thin stems grow in an attractive 'popping out' manner with an average length of about 30 inches. Suitable for both indoor and outdoor environment, this vine makes pretty pots, containers and hanging baskets. In addition, you can make dense ground covers under the trees or any shady place. Still with us? Let us know more about the care, maintenance and propagation of Wayetii Hoya Vine along with its variegated variety.
Hoya Wayetii Classification
Family: Apocynaceae (Dogbane Family)
Genus: Hoya.
Species: H. wayetii
Genus Hoya
This is a genus of about 700 evergreen flowering plants. In addition, more of the plants keep on joining the genus. The Botanist R. Brown named it in tribute of his friend T. Hoy.
Majority of Hoyas are climbers with an epiphytic trailing habit. The most prominent feature of these plants is their thick shiny leaves. Moreover, they have bunches of small, waxy and colorful flowers. These features justify the combined common name used for all of these, i.e. the Wax Flower Plants, Porcelain Flower Plants and the Wax Vines.
Features of the Hoya Wayetii Plant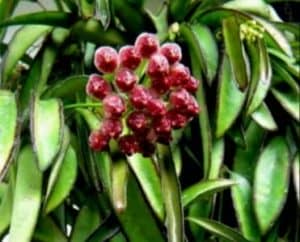 Length
The plant mounds up to 1 to 4 inches after which it starts trailing. The length of the vine can grow up to 30 inches.
Leaves
Thin and elongated leaves grow closely on the dangling stems in alternate patterns.
Each leaf gets about 3 to 8 inches long on maturity.
Flowers
The plant grows bunches of numerous tiny 10 to 20 flowers in deep red to mauve shade.
Each Hoya wayetii flower is about 0.25 inch in size.
Unlike other Hoyas, this vine is not a heavy bloomer. Nevertheless, the 'popping out' foliage grabs the attention, making the plant look no lesser attractive than the siblings.
Toxicity
Hoyas belong to the famous milkweed family. A white milky latex runs in the plant body which causes allergic reactions on ingestion and close contact. This reaction is particularly stronger in people with particular sensitivity. According to popular researches, they are not much dangerous for animals. However, it is always better to keep kids and pets away from such plants.
Where to Grow
This succulent vine is suitable for both indoor and outdoor growth. You can make pots, containers and beautiful hanging baskets. Moreover, the low and dense growth habit makes them suitable for ground covers at well-lit and shady places. In addition, they love to grow under the trees or in groups of other plants with similar requirements.
Hoya Wayetii Variegated
The colors of the foliage differentiate the variegated variety from the parent plant. The leaves grow with shades of pink and red which matures into yellow to off-white and green with darker borders. All other features of the Variegated Hoya wayetii are pretty similar to the original plant. In addition, the care and requirements are also the same as shared in the next section.
Hoya Wayetii Vs. Hoya kentiana
Kentiana is another popular vine from the same genus. These two peeps are often confused with each other. Well, we don't want you to get a plant with the wrong label! Major differentiating features are as under;
The color and shape of the corona show slight differences between the two. The flowers of Wayetti have somewhat petal-like appearance with lighter edges. On the other hand, the Kentiana flowers are round, reddish and more uniform in the shade.
The leaves of Kentiana are longer with more pointed tips.
Hoya Wayetii Care
This is among the easy-to-grow Hoyas. Moreover, we add it in the list of 'No Fuss plants', suitable enough for beginners, busy and the lazy peeps.
Water Requirement
The simple watering technique for Hoyas is to water generously and let the soil dry out between consecutive watering. The soil should be moist, but not soggy. In summer, drench the soil completely and water right after the upper1 inch of the soil gets dry. However, you need to reduce the water in winter. Water the plant generously and water right after letting the whole soil dry out completely.
Twice to thrice a week is enough as an estimated frequency for summer. On the other hand, once a week is generally enough in the colder days.
This plant develops a little drought tolerance. So, don't worry if you skip a few days for watering. But make sure you don't extend more than 4 to 5 days and the plant does not dry up. As we always say, over-watering is harmful to the Hoyas. Soggy soil leads to issues like fungus and root rot.
Sunlight Requirement
Bright indirect light is ideal for these elongated leaves. Outdoors, select some shady spot under the trees or in the shade of some wall. Exposure of direct sunlight is harmful to the delicate waxy leaves.
Temperature Requirement
Keep the Wayetii Plant in the ideal temperature range for Hoya which ranges between 50 to 80°F. These peeps can't withstand coldness. Additionally, a temperature below 10°F can freeze and even kill the plant. So, don't forget to transfer them to some warm indoor spot before the fall arrives.
Humidity Requirement
These tropical perennials love to be in humid areas. Nevertheless, a medium level humidity is enough to keep your Wayetti Hoya happy. They can do well in average humidity of the growth zone. However, in extra dry days, you can adjust the humidity by different measures. Introduce a humidifier in the surrounding or mist frequently to keep the foliage supple.
Make sure the plant is placed in a well-ventilated place and doesn't remain wet for long. Moreover, always mist during the day time and never after the sunset.
Grouping the plants is also helpful to maintain a nice moisture level around them.
Soil Requirement
Rich and well-drained soil are ideal for Hoyas. The soil should provide good aeration and avoid pooling of water.
Fertilizer Requirements
Give a monthly dose of any good quality houseplant fertilizer in spring and summer. Common 2:1:2 or 3:1:2 will suffice to keep the plant healthy. However, a 5:10:3 fertilizer with high phosphorous content gives great results for a blooming Hoya.
These plants don't need additional nutrition in cold days. So, no need to fertilize in fall and winter.
Pot Requirements
Use pots, containers or hanging baskets with drainage holes at the base.
Pruning Requirements
Remove the unhealthy and older leaves to enhance the health and appearance of the plant.
Growth Zone
These Hoyas are hardy in USDA growth zone 11. (above 40 °F).
Hoya Wayetii Propagation
All the members of the genus are pretty easy to propagate. Try propagating in the warm days of spring and summer to get the ideal results. Common methods to propagate Hoyas are;
Stem-tip cutting.
Air-layering.
Stem-tip Cutting
Cut off a 5 to 7 inches long stem from the growing end. Make sure you cut below the node and add at least 2 nodes in each cutting. You should plant at least 5 cuttings to get a bushy new Wayetii Plant.
Remove a few leaves from the lower end keeping some at the upper one.
Plant the cuttings about 3 inches deep in the moist pre-prepared soil pot. Make sure the nodes are planted under the soil.
Place the plant in a warm and ventilated place with indirect light of medium intensity. The growing cuttings prefer medium light over a strong exposure of bright light.
Water the soil mildly with a spray. Let the soil get about 70% dry between consecutive watering.
After about 3 months, you will see a young grown-up Hoya. At this stage, you can simply follow the Hoya wayetii Care mentioned above and see the plant grow and get more beautiful each day.
Propagation in Water
Hoyas like to grow in water as well. Simply fill a jar with water at room temperature. If you are using tap water, let it stay overnight to settle chlorine at the bottom. Dip the lower ends of cuttings keeping the nodes under the water.
Change the water every week to avoid letting it go murky.
Root development will be visible in 3 to 4 weeks. This will be followed by the development of a tiny shoot after the 5th week.
You can transfer the plantlets to the soil after about 3 months. Moreover, you can keep them flourishing in water and Hoyas would love to live there.
Air Layering
This is the quickest among all the popular propagation methods for Hoyas.
Take some rooting medium and moist it slightly. Apply a blob of this moist medium to the joint or node of the plant and cover it with a polythene sheet.
Root and shoot development will be observed after about 6 to 8 weeks.
Cut the stem below the root development and plant it in moist soil or suitable growing mixture.
Summary
Hoya wayetii is an epiphytic perennial flowering vine. The plant has thick elongated leaves about 5 inches long. These leaves are green in color with brownish edges which become bright in intense light. Moreover, the plant grows small bunches of tiny reddish to mauve flowers in spring and summer. Wayetii Hoyas are low-maintenance peeps.
All it needs is medium to bright indirect light and water right after the soil gets dry. The plant has a famous variegated variety, known as the Variegated Hoya wayetii. The leaves get shades of pink which mature into pale yellow and green with prominent borders. These plants are suitable for both indoor and outdoor ornamentation. You can grow these vines in pots, containers and hanging baskets. Outdoors, they are attractive enough to decorate any warm corner with dappled shade.