Do you know about a unique plant with leaves looking like a crocodile? The light-green elongated leaves have prominent dark-green segmented veins, making them look like a crocodile's hide. The popularly know Crocodile Fern is a native of tropical areas. This fern with unique wrinkled leaves gets about 5 feet long and grows through the underground rhizome.
Make indoor decorative pots, containers or grow them outdoors in non-freezing and mild temperatures. Sounds interesting, eh? This dandy and sensitive alligator is fortunately marked safe for us and pets. All in all, this plant is nothing lesser than a low-maintenance eye candy. Let us learn more about this little indoor alligator, the Crocodile Fern Plant, along with its growing requirements and propagation.
Crocodile Fern Classification
Family: Pteridacea
Genus: Microsorum
Species: M. musifolium
Family Pteridaceae
Pteridaceae is a family comprising of about 45 different genera and more than 1150 Fern plants. Surprisingly, the members of this family are yet not described fully. Moreover, they need revised analysis for qualities and classification.
All the ferns grow from a rhizome instead of a rooting system. (Rhizome is a bulbous structure, which stays under or over ground and performs the functions of the rooting system). The growth habit of this diverse family includes both erect and trailing growth habits.
The leaves of these plants are simply more than the common leaves and are known as fronds. Clusters of Sori are found on the margins of these leaves. Sori are the spore(seed) producing parts are of the leaves.
Genus Microsorum
This is a collection of tropical rhizomatous plants. Moreover, the name is often miss-spelt as 'Microsorium' or 'Microsreum'.
Crocodile Fern Other Names
Alligator fern
Crocodylus fern
Crocodile plant
Features of the Crocodile Fern Plant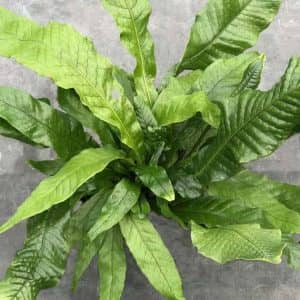 Height and Spread
The mature fern can get from 2 to 5 feet tall with the same spread. However, the indoor ones remain short and rarely grow above 4 feet.
Leaves
A mature frond can get about 5 to 10 inches in length. These leaves look like growing out from the soil. Howbeit, in reality, an underground rhizome supports them while performing the functions of a rooting system.
Toxicity
Good news! Croc Ferns are usually safe for humans, cats, and dogs. However, it is never healthy for animals and kids to ingest domestic plants. So, we always suggest keeping an eye and don't let kids and pets mingle with them.
Growth Rate
Experts consider these alligators amongst the fast growers.
Crocodile Fern Care
These plants may get a bit picky for their requirements. However, you can keep them happy pretty easily by following the undermentioned tips and tricks.
Ideal Growing Place
Kitchen and bathrooms being the humid spots are one of the favourite dwelling places. A north or an east-facing window is the ideal indoor place. On the other hand, you can grow the outdoor peeps under some shady trees, a wall, or a canopy.
You need to keep an eye on the new plant for a healthy appearance. In case of any issue, you need to re-check the suitability of the location and watering schedule of the plant.
Unlike the name, these peeps are not hardy at all. Make sure they are away from drifty windows and direct exposure from heaters and air-conditioners.
Water Requirements
These ferns need moist soil and frequent watering. Water the soil generously and let the upper 2 inches get dry. Water right after the soil gets about 70% dry. In summer, watering the soil about two to three times is enough. While weekly watering is usually enough in winter.
It is important to mention here that you should water the soil and not the foliage. Wet foliage leads to different sorts of plant issues like fungus and rot.
The soil should be moist and not soggy. So, water sensibly and always avoid over-watering.
Sunlight Requirement
In nature, the Croc Ferns live under the shades of trees. So, a medium to low indirect light is ideal for these peeps. In addition, they can do pretty well in bright indirect light conditions. This makes them a suitable plant for a vast range of indoor places.
Direct and intense sunlight exposure is enough to scorch or even kill the fern. Make sure the windows don't allow direct or strong sunlight to reach this 'delicate crocodile'.
Temperature Requirements
The ideal temperature range for ferns ranges between 18 to 24 °C. Well, these alligators are not at all hardy like the real ones. They can't tolerate freezing temperatures and chills. Moreover, temperatures lower than 5 °C can even kill the plant.
So, don't forget to transfer the outdoor peeps to warm spots before autumn starts.
Soil Requirements
Well-drained soil is the 'must-have' for the Crocodylus fern plants. Since they like to stay in moist soil, so they must be quick-drying, loose, and well-aerated. These qualities are essential to help them avoid soggy soil, fungus, and root rot. You can add some peat-based and perlite to make it good for your alligator plant.
Humidity Requirement
These tropical natives love to be in a humid atmosphere. Ideally, they need at least 50% moisture in the atmosphere. They do well in the normal humidity range of your growing area. However, on dry days, you need to provide suitable humidity levels. Consider grouping the plants, using a humidifier or a pebble-water tray under the pot. You can also mist the fronds about 3 to 4 times a week. However, to avoid fungus and rot, make sure the foliage doesn't stand wet for long.
Fertilizer Requirement
Use a monthly dose of any good water-soluble or fern fertilizer in spring and summer. On the other hand, these plants don't need any additional nutrition on cold days. So, avoid fertilizing after the fall.
Experts suggest watering the soil before fertilizing. This helps to avoid the fertilizer from forming crystals which is very common in dry soil.
It is important to mention here that over-fertilizing is harmful and can even kill this peep. Always dilute the fertilizer and mix it generously. The symptoms of over-fertilizing are similar to the sun-burnt plant with Brown spots and dried leaves.
Pruning Requirements
Cut the unhealthy and crowding leaves to enhance the growth and appearance of the plant. This also helps to avoid fungus by providing better air flow around the foliage.
Re-potting Requirement
You don't need frequent repotting for these peeps. Don't hassle unless the rhizome or the plant gets prominently grown out from the pot. The ideal time to repot ferns is – the spring.
Growth Zone
You can grow them outdoors only in USDA growth zone10 and 11. Zone 9 can grow them sometimes but with proper protection.
Related Posts:
Propagation
In wild, nature propagates the ferns through the dispersal of spores. Moreover, the plants expand and spread by baby plants coming out of the parent plant. These pups can be separated and planted individually to make new plants.
Spring is the ideal time to make some new alligator ferns.
Propagation by Pups
If the plant is adult and you see at least one puppy, the propagation job is almost done. Simply take a sharp knife and cut the pup.
Now plant this Baby fern in moist suitable soil. Place the pot someplace with indirect light and humidity. Keep watering mildly every second day to maintain the moisture.
After about 2 weeks, the plantlet will form its feet in the soil. Now, you can simply follow the Crocodile Fern Care mentioned in the previous section. Boom! You are all set to go with your new alligator fern.
Plant as many pups as you want and enjoy gifting them to your acquaintances. Ah, I am sure the plant-loving peeps are going to love you for that!
Propagation by Division of Rhizome:
If your fern is not mature enough to produce the pups yet, you can simply propagate by the division of rhizome.
Take your plant out from the soil very carefully by loosening the soil around.
Cut apart about 1/3 of the rhizome. It should be at least 2 inches in size. Separate the foliage very carefully without damaging it.
Plant the parent plant back to its soil and firm the soil around. Now, plant the part of that rhizome in moist soil. Water mildly in the initial 3 weeks. But make sure you water right just when the soil starts drying.
Place the pot in a suitable place and let the plant adjust to its new and individual identity. You can follow the normal care tips after about 3 weeks.
Summary
Crocodile fern or Microsum musifolium is a tropical rhizomatous plant. The elongated light green leaves have unique dark green veins giving them a crocodile-like segmented appearance. The fern can grow up to 5 feet with an almost equal spread. You can grow it in pots or containers for indoor decoration. Moreover, it can be grown outdoors in suitable zones (USDA zone 10 and 11). The basic requirements of the fern include mild indirect light, moist soil, and high humidity.
If you follow the particular tips, this fern will grow happily without being fussy at all. Unlike many other popular houseplants, this peep falls in the safe category for humans, cats, and dogs. This is surely an added advantage for this delicate alligator, known as the Crocodylus fern.