We are blessed to be a part of this diverse planet. A wide range of plants each with their unique appearance and features are here to adorn our surroundings. We are going to discuss one such plant, the Philodendron billietiae plant.
The giant leaves growing on long orangish petioles are the main features giving it a unique look. Furthermore, the leaves are glossy-green with grooved edges and a mature length of about 3 feet. Cool! Isn't it?
This perennial Aroid vine grows around 5 feet in height. Needing a wide space to grow, this surely is a nice choice for the spacious spots in your homes and yards.
Moreover, you can grow them in pots, containers, and the ground while providing a supporting pole. Easy to grow and loves to expand, this climber will give a pleasant green touch to your surroundings. Want to know more? Please keep reading to learn about Philodendron billietiae Care and propagation.
Philodendron billietiae Classification and History
Family: Araceae.
Genus: Philodendron.
Species: P. billietiae.
This is a recent discovery by Frieda Billiet in the early 1980s. A native of Brazil, Costa Rica, and French Guiana, it comes from the tropical rainforests.
Genus Philodendron:
Philodendron is a popular genus that includes a large range of plants famous for both indoor and outdoor plantation. This is a collection of about 500 climbing and non-climbing plants along with their hybrids. C. Plumier was the one to introduce it long back in the 16th century. The majority of these plants have been famous in different cultures in fields like folk, art, and medicine.
Features of the Philodendron billietiae Plant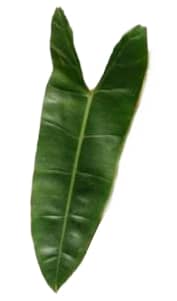 Size and structure:
This is a plant for wide spaces. The indoor peeps can get about 5 feet, growing around a supporting pole. While the outdoor ones grow along with tall trees and get much taller.
Long leaves are supported by long petioles which hang down in a horizontal direction.
Leaves:
The edges of the leave are straight and fine in the juvenile stage. These arrow-shaped or elephant-ear-shaped leave grow further to develop the ridged-borders.
A mature leaf can get about two to three feet in length with a width of about 10 inches. Moreover, the long prominent petioles are about a foot long on maturity.
The stem of the vine grows aerial roots which help them to climb upon the support.
Roots:
This plant can be a hemi-epiphyte or an epiphyte in nature.
You will find it growing along with the land and climbing up on the nearby trees by its aerial roots in its later age.
On the other hand, you can find it growing around a tree. Meanwhile, the basic underground roots will keep anchoring it in the ground.
Flower:
Rarely though, the plant does bloom. White to off-white typical Aroid flowers with Spathe and Spadix is seen in the warm season.
Toxicity:
Toxicity runs in the genes of all the Philodendrons. The higher levels of calcium oxalate in the foliage make them toxic for us and animals. Ingestion can cause issues like nausea and diarrhoea. Also, you can get skin allergies on close contact. So, make sure kids and pets don't mingle with the plant. Moreover, consider contacting emergency medical help in case of any incident.
Philodendron billietiae Variegated
If you are a fan of variegated plants and looking for a large one for spacious corners, this is your plant! The long leaves of Variegated Philodendron billietiae have prominent patches and portions in white. This enhances the beauty of the plant even further.
All other features including size and maintenance of this Variegated billietiae plant are pretty similar to that of the original one. Howbeit, the only difference is its need for brighter light for maintaining its variegation.
Philodendron billietiae Care
Just like the majority of Philodendrons, this one too is a low-maintenance plant. All the beginners and lazy peeps can come forward to enjoy this beauty around them.
Quick Guide:
Water: Moderate (Water right after the upper layer gets 70% dry)
Sunlight: The bright indirect sun.
Humidity: Average. (Love higher levels)
Fertilizer: Mild concentration in the growing season.
Let us learn about the care and requirements in detail:
Water Requirements
Water the soil thoroughly and wait for the upper layer to get dry before watering again. This is the simple strategy applied to the majority of the Philodendrons.
Now, let us talk about the watering frequency. It is the time required by the soil to lose the previous moisture. It depends upon the temperature, sunlight, and humidity around the plant
In spring and summer, watering the plant about once a week is enough. While the peak of summer needs you to water after every 2 to 3 days. On the other hand, once every 2 weeks or even lesser is the schedule for the fall and winter. Over-watering is a big 'No' for all the Philodendrons. Soggy soil leads to plant issues like fungus and root rot.
Sunlight Requirements
Medium to bright indirect light is ideal for these climbers. In case the plant doesn't get adequate light, the foliage may become leggy and lose its vigour. This is a clear indication that it's time to move your plant to some well-lit place. Direct exposure to the strong sun can scorch the foliage out. So, make sure you are selecting the place wisely.
The Philodendron billietiae Variegated needs strongly bright light. The lack of chlorophyll increases the requirement of light to carry out the internal processes. Placing them in medium or inadequate light will eventually lead them to lose their variegation.
Soil Requirements
Well-draining and organically rich soil is ideal for your Philodendron billietiae Vine. This ensures adequate aeration and oxygen for the roots.
Potting mixtures are better for indoor plantation as they reduce the chance of contamination. So, you can simply use a commercially packed houseplant growing mix. Moreover, adding perlite or orchid bark to the soil or mix further enhances the drainage.
Temperature Requirements
These peeps can not tolerate lower temperatures. Also, cold days can freeze and even kill the plant. So, you need to bring the outdoor ones to some warm spot before it falls below 55°F. In general, a temperature range of 65 to 85°F is best to keep your plant happy and healthy.
Humidity Requirements
These giant-leafed vines come from warm tropical areas. So, their love for high humidity is normal. They can tolerate medium levels of humidity in their growing zone. Thus, you don't need to do any extra effort unless it's the dry weather.
There are a number of ways to enhance the humidity around the plant. The easiest one is to use a pebble-water tray under the pot. Just take a shallow tray which should be broader than the base of the pot. Place a few pebbles and fill them with water. Now, place the pot on the pebbles in a way that the water level is below the pot. Moreover, the soil should not absorb any water from the drainage holes. Water will evaporate from the pot and increase the moisture around the pot.
Secondly, you can use a spray bottle to mild the foliage mildly. Howbeit, if the foliage stays wet for long it can attract different issues like fungus and pest attack. So, never drench or over-wet the foliage. Besides, the plant should stay at a well-ventilated place to avoid staying wet for a longer duration.
Thirdly, you can place a few plants together. This will enhance the overall moisture level around them. And, last but not the least; you can use a humidifier to combat dryness for your plant.
Fertilizer Requirement
These active-growing giant leaves will love to have some extra nutrients. Use a common balanced fertilizer in the warm days of spring and summer. It is always better to use monthly mild concentration preferably half of the stated dose. This will help you to avoid over-fertilization which can burn and even kill the plant.
Just like a majority of other plants, this vine also comes up with minimum nutritional requirements in cold. So, stop fertilizing at the end of the summer until the upcoming spring.
Pot Requirements of the Philodendron billietiae
These giant climbers need spacious pots with drainage holes at the base. Moreover, grown-up ones need supports to climb upon and get into a proper shape. Thus, don't forget to add a supporting pole to the pot. Sphagnum moss poles are commonly available and a nice option to be used for plant supports.
Re-potting Requirements
A medium-sized pot is good enough for 2 years until the roots protrude out from the drainage holes. This large-sized vine can not live healthy with suppressed roots. So, make sure you repot in time. Moreover, choose a pot 2 to 3 inches larger in size. This will suffice the plant for the next 2 to 4 years.
Pruning Requirements
These avid growers must be pruned routinely. This will help you to maintain the size of your vine, especially for indoor plantation. Moreover, removing the damaged and unhealthy leaves enhances the health and appearance of your plant.
Growth Zones
If you want to grow them indoors, all the USDA growth zones from 4a to 11 will be supportive. However, zones 9b to 11 keeps it hardy throughout the year for outdoor plantation.
Philodendron billietiae Propagation
Looking for making some more Billietiae Plants? Keep reading, as we are going to help you out.
Propagation by Stem-cuttings:
This is a quick and common method. Start making some new vines in the pleasant days of the middle of the spring. The ideal period lasts till the middle of the summer.
Method:
Take a sharp sterilized knife and cut a good long stem cutting. Make sure you are cutting right below the leaf node, adding at least one aerial root and two leaves attached.
Place the cuttings safely and let them stay for about 2 days. This will form the callous.
Now, plant the cuttings in the moist, well-draining growing mixture. Plant them about 3 inches deep and firm the mixture around.
Place the pot in some warm spot with indirect light. Keep watering the mixture by spraying water every 2 to 3 days.
You have to wait for about 4 to 6 weeks until the planted cuttings develop baby shoots. Keep an eye on the plantlets until about 3 months. At this stage, you will be enjoying a baby Philodendron billietiae vine. You can finally follow the Care as mentioned in the previous section and enjoy your long-leaf vine.
Precautions:
We always recommend wearing gloves while handling and propagating Toxic Philodendrons.
Related Posts:
Summary
Philodendron billietiae is a large-leafed Philodendron vine for spacious places. The leaves are green and glossy with ridged-edges, getting about 3 feet long on maturity. Furthermore, these leaves are supported by orangish petioles which can get about 1 foot long. Overall, this statement-making peep can simply win your heart with its long glossy leaves hanging down the colored petioles.
This low-maintenance plant needs moderate watering, good humidity, and bright indirect light. Grow these in pots and containers, outdoors or indoors, but don't forget to provide the climbing support. This could be a sphagnum pole in a pot or a giant tree for the plant in your yard. On final notes, it is important to mention the toxicity. Keep the kids and pets away from your Billietiae Philodendron plant.