Do you want to know about a dwarf Alocasia plant with plastic-like stiff leaves? We are going to discuss the Alocasia Maharani, also known as the Alocasia 'Grey Dragon'.
This Southeast Asian native hybrid remains about a foot in size. This makes them perfect for terrariums, vivariums, and green-houses. Moreover, you can grow them in containers and pots for both indoor and outdoor plantations in moderate climates.
Numerous thick and large, dark-green, textured leaves with reddish undersides grow on the small thin stems. These leaves are stiff enough to make you feel like touching some artificial plastic. Interesting? Please keep reading to know more about the care and maintenance of the Maharani Alocasia plant.
Alocasia Maharani Classification and Parentage
Family: Araceae
Genus: Alocasia
Hybrid: Maharani or Gray Dragon.
Parentage:
This miniature is a hybrid between Alocasia reginula x Alocasia Melo.
Genus Alocasia:
About 70 perennial flowering plants are added to this Aroid genus. The bold and prominent leaves are the most prominent feature of these plants. Found in different sizes, these plants are famous for both indoor and outdoor plantations.
Common Names
The typical leaf shape of all members of the genus makes them commonly known as the 'Elephant Ear Plants'.
African Mask 'Maharani'. As 'African Mask' is another common family name due to the specific leaf shape.
Alocasia Maharani Plant Features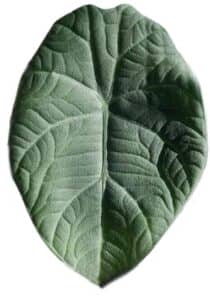 Size:
The size of the plant and leaves depends upon the space it is growing in. In pots and containers, it remains under 8 to 14 inches in size. While it remains shorter in the terrariums and vivariums.
Leaves:
The mature leaves are about 5 to 8 inches in size.
Toxicity:
Just like the majority of Aroids, this one too is toxic. Ingestion may lead to issues like allergies and irritation in the eyes, mouth, and throat. So, keep them away from kids and pets. Moreover, don't ignore seeking emergency medical help in case of emergency.
Dormancy:
When the temperature falls in winter, the plant shows poor or nil growth. Moreover, the majority of the leaves turn yellow and fall. So, don't panic and don't try to 'over pamper your plant. Just bring them indoors to some warm place. In addition, water the soil once or twice a week while strictly avoiding fertilizer. Wait for the spring and you will see your 'Maharani' flourishing again.
Alocasia Maharani Care
These peeps are simple and remain happy with the typical 'Alocasia Care'.
Quick Guide:
Water: Moist soil and frequent watering in the growing season.
Light: Medium to bright indirect light.
Humidity: Likes high humidity and tolerated low levels.
Fertilizer: Mild doses in spring and summer.
Keep reading to learn about the requirements in detail;
Water Requirement
These plants love moist soil, especially on warm days. Just water the soil thoroughly and wait for the upper 2 inches to get dry before watering again. The frequency of watering depends upon the temperature and sunlight. Water it weekly in the pleasant days of spring and summer. However, in the hotter days and peak of the summer, you need to water about twice or thrice every week.
On the other hand, decrease the watering after the fall season. The dormant winter plant will not need to get water more than about twice a month. All the Aroid family members have poor tolerance for over-watering. Soggy and wet soil may lead to harmful issues like fungus and root rot.
Sunlight Requirement
Medium to bright indirect sunlight is ideal for the plastic-leaf Alocasia. You can keep them around some well-lit window or a table with suitable light. These thick leaves can not tolerate direct sun. So, if you are placing them outdoors, make sure you keep them away from direct sun.
Temperature Requirement for Alocasia Maharani
54 to 85 °F is an ideal temperature range for almost all family members. In short, the comfortable room temperature of your room will keep these peeps happy. These peeps have poor tolerance for low temperatures. Make sure you transfer them indoors to some warm spot before the weather falls below 50°F.
Soil Requirement
Just like other Alocasias, your Alocasia Maharani also needs rich and well-draining soil. A common houseplant growing mix or a mixture of coir fibre and perlite are good options. Coir fibre is made up of coconut fibre and enhances the health of the plant by its nutrients. Besides, you can replace it with peat moss as an economical option.
Humidity Requirement
These tropical native plants naturally love to stay in high humidity. A moisture level of 80% and above is ideal. However, they can tolerate the average humidity of their growing zone. Dry days with lower humidity need your attention for this plant. Maintain the adequate moisture level by any of the methods discussed below:
You can mist the foliage mildly once in a while. Howbeit, longer hours of wet foliage can attract issues like fungus. So, just make sure that the plant is placed in a well-aerated place.
A humidifier helps to maintain the moisture level easily without much effort. Secondly, grouping a few plants is another option to enhance the combined moisture level around them. Thirdly, you can use a pebble-water tray under the plant pot. This will create a self-sufficient system to combat dryness.
Fertilizer Requirement
These large leaves like to enjoy extra nutrition. Use commonly available houseplant fertilizer once a month in spring and summer. Mild doses of liquid fertilizers are also a good option, especially for indoor plants. Always use half of the stated dose to avoid over-fertilization which can scorch out or even kill the plant.
The dormant plants in fall and winter have minimal requirements. They don't need any extra nutrition. So, never fertilize after the end of the summer.
Pruning Requirement
These slow-growers don't need regular pruning. Just remove the damaged leaves to make this lilliputian look good and healthy.
Repotting Requirement
This miniature remains good without frequent repotting. However, refreshing the soil annually is good for its health.
Growth Zones
These plants are hardy in USDA growing zones 10 and 11.
Alocasia Maharani Propagation
The majority of the Alocasia plants grow and spread by forming 'clumps' or 'pups'. These are baby plants growing by being attached to the mother plant. The most common method of propagation is the division of these puppies and planting separately.
Propagation by Seeds:
This method is less popular as compared to the other one. The berry or fruit of the plant contains the seeds. If you are lucky enough to get one on your plant, you can remove it to get the seed. Drying these seeds diminishes their germinating ability. They just need a deep soak before being planted.
Propagation by Division:
Propagate when the plant is out of dormancy in the early spring up till the middle of the summer.
Method:
Select a healthy and well-grown plant. The best time to propagate is during repotting when the roots are protruding out from the drainage holes at the bottom. Take the plant and the attached soil out of the pot, very gently, by loosening the soil around it.
Just select a well-grown plant and loosen the soil around it. Ideally, you can divide the plant during repotting a mature plant.
Remove the upper soil to remove the pups easily.
Now, spot the pups and gently separate that from the parent by using your fingers. Be very gentle, as you have to separate the pups along with the roots without damaging them.
You can get numerous pups from 2 to 5 or more, depending upon the size of the mother plant.
Now, repot the parent plant to its new pot and soil.
Similarly, plant the pups in a moist growing mixture with good drainage.
Maintain adequate moisture while avoiding over-watering. Water the soil mildly by using a spray bottle about twice a week. Keep the soil moist and water right before about 10% moisture is left. Moreover, place the baby plants in indirect sun. They will take about 3 to 4 months to get settled down as individual plants. At that stage, you can simply follow the care as mentioned in the previous section and enjoy your Alocasia 'Maharani' plant. Happy Planting!
Water Propagation:
You can plant these pups in water as well.
Just shake off the excess soil and clean softly with tissue paper. Simply plant these baby plantlets by submerging the roots in the water.
Change the water every week to avoid contamination.
Once the plant develops the rooting system, you can transfer them to the soil.
Summary
The Alocasia Maharani is a rare dwarf coming hybrid from which remains around 12 inches in size. This Jewel Alocasia is a cross between Alocasia reginula and Alocasia Melo. The plant gains admiration for its thick leaves which almost feel like plastic to touch. Moreover, they are dark-green with a rough texture and reddish undersides.
This plant likes to stay in moist soil, especially on warm days. Besides, bright indirect sun and high humidity keep this peep bright and happy. This miniature is a nice choice for pots, containers, terrariums, vivariums, and green-houses. Also, they are good to stay both indoors and outdoors while remaining warm after the fall. Keep an eye on kids and pets to avoid the toxicity of this Maharani Alocasia.