Call it unique or call it bizarre, but you are surely going to love this rare plant peep! The green ribbon-like succulent leaves of the plant fold and coil, giving a unique attractive look to this peep. This Lilliputian grows on a bulb and remains around 25 inches in length. This South African native plant makes an attractive houseplant. The unique foliage is attractive enough to create the necessary oomph in your surrounding. It is an excellent choice to make a table or shelf pots. Moreover, this fairy-tale plant is surely a nice addition to your succulent collection. Interesting? Let us know more about this perennial, acaulescent, geophyte, the Trachyandra tortilis plant.
Trachyandra Tortilis Classification
Family: Asphodelaceae
Genus: Trachyandra
Species: T. tortilis
Genus Trachyandra
First described back in 1843, members of the genus are native to different areas. These regions include East and South Africa, Yemen, and Madagascar. These plants can be tuberous, rhizomatous or simple perennials. The prominent feature of the genus is the filiform or linear succulent leaves, which can be hairy in some of the species. Moreover, these plants are usually small in size with a shrub-like growth habit. The flowers are star-shaped with a short life span of one day.
Trachyandra has a close resemblance to the genus Albuca. Popular species include T.falcata, T. hirsutiflora, T. saltii, and the T.tortillis.
Trachyandra Tortilis Plant Features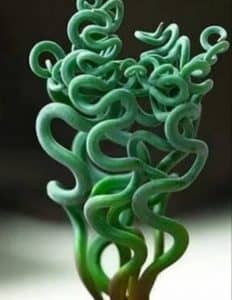 Leaves
4 to 8 greyish-green ribbon-like leaves grow in an upward curled-up manner.
A mature leaf is about 10 to 15 cm in length with a width of around 8cm.
Flowers
The unique plant blooms in late winter and early spring.
Small pale pink flowers with green patterns are about 4 to 5 cm in size. Moreover, they grow on branched spikes. The stalk is solid and pops up from the base of the plant.
The life of these flowers is quite short, even lesser than a day. So, if you don't want to miss the sight, don't forget to have a look at the season.
Dormancy
The dormancy of this plant is quite unique, just like its foliage. Unlike the majority of the plants, it shows slow or stunted growth in summer. So, don't worry when your beloved ribbon plant doesn't show healthy growth in the hot months. Moreover, it may drop the leaves and look weaker.
Just water the plant not more than twice a month and let the soil dry out. The pot should stay in a warm spot with good ventilation. Let the months of May to August pass and dormancy will be over. Once the fall starts, you will see your plant start flourishing again.
Life span
The plant is known to have a long life. In proper care and a healthy atmosphere, this hardy peep will stay with you for decades. Thus, if you get your hands on one, take good care of this peep and you can pass it on to your generations.
Trachyandra Tortilis Care
The tortillis needs frequent watering, bright indirect sun, and good ventilation. These rare plants are not much suitable for beginners. So, people without a green thumb better don't waste this rare glorious species.
Water Requirement
Just follow the common succulent 'soak and dry' strategy for this plant. Water the soil generously and let it get dry before watering again. In the growing season of the plant, i.e. in fall to spring, you may need to water it more or less about once a week. On the other hand, reduce the watering in the dormant days of summer. About once in two weeks is usually enough to keep the sleeping ribbon plant alive.
Over-watering is very harmful to succulents. Make sure the soil is fully dry from the top to the bottom of the pot before you water again.
Sunlight Requirement
Plenty of bright indirect sun makes the curly foliage happy. You can keep it on a window sill or around it. So, a good amount of sun can indirectly nourish the plant for at least 6 hours. However, direct sun is unsuitable for the delicate peep.
Temperature Requirement
The ideal temperature for the plant ranges from 10 to 15 °C (41 to 59 °F). These peeps can't stand extreme temperatures.
Humidity Requirement
These succulents have low tolerance for high humidity. A moisture level of around 50% is fine for the thick foliage. Highly humid places with poor ventilation may lead to fungus and root rot.
Soil Requirement
The plant needs good-draining and ventilated soil. You can use a common succulent potting mix with rocks, sand, perlite, or other such material. Wet and soggy soil is big 'NO' for this succulent.
Pruning and Repotting Requirements
The few leaves of this short plant don't need punning. Moreover, it likes to stay root-bound and grows slowly. Thus, frequent repotting is not the game for this peep.
Trachyandra Tortilis Propagation
This rare succulent is not easily available and comes quite expensive in the market. Once you get your hand on one, it will be great to try propagating another one. Common propagation methods include;
Season
The days between the middle of the fall and the middle of the winter are suitable for propagation.
Propagation by Seeds
The seed propagation is quite slow. In addition, you have to wait for more than a year to get a decorative plant in nice shape.
Just take some small pots and fill them with a fresh growing mixture or the seeding soils. Don't use the garden soil or used up the growing mixture for the seeds.
Sprinkle the seeds on the top of the soil surface. Burry the larger ones about 1/3 inches deeper in the soil.
Now moist the soil and cover it with polythene to maintain the humidity.
If you are not covering the soil, water the soil mildly with spray after it gets about 70 % dry. Don't over-water or make it soggy.
The seeds need plenty of bright and indirect light to grow. A well-lit window sill is a nice place for placing the pot. In the case of artificial light, at least 12 hours of light is required along with a rest of 8 to 10 hours.
Don't forget to give a weekly dose of very dilute liquid fertile in small quantity. Don't over-fertilize at this stage, as this may burn the ingrown peeps.
Wait until you see the germination of tiny shoots. You can finally uncover the pot now and let the seedlings grow.
Once the seeds grow up to 5 inches, you can convert them to their individual pots.
Propagation of Leaf-cuttings
Take sharp sterilized scissors to cut a leaf from the plant. Make sure you don't twist or damage the curled leaf. Let it stay for about 4 to 5 days until the callus is formed on the cut.
Now, plant the cutting in the moist well-drained potting mixture. Water the growing mixture and let it dry out before the next watering.
Summary
Trachyandra tortilis is a rare and exotic indoor succulent. The plant grows up to 25 cm with an underground bulb. 4 to 10, green, ribbon-like leaves grow upward and curl to form a unique appearance of the plant. These curls are different and depend upon the genetic makeup of every individual plant. Unlike others, this succulent gets dormant and may drop leaves in summer.
The basic care of this ribbon-like succulent includes bright indirect light, ventilation, and watering after the soil gets dry. This is not a suitable plant for beginners and we advise it to leave it green thumbs. This rare plant is a nice addition to small indoor pots and containers.