Are you a fan of big leaved climbing plants? Philodendron pedatum is a climbing aroid grown for its foliage. The deep green, multi-lobed and oak-shaped leaves grow on reddish petioles. In favourable conditions, a mature Pedatum can get up to 3 meters tall with leaves getting about a foot long.
This native of Venezuela and Brazil makes a beautiful indoor plant. You can select it to make hanging baskets and pots. Apart from being an ornamental plant, it further provides the benefits of air-purification. Now, coming towards the care. You don't necessarily need to have a green thumb to grow one at your place. In fact, this low-maintenance plant is a nice choice for all including the beginners, lazy and the busy peeps. Let us dive deeper and learn more about the Pedatum Philodendron Plant.
Philodendron Pedatum Classification
Family: Araceae.
Genus: Philodendron.
Specie: P. pedatum
History and Origin
Described in the middle of 18th century, the plant kept the botanists confused for long. It was discovered and named multiple times due to the myriad of foliage outlook the plant produces naturally. It has a number of synonyms but the International Plant names index and tropicos finalized Philodendron pedatum as the accepted and recorded name.
Common Names and Synonyms
Oakleaf Philodendron.
P. Quericifolium.
P. laciniatum.
amazonicum.
P. laciniosum.
Dracontium laciniatum.
Caladium.
Philodendron Pedatum Plant Features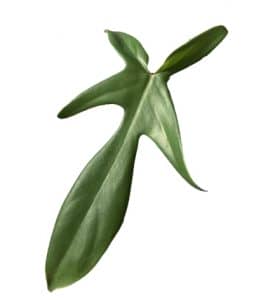 Height of the philodendron Pedatum
The height and spread of the plant are variable and dependant upon the growing conditions. A common plant may turn around 100 to 300 cm tall.
Leaves
The multi-lobed abstract looking leaves are usually 6 to 8 inches long. However, if you provide the plant with proper support, these leaves can get up to 14 inches long.
The juvenile form of the plant is common enough to be confused with many other philodendrons.
Flowers
The plant produces typical aroid flowers in brown to brownish-green shade. However, flowering is rare in these plants and you will hardly see them blooming.
Growth Rate
Well, in comparison to many other siblings, this philodendron is a fast grower.
Toxicity
The typical Philodendron toxicity is an important feature of this house plant. Make sure you keep animals and kids away from it. In case of ingestion or any close contact, it is better to consult your doctor/vet.
Philodendron Pedatum Care
No tricky demands from this exotic looking yet easy-to-care peep. The basic requirements include medium to bright indirect light and watering after the upper soil gets partially dry.
Water Requirements
Follow the simple soak and dry philodendron watering strategy. You need to keep the potting mix moist and not wet. Water the plant and let the upper 2 inches of the soil get partially dry. We always need to adjust the watering routine according to the weather. In summer, once a week generally seems to be enough. On the other hand, once in 10 to 14 days go fine for the winter days.
Over-watering and soggy soil are a big no for the plant. Droopy, loose and browning of leaves is one of the signs of inadequate watering. If you see such signs, recheck your watering routine and adjust accordingly.
Sunlight Requirements
The plant can tolerate a range of light levels. 6 to10 hours of medium to bright indirect light or dappled shade is suitable for the plant.
Direct sunlight is harmful to the delicate foliage. If you see the foliage turning yellow or brown, see if the plant needs a new place with lesser light.
Temperature Requirements
Follow the general Philodendron temperature range for the plant. 16 to 24 °C is ideal rang to keep the plant happy. These plants have poor tolerance for winter and low temperature. So, transfer the plant to some warm spot before the temperature falls below 10 °C.
Humidity Requirements
These plants are humidity tolerant and can withstand a wide range of humidity levels. However, good humidity is helpful in getting the plant healthy. A moisture level of 60% is or more is ideal to keep the foliage happy and shiny. Just have a look at the plant in extra dry days. You can give a little spray mist to 'freshen up' the tired foliage.
Soil Requirements
Rich, well-drained growing mixtures go well along these Philodendrons. The basic quality of the medium is that it should be able to hold moisture without getting soggy. Soil-less mixtures like peat-vermiculite and pure sphagnum peat moss are ideal for this plant. Moreover, a mixture of soil, rotten leaves and coconut fibres or flowers also do well for the plant.
If you see the soil getting hard or compact, knead and fluff it back with suitable tools.
Fertilizer Requirement
These heavy-feeders need regular doses of nitrogen-based fertilizer for healthy growth. Use a common houseplant fertilizer once a month in the growing season. Make sure you stop fertilizing after the weather gets cold.
It is important to mention here that we should always moisturize the soil before fertilizing.
The quantity of the fertilizer depends on different factors including the size of the plant and light available. Ones staying in low light conditions usually need a lesser quantity of fertilizer and vice-versa.
Slow growth and life-less foliage is an indication that the plant needs nutrition.
Re-potting
Repotting is not required unless the plant gets root bound or prominently bigger for the container. The ideal time for this activity is the initial days of spring. Simply, take it out from the soil by loosening it. Brush off excess soil and plant in the fresh suitable soil along with the drainage layer. Water the plant and place in bright indirect light. Fertilizer is not required in the initial weeks.
Philodendron Pedatum Propagation
This plant is easy to propagate just like other philodendrons. You can simply develop new plants by using different methods like;
Seeds.
Stem-cuttings.
Air-layering.
Propagation by Seeds
This is a relatively slow process. You have to wait for at least 5 to 7 months to get a little grown-up decorative plant. Seeds of these plants are commonly available in the market.
Get some and plant them 1/3 inches deep in suitable soil. The seeds should be dry and not pre-soaked.
Now, mist the soil and cover it to prevent moisture loss.
Keep the set up in 20 to 30 C in indirect light. Tiny seedlings will germinate in 2 to 8 weeks. You can finally convert each seedling to a pot to make individual pots.
In initial days, spray water the soil very lightly. As you don't want to drain the seedlings away with the water.
Propagation by stem-cutting
Cut a 6 to 8 inches long piece from the stem of a healthy plant. Make sure you cut at least half an inch below the aerial root (node). Moreover, there should be about 2 to 3 nodes in the cutting.
Now, plant the cutting bout 3 inches deeper in the suitable soil.
Place the setup in the indirect light of medium intensity. Keep the soil moist by spraying the soil regularly.
Tiny shoots will grow out in about 5 to 7 weeks. After that, simply follow the Philodendron pedatum Care and enjoy the growth of the plant.
Water Propagation
You can also plant the cutting in water instead of soil. Just take a small jar and fill it with water. It is better letting the water stay over-night to let the chlorine settle down.
Dip the 3 to 5 inches in the water keeping the nodes underwater.
Make sure you change the water weekly to avoid it getting mucky.
After 7 to 8 weeks, the root-system will develop a little. You can transfer it to soil or can keep it in water to enjoy the beauty.
Related Posts:
Summary
The Philodendron pedatum is a climbing aroid houseplant. The plant has green, multi-lobed, oak-shaped leaves growing on red to purple petioles. This low-maintenance plant needs medium to bright indirect light and watering after the upper soil gets partially dry. You can make decorative pots or hanging baskets with it.
It got confused with many other philodendrons giving it a number of synonyms and common names. Apart from the decent outlook, it provides the added benefits of air-purification. However, this peep is toxic in nature. So, keep your kids and pets away from mingling around this plant. This plant is even a nice replacement for the famous Cheese Plant. Concluding, if you want a large-leafed, easy-to-keep, climbing philodendron, don't forget to consider the Pedatum Philodendron.