All flowers in the entire world are beautiful. The most attractive of all is Red peonies. You will always enjoy growing these peonies in your gardens and they will bloom up so beautifully. This red-colored flower has such a pretty shade that will turn everyone's head to your garden or the room where you have planted them. You will observe a little bit of variance in the colors of these flowers. Some of the peonies are blood red in color while others have brown, orange, or maroon.
Numerous red peony plants flourish in the U.S. department of agriculture and plant where the hardiness zone is 3 through 8. These plants are also native to Europe, Asia, and Western North America.
Red Peonies Varieties
As discussed earlier there is some variance in the color of red peonies. It is because these plants come in many varieties. Some of the varieties are:
Red Memorial Day
Red Memorial Day is regarded as the oldest red peony type available today. They have existed in this world for 450 years. Their aroma is of cinnamon undertone. They grow double flowers.
Buckeye Belle
If you prefer really dark red peonies reaching to a borderline of black, you must try Buckeye Belle. Buckeye belle peonies can grow up to 30 inches or 8 centimeters tall.
Big Ben
Nothing can be more attractive than this variety of peony. If you are a fan of tall red peonies then you should grow Big Ben in your gardens. Big ben grows up to 4 feet or 120 centimeters. Their fragrance is intense and they are rose-red in color. These would be the perfect choice to grow.
Dandy Dan
These are simple peonies that have a color closer to claret red.
Red Peonies Classification
Red peonies are flowering plants belonging to kingdom Plantae in genus Paeonia, the only genus found in family Paeoniaceae. The order of this plant is Saxifragales.
Common Names For Red Peonies
Peony red charm
Peony 'Bride's Dream
P. 'Buckeye Belle'
Peony 'Big Ben'
Peony 'Chocolate Soldier'
P. 'Bowl of Beauty'
Henry bockstoce peonie
Features of Red Peonies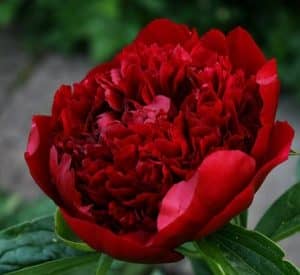 Flower
These plants are angiosperms which means they produce flowers. The color of the flowers is usually red, but it can vary according to the type of red peony you choose. Different shades of red are found in these plants such as Dandy Dan peonies have claret red color, Bucky Belle gives a darker look of red, near to black. Sometimes you will find the flowers of this plant in reddish-orange color. The shade ranges of these plants are really beautiful.
Height
These plants are capable of growing to a height of 65 to 80 centimeters. Moreover, they are capable of spreading up to 60 centimeters or above (approximately 90 cm).
Perennial
These plants have a perennial life cycle which portrays that they can live up to many years.
Aromatic
Red peony plants are fragrant in nature. They have a soothing aroma which spreads in your garden everywhere, making your garden a lovely place to spend your free time.
Poisonous
Henry bockstoce peony plants are toxic in nature. They can turn out poisonous for your pets and even they can be harmful to humans too.
Red Peonies Care
Caring for your plants is most essential. As long as you keep caring for your red peony plants, they will bloom perfectly. If you don't care for your plants, they are expected to die easily. You should follow a care routine to keep your plants healthy. Listed below are some care instructions that will help you to care properly for your red peony plants.
Water Requirements
You are required to water your mature peony plants every 10 to 14 days. These plants require deep watering. Mainly, when the soil starts getting dry, it's time for your plant to get watered. There are also soil moisture testers in the market that help you in checking the moisture of the soil of your plant. With these testers, you will know when your plant needs water.
Sunlight Requirements
These plants can be grown in places where they get full sunlight. In addition to this, partial sunlight also works well for these plants.
Soil Requirements
The quality of soil matters the most when growing any kind of plant. Red peony plants require fertile soil with medium moisture. Make sure the soil you use is well-drained. Moreover, the pH of the soil should be slightly acidic to neutral. You should use soil that has a pH level ranging from 6.5 to 7.0.
Fertilizer Requirements
Everyone wants their Peony red charm plants to bloom exquisitely. Firstly, you need to avoid nitrogen fertilizers or use fertilizers that contain a lower amount of nitrogen. Using organic fertilizers would be best. However, manure is not a good choice when talking about organic fertilizers. Because they contain Nitrogen. On the other hand, if you want to use inorganic fertilizers then 5-10-10 or 10-20-20 low nitrogen fertilizers can work properly to strengthen the roots of your peony plant. These plants should be fertilized twice a year.
Pruning Requirements
You need to prune these plants in late spring when plant growth from buds clearly resumes. Prune outward-facing buds and cut stems at a proper angle.
Pests in Red Peony Plants
Though these plants have greater resistance, they can still become prey to pests and different diseases. These flowers are susceptible to Ringspot virus, nematodes, Verticillium wilt, stem rot, tip blight, leaf blotch, Japanese beetles, Botrytis blight, and ants.
Red Peonies Plant Propagation
Every gardener wants to grow a greater number of these flowers in their garden, due to their beautiful appearance and elegant fragrance. The method by which everyone can multiply these plants in number is propagation. Mentioned below are some steps that will help you to propagate these plants.
The first step is to get a sharp knife or shear.
Dig around your already existing peony plant.
Reach the roots, take some of them out and rinse them thoroughly with water.
Put the roots in the shade so that they soften up.
Cut the roots for about six inches from the crown.
Make sure you have a crown on each piece that you are going to plant.
Plant these cuttings to a suitable location, where your red peony plant can grow perfectly.
The buds on cuttings need to be 2 inches under the soil.
Summary
The expressions of honor, passion, love, and respect are symbolized by red peony plants. These plants are best grown in gardens and even indoors because they exhibit beauty and spread fragrance everywhere they grow. The varying color range this plant provides is worth appreciating. The biggest advantage of these flowers is that they can brighten up your day. All we need is to care for them and they will keep blooming for us.