Do you want to know about a unique plant with leaves resembling little turtles? Yes, we are going to introduce the Peperomia prostrata, commonly known as the String of turtles plant.
Numerous thin vines of this epiphytic perennials grow from the base and cascade down in different directions. These vines are covered with small round dark-green leaves with lighter veins. This unique pattern makes them look pretty much like baby turtles clinging on the dangling vines. Sounds interesting, right?
They usually remain around 2 feet in length. Moreover, they are a nice option for small indoor table pots, hanging baskets, and terrariums. Above all, you can get and enjoy these low-maintenance plants without needing a green thumb! Isn't it cool? Please keep reading to learn more about the essentials of growing the String of turtles succulent.
Peperomia Prostrata Classification
Family: Piperaceae.
Genus: Peperomia.
Species: P. prostrata.
Genus Peperomia
One of the two largest genera of the family, the genus contains more than 1500 members. These epiphytic climbers belong to tropical and sub-tropical regions throughout the world, with northern and southern regions of America in particular.
Common Names
A string of turtles plant.
String of turtles succulent.
P. turtle.
Peperomia prostrata turtles.
Peperomia Prostrata Plant Features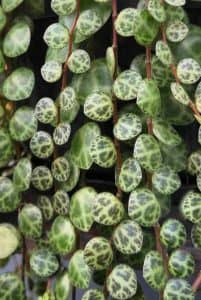 Size
The growth of the plant is focused mainly on its vines. These dangling stems can get about 1 to 3 feet in length. Left un-pruned, this length may get slightly longer.
Leaves
The dark-green succulent leaves of each plant have prominent veins in lighter shades. These may be light green, purple, reddish, or brown in juvenile leaves ultimately turning whitish on maturity.
Fully grown leaves can get about 1 to 2 inches in size. Additionally, they grow in an alternate pattern along with the vines.
Flower
[wp_ad_camp_3]
Rarely though, you may see the plant blooming on warm days.
These flowers are non-showy, tiny, and white. Moreover, they grow on the long spikes of the plant.
Toxicity
These plants are mildly toxic in nature. Thus, be safe and don't let kids and pets play with the Peperomia string of turtles.
Peperomia Prostrata Care
Just like other Peperomias, the Prostrata plants are quite easy to grow.
Quick Guide
Water: Water sparingly after the soil gets dry.
Sunlight: The medium indirect sun.
Temperature: Moderately warm; save from cold and frost.
Humidity: High humidity with tolerance for lower levels.
Fertilizer: Diluted monthly doses in spring and summer.
Continue reading to learn the basic requirements of the Turtle-leaf Vine;
Water Requirement
Peperomia Prostrata doesn't like much water. Water the soil sparingly and wait for the soil to get dry before you water again. The ideal volume of water is estimated to be around 1/5th or 1/6th of the pot. Watering will give a swollen look to the leaves, indicating proper water absorption by the foliage.
The watering frequency depends upon temperature, humidity, and sunlight availability. In a moderate zone, about once a week is enough for summer. On the other hand, once every two weeks or more is a common practice for the colder days.
Be aware of over-watering. Wet and mucky soil can make the little turtles go all mushy and bad.
Sunlight Requirement
The medium intensity of the indirect sun is ideal for these vines. You can place them on a table or a shelf where the light can easily reach the soil. Placing them around a window with indirect light is also a good idea.
These delicate turtle leaves can't tolerate direct sun. So, make sure you are not letting them stand in intense light.
Leggy and weak looking foliage are the signs of the inadequate light. Move them to comparatively brighter light and you will notice healthier foliage in a few weeks.
Temperature Requirement
Just like other members of the genus, this one too likes to stay in a warm atmosphere. The ideal temperature range is between 60 to 75 °F( 16 to 24 °C).
Cold drafts and freezing weather can give a troll on the plant's health and even life. People of cooler regions should not let them stay below 50 °F (10 °C). Make sure you keep the plants in some warm spot before it gets cold in fall.
Soil Requirement
Use a well-drained soil or potting mixture for your plant. A good quality houseplant mix can simply do the job. Besides, you can use a DIY mixture of peat moss and perlite in equal proportions.
Fertilizer Requirement
The foliage loves monthly doses of good quality fertilizer. You can opt for simple houseplant fertilizer suitable for the succulents. Howbeit, the nutritional requirements decrease with a fall in temperature. So, never fertilize after the ending days of summer.
Pruning and Cutting Requirements
Peperomia turtle is a vigorous grower. I love to see them growing in abruptly, cascading in all directions. However, cutting the larger branches may help you to maintain the size of the plant.
Moreover, older and damaged leaves can be pruned to enhance the health and outlook of this peep.
Pot and Repotting Requirements
These plants generally like to stay root-bound. The shallow rooting system is good enough in small-sized pots. Howbeit, don't forget to ensure proper drainage by drain holes at the base.
These plants have small rooting systems. So, shallow pots with drainage holes at the base are ideal to grow them.
Now, let us talk about repotting. As already told, these like to stay root-bound. So, don't repot until about two years.
Peperomia prostrata Propagation
Thinking about making some more turtle vines? Well, it is not that difficult. All the Peperomias are quite easy to propagate. Common methods include;
Stem tip-cuttings.
Leaf-cuttings.
Season:
The best days to plant some cuttings are the middle of the spring season and last up till mid-summer.
Propagation by Stem-cuttings:
Cut 5 to 8 inches long cuttings from the upper end of the stems. Keep the upper leaves while removing the ones at the lower end.
Let these cuttings stay for a day to let them dry. This will remove the excess moisture and the ends will form callous.
Dip the lower end in the growth hormone, if available, and shed off the excess.
Finally, plant the cuttings about 3 inches deeper in the moist well-drained potting mixture.
Place the pot in the indirect sun on medium or low intensity. Also, mist the growing medium mildly every week or whenever the upper layer gets dry.
About a month and you will see tiny shoots protruding out from the cuttings.
Propagation by Leaf-cuttings:
This is the easiest method to get some new Peperomias.
Just take a sharp knife and snip off some leaves and cut them into half.
Let them stay for a day or two to get dry and form callous.
Plant the leaf cuttings or simply place them in a moist and well-draining potting mixture.
Covering the pots with plastic helps to avoid moisture loss. If not, make sure you mist the soil regularly right after the upper layer gets about 90 % dry.
Water Propagation
Instead of soil, you can plant the cuttings in water as well.
Just use a jar and fill it with sterilized water. Using tap water after letting it stay over-night to remove chlorine.
Make sure you change the water every week to avoid mucking.
Root and shoot development will take place after the first month.
A small rooting system will develop after about two months. After which you can transfer the baby plants to the soil as well.
Related Posts:
Peperomia Obtusifolia Variegata
Summary
Peperomia prostrata is an epiphytic perennial plant, admired for its unique foliage. The thin dangling stems are covered with numerous small round succulent leaves. These leaves are dark-green with white veins giving the look of tiny turtles to them. The branches can get about 2 feet in length making it a perfect choice for an indoor plantation. You can grow it in small shelves or table pots, hanging baskets, or terrariums.
Above all, this easy-to-grow plant requires very little maintenance. Indirect light and mild watering are what you need to keep the plant happy. Finally, we can not forget about the toxicity. Make sure kids and pets are not allowed to mingle with your String of turtles plant.