Are you looking for a plant that can glorify your indoor ambience in the most elegant yet attractive way? Are you struggling with your brain and, after reading tons of reviews on the internet about various plants, cannot make a perfect choice? Let us help you now because it is better late than never. We have an accurate match, which will meet your expectations in the best possible ways. We would love to introduce you to a decent yet beautiful tricolour plant named Peperomia Ginny.
This plant has an excellent ability to stay indoors as it can survive under low light or even in fluorescent light and requires minimum care. After adding this to your indoors, you would inhale a series of fresh air because Ginny Peperomia has the ability to remove all the dangerous pollutants from the air. This plant is such a charmer that if you prefer placing it on a shelf or a table, it will enhance the atmosphere more.
Peperomia Ginny Classification
Species: Peperomia Clusiifolia
Family: Piperaceae
Native: Subtropical and Tropical regions
Genus: Peperomia
Common Names of Peperomia Ginny
Based on its colour combination and presentation characteristics, this plant possesses three common names that include:
Rainbow Peperomia Ginny
Red Edge Peperomia
Tricolor Peperomia
The beautiful foliage of this house plant makes it look more attractive and charming when placed anywhere around the house. It is often mixed with other outdoor plants easily because they do not overshadow the neighbouring plants due to their small size. These houseplants could grow up to 6 feet in height, but you do not have to worry about their frequent pruning as the growth rate is extremely slow. Some effective fertilizers are often considered to enhance the growth rate of these indoor plants.
According to the latest research by different scientific communities, it has been proven that Peperomia plants play a huge role in detoxifying harmful agents from the atmosphere. They help you get rid of formaldehyde at some level, providing you with clean air to inhale.
Genus Peperomia
The genus Peperomia is a well-known herbaceous succulent plant with over a thousand species, but not all are cultivated. They are mostly a characteristic of tropical and subtropical regions and serve as a perfect way to increase your indoors' beauty. Their leaves are always eye-soothing due to an attractive combination of colours, making them stand out in an enchantress manner.
Different Species of Genus Peperomia
Peperomia obtusifolia: It is the most widely cultivated species of Peperomia in the tropical and subtropical regions. It has a characteristic oval-shaped leaf and can be categorized as "minima," "marble," and "Variegata" plant due to its distinctive leave patterns.
Peperomia scandens: They possess thick fleshy stems with beautiful heart-shaped leaves, making them a perfect match to place them in hanging baskets at any corner of your house. The mode of propagation involves stem cuttings.
Peperomia argyriea: It is considered the most attractive species of Peperomia, comprising of dark green leaves with a touch of silver zones radiating right from the middle of the leaf. This plant usually gets propagated by leaf cuttings.
Peperomia Clusiifolia: These plants propagate by stem cuttings and possess dark green, large, elongated oval-shaped leaves with an attractive red margin.
Peperomia griseoargentea: Such plants have characteristic shiny silvery green leaves with perfect round shape. They usually propagate by leaf cuttings.
Peperomia Ginny Plant Features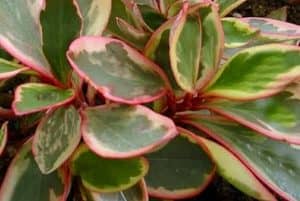 Ginny peperomia is one of the most eye-catching plants you will ever encounter, which has great potential to enhance your house ambience.
It has a naturally beautiful combination of cream and green leaves, which are elegantly bordered by a pink colour.
Peperomia ginny should never be over watered, only water when they seem dry. They are considered a drought-tolerant plant.
They require indirect light, and hence direct sunlight should be avoided.
This Piperaceae family plant is mostly found in tropical and subtropical regions.
Peperomia ginny is considered a non-toxic plant, which also aids in the removal of harmful toxins from the atmosphere.
Such plants are usually small in size and can easily fit into small pots or hanging baskets.
Peperomia Ginny Care
Peperomia Ginny's care tips and tricks are all you want to know to handle them properly.
Flowering and fragrance
The flowers of Peperomia Ginny are not large but extremely small with no fragrance at all.
Light
It is considered that direct sunlight should be avoided for the growth of such plants as it may cause damage. These plants can grow under low or fluorescent light.
Temperature
The temperature for the growth of Peperomia Ginny varies with the seasons. During summers, the ideal growth and survival temperature are 68° – 78° degrees Fahrenheit, whereas the temperature should never reach below 50° degrees Fahrenheit in winters.
Water and feeding
Such plants do not require excessive feeding. They are even drought resistant and only require water when they seem dry. Overwatering should be avoided. The usage of fertilizers is often recommended.
Size and growth
rainbow ginny peperomia look elegant when hung in hanging baskets of kept in pots due to their vertical pattern of growth and dark green leaves. They are slow-growing tiny plants.
Maintenance and grooming
Peperomia Ginny is high quality but low maintenance plant, and when it comes to grooming, you only need a fresh sharp pair of scissors to chop off the dull parts of leaves. It is recommended to water the plant after every ten days, and one should avoid overwatering the plant or else it will result in rotting.
Soil and transplanting
The rainbow ginny peperomia always prefer well-drained soil and whenever your plant grows large and no longer fits the pot, consider repotting it.
Toxicity
Peperomia Ginny is an extremely pet-friendly plant because it is non-toxic, so you have not to worry if your pet consumes it.
Related Posts:
Peperomia Ginny Propagation
There are various approaches to the propagation of this plant which includes either leaf cuttings, stem cuttings, tip cuttings or a division process.
The following way does the propagation process, which involves leaf, stem or tip cuttings:
The ends of the cuttings are recommended to be dipped into a mixture of rooting powder.
The most favourable seasons for rooting are summer and spring.
In the case of leaf-cutting, preference is given to the lower leaves for removal, and the cut must be made below the bottom joint.
Then place the cuttings on a clean surface for a few hours.
In this way, a callus tissue will be formed on the surface of the cutting edge.
The cuttings done at leaves and tips are seen to root quickly as compared to others.
The division process recommended for propagation is also followed by many plant holders which involve:
It is mostly recommended to divide the plant and separate them into small pieces.
During separation, make sure that a few roots are also attached to the divided portions of the plant.
Prepare a mixture and dip the cuttings into it with the top completely sealed.
A greater amount of humidity should always be avoided due to the semi-succulent nature of the plant.
As the roots begin to form, prefer planting the cuttings in their permanent position.
Most common issues faced by Tricolor Peperomia
Issues related to any pest attack or diseases in never reported by any of the users of this plant although if you do not pay attention to it, it may start to rot, look dull or get discoloured easily.
Never place Ginny peperomia under direct rays of sunlight as it will turn the leaves dull in colour.
Most of the times, people end up overwatering the plant, which leads to severe discolouration of the plant.
It is also recommended that while watering, leaves should be avoided or else it will result in rotting of this tricolour plant.
Uses of the Plant
Beauty has no definition; it is just an appreciation of human sight. This rainbow combination plant is a choice of numerous people to enhance the elegance of their atmosphere. Some people prefer keeping it in a pot either on the top of a shelf or a table. It is often seen placed in hanging baskets with a mixture of some outdoor flowers. In most of the cases, due to their tiny size and an attractive combination of colours, they are preferred for décor purpose.
Peperomia Ginny will always be your go-to choice if you are a person who values the beauty of an ambience more than the other things surrounding that place. People always end up appreciating things which catch their sight.