Let us make friends with a rare Hoya vine today. Hoya linearis is an epiphytic perennial plant. Numerous dandy stems in greyish-green color come out from the base to dangle down. These stems are covered with small succulent dark green needle-like leaves. In spring and summer, scented white wax flowers bloom to enhance the beauty of the vine.
You can grow them indoors to make beautiful hanging baskets. However, you will need a little time to get along with this Himalayan native plant. Once you understand its requirements, it will simply become an easy peep for you! Sounds interesting? Let us learn more about the care and propagation of the Hoya linearis plant.
Hoya Linearis Classification
Family: Apocynaceae.
Genus: Hoya.
Species: H. linearis
Genus Hoya
Around 700 different evergreen flowering plants are combined in the genus Hoya. Moreover, new species are continuously joining the existing Hoyas. The botanist Robert Brown named it in the memory of his friend Thomas Hoy.
Hoya Linearis Common Name
The plant enjoys all the common names of the genus.
Wax Vine.
Wax plant.
Porcelain plant.
Hoya Linearis plant Features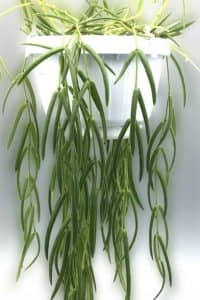 Height and Structure
Numerous thin and long string line stems come out of the base to form the plant body.
The vine attains a maximum length of around 4 to 5 feet.
Leaves
The leaves are long and hairy, somewhat needle-shaped with deep grooving. The length of a mature leaf is about 2 inches (5cm).
Flowers
The plant produces about 10 to 15 star-shaped fragrant Hoya linearis flowers. Moreover, coronas of a cream color and a tinge of pink pop out from each flower.
Each flower is are around 1.5 inches ( 3.7cm) in size.
These flowers have long, cylindrical and hairy seeds.
Toxicity
Just like other members of the genus, the plant contains white latex inside. This internal fluid is toxic in nature. Close contact and ingestion may lead to health issues. So, make sure you keep the kids and pets away from this toxic peep.
Hoya Linearis Care
Well, we don't recommend these waxy linearis vines for beginners. Unlike other Hoyas, they are a bit typical about their requirements. However, once you get to know the plant, it will not be that tricky to keep it. It is like "developing an understanding" with your plant peep.
Water Requirement
A simple strategy in Hoya linearis watering is to let the upper layer of soil dry out between consecutive waterings. You need to keep a check in the initial days. Just water the plant moderately and check after a day or two. If the upper 3 inches feel dry to touch, time to water again. These plants have a little drought tolerance. So, don't panic if you forgot to water for about a week. Simply water as you normally do without over-watering to compensate for the neglect.
Now, we are coming towards an estimated frequency. About thrice a week is enough to move the plant in summer. However, the water requirement usually decreases in winter. So, once a week is enough in the moderate temperature zone.
The ideal time to water the plant is early morning. In the evening, the rate of evaporation decreases, and the water can pool down easily. So better to avoid watering after the evenings.
Secondly, the temperature of the water should be at room temperature. This will save the plant from some sudden shock due to temperature fluctuation.
Hoyas always hate over-watering. Any standing water at the base is an easy invitation to serious issues like root rot.
Sunlight Requirement
Bright filtered sunlight is ideal for the Linearis Hoya plant. A north or east-facing window is a suitable place to keep the plant. If you see a lack of bright light, try using growth lights. Direct light is harmful to these delicate waxy leaves. Yellowing or browning of leaves starting from the edges is a sign of extra light. So, your plant needs a new and better place to live!
Temperature Requirement
An ideal temperature range for Hoyas is between 50 to 80 °F. These plants have poor resistance to lower temperatures. A temperature of 10 °F and lower can freeze this peep out.
So, you need to transfer the plant to some warmer spot before the fall gets too cold.
Humidity Requirement
These natives of the Himalayas, absolutely love humidity. You can keep them in humid areas of your house and they will love it. Being epiphytes, they usually draw moisture and nutrients from the air. A well-lit spot in your bathroom is an ideal place for these moisture-loving peeps.
On dry days, you can try a number of methods to provide adequate moisture. Simply mist the plant daily to maintain the suppleness of the foliage. You can even mist a few times a day without drenching the leaves. Another easy method is to arrange a humidifier in the surrounding. Moreover, you can group the plants or simply place a wide bowl of water near the wax vine.
It is important to mention here that misting is only suitable in the daytime and never after the sunset.
Soil Requirement
A well-drained organic and rich soil is an ideal growing medium for the plant. It should be loose to provide aeration and avoid the pooling of water. A composted self-mixed potting mix is the best option.
Fertilizer Requirements
Fertilize with any houseplant fertilizer once a month in the growing season. It is better to use a mild dosage or dilute the fertilizer before using it. The nutrient requirement of the majority of plants decreases in winter. Thus, you don't need to fertilize your Linearis Hoya after September.
Pot Requirements
Use any hanging basket with drainage holes at the base.
Pruning Requirements
Remove the damaged and unhealthy leaves from the plant. This will help to enhance the appearance and health of the plant.
Growth Zone
These waxy Linearis are ideal for the USDA zones 10 and 11.
Related Posts:
Hoya Linearis Propagation
Common methods like planting stem-tip cutting and air-layering are used to propagate the Linearis vine.
Stem-tip Cutting
Snip off a 5 to 7 inches long stem cutting from the growing end. You can take several cuttings to enhance the chances of success.
Remove the leaves from the lower end keeping a few at the top.
Plant the cuttings about 3 inches deeper in the moist growing medium.
Simply place the plant in a warm and humid place with filtered light.
Water Propagation
You can root these cuttings in water as well. After the roots are developed, you can transfer them to the soil. Just make sure you keep changing the water weekly and don't let it go murky.
Air-layering
This is a comparatively quicker method. Take some moist rooting medium. Just pin down a stem, at the node or a joint. Roots and tiny shoots will develop in about 8 weeks. Now, severe the stem and plant in the desired place.
Growth Time-Line
Let us have a look at an estimated growing frequency along with the care required at each step.
Day 1 to 30: Make sure the soil remains moist by mild water misting daily to alternate days. Don't water heavily at this stage.
Tiny roots start developing around the 4th week.
Day 30 to Day 75: By the end of the 8th week, the plant is supposed to show tiny shoot development. Keep watering frequently, by slightly increasing the quantity of water.
You can transfer the water-rooted cuttings to the soil by this time.
Day 75 onwards: The plant will keep showing the miraculous growth process of nature. Simply follow the Hoya linearis care, as mentioned in the previous section, and enjoy the successful propagation. It is important to mention here that the baby plant will need bout 1.5 to 2 years to get an adult blooming form.
Summary
Hoya linearis is a rare Hoya vine belonging to the Himalayas. The epiphyte grows with bunches of long delicate stalk-like stems. These greyish-green stems grow small, needle-like, and dark-green leaves. The plant produces beautiful waxy white flowers on warm days, enhancing its beauty.
The Hoya linearis care includes a warm humid spot with indirect light and watering after the top-soil gets dry. You can grow them outdoors in a suitable environment or make decorative hanging baskets. These beautiful vines are attractive enough to create the 'oomph' in your desired place.