Dieffenbachias are one of the most popular houseplants in North America. These undying, erect perennials would give an exuberant look to any space they're placed inside. The broad, variegated white and cream green leaves of Dieffenbachia Memoria Corsii would give a tropical look to your office spaces or rooms and serve as perfect living decoration.
Classification of Dieffenbachia Memoria Corsii
Family: Araceae
Subfamily: Aroideae
Genus: Dieffenbachia
Origin and Distribution
It is native to the tropical forests of North and South America and, the Caribbean.. It has an extensive natural range that extends to the South through Venezuela, Suriname, French Guiana, eastern Brazil, and west into Colombia's lowlands, eastern Ecuador, and Bolivia.
It's also said to be found in Mexico and a large part of Central America but it isn't considered as their native. It is globally cultivated and nurtured in Sri Lanka, Singapore, Nigeria, Malaysia, Samoa, Fiji, Hawaii, and other South Pacific Islands.
Features of the Dieffenbachia Memoria Corsii Plant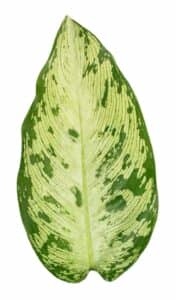 Foliage
The leaves are oblong-ovate and blotched or variegated in diverse shades of white, cream, yellow, green, or red, with the lighter colors filling the gap between the leaf veins. The stem is added by the petioles, which are long and fragile. The inflorescence is made up of a single spathe with overlapping edges making a tube.
Size
The plant generally grows 1 to 3 feet in height and 2 to 3 feet in width. If grown indoor under the most ideal conditions, the plant may grow up to 5 feet with leaves that stretch out to 3 feet.
Growth
Dieffenbachia Memoria Corsii is a fast-growing plant. You would see its new roots growing in a time of 4 to 8 weeks. The plant can potentially reach the height of 2 feet within a year and reach its mature height in 2 years. It will grow when placed in a bright room under indirect sunlight.
Toxicity
The cells of the plant consist of needle-shaped calcium oxalate crystals known as Raphides. If a person chews a leaf of this plant, he might have a temporary burning sensation or erythema. Chewing or swallowing of the leaf mostly causes mild symptoms which aren't life-threatening.
The symptoms though can be irritating and unpleasant including intense numbing, oral irritation, excessive drooling, and localized swelling. In most cases, symptoms can be cured with analgesic agents antihistamines, or medical charcoal. Severe cases can occur if the plant makes extended contact with oral mucosal tissues which can cause a lot of pain and the host might be needed to hospitalize.
Drought Tolerance
As it is a house plant, it can go for 2 to 3 weeks without being watered but after some time it will start going dormant. To revive your plant just repot it and water it thoroughly.
Maintenance
Dieffenbachia Memoria Corsii is a low maintenance plant. You just need to take care of a few basic things which you too can carry out as a beginner. Its low maintenance makes it one of the most liked plants.
Dormancy
The plant can't survive under extreme conditions. It requires a temperature ranging from 60 to 75°F. The plant may go dormant in temperature below 50°F. The plant can grow under extreme shade or sunlight but the growth rate will slow down dramatically.
Dieffenbachia Memoria Corsii Care
The plant should be watered thoroughly and should be placed in well-draining soil. The soil should persistently be kept moist but it should not get mushy. The plant should be fertilized every 4 to 6 weeks for best growth and placed under bright indirect sunlight. The temperature should be 65 and 75°F and shouldn't drop below 50°F.
Quick Guide:
Watering: Once a week or twice a week
Soil Type: Well-Draining Soil.
Sunlight: Bright, indirect sunlight or partial shade.
Temperature: 65º and 75ºF
Humidity: 60%
Fertilizer: Use complete fertilizer and feed after every 4 to 6 weeks.
Dieffenbachia Memoria Corsii Water Requirements
Watering is an essential part of the growth of Dieffenbachia Memoria Corsini. The plant should be watered completely and then not watered again until the potting medium is dry again. The soil should be kept moist constantly but it shouldn't get mushy. The plant shouldn't be overwatered.
Soil Requirements
Dieffenbachia Memoria Corsii should be placed in well-draining soil. Good drainage secures the soil from waterlogging. The plant can be grown in pure peat. A potting mix of peat and perlite in a ratio of 1:1, soil and peat in a ratio of 1:1, or soil, peat, and perlite/vermiculite in a ratio of 1:1:1 can be used for ideal growth.
Sunlight Requirements
The plant can put up with a variety of light conditions. It can also grow under heavy shade but the speed of growth will slow down eventfully also excessive sunlight will cause the leaves to turn yellow and may scorch them. The plant grows ideally under bright indirect sunlight.
Temperature Requirements
Dieffenbachia Memoria Corsii is a tropical plant that is why it flourishes under temperatures ranging from 60 and 75°F. The plant is vulnerable to cold and is susceptible to injuries in temperature below 50°F. It should be kept in a warm place during winters where the temperature is above 60°F. The plant can be placed outside during Summers but would grow ideally indoors.
Humidity Requirements
Like any other tropical plant, Dieffenbachia Memoria Corsii springs up in a humid environment. The plant loves moisture. A humidity level of 60% should be ideally maintained throughout the year to keep the plant lush and vivid. If the air gets too dry, the leaves of the plant will develop brown edges.
Dieffenbachia Memoria Corsii Fertilizer Requirements
The plant should only be fertilized during the growing season, preferably two times a month. The plant does not require to be fertilized during the winter season as it isn't its growth period and it wouldn't require all the nutrients at that time. You can use a good quality houseplant fertilizer but make sure it doesn't include lime. Also, make sure your plant is watered before you fertilize it otherwise it can get burnt.
Pruning Requirements
The plant should be trimmed only when it has dropped enough leaves to reveal the stem. There is no particular time to prune the plant so you should keep observing it and trim it when it is required. The leaves of the plant turn yellow and shed from the stem and it gets exposed. This is when you should be pruning your Dieffenbachia Memoria Corsii Plant.
How to Propagate Dieffenbachia Memoria Corsii
There are two ways to propagate a Dieffenbachia Memoria Corsii plant.
Stem Cutting
Air Layering
Stem Cutting Method:
Stem cutting can further be taken out in two ways.
In Potting Medium
Here is a guide on how to propagate your plant using the potting medium method:
Before cutting the stems, disinfect your sheers with a solution containing 1 part pine oil cleaner and 3 parts water.
Make sure you've rubber gloves on and cut 3'4 inches of the cane. You can cut from the base, the middle or lower region of the plant however the stem tips root the quickest. Cut at least 3 portions to amplify the odds of your success.
Remove if there are any leaves and place the cuttings under direct sunlight and then let them dry overnight.
Now soak the cuttings in a high-quality rooting medium.
Now take a flower pot and prepare a mix of half hand and half peat moss and moisten it thoroughly.
In Water
This is a relatively simpler method and can be taken out as follows:
Just cut the stem into 4 to 6 inches long stem sections and take out the leaves.
Take a glass of water and place the cuttings into it. You can change the water after a few days
Place the medium in a warm and lit spot but away from direct sunlight.
After the new roots have formed place them into a well-draining potting mix of peat moss and sand moist thoroughly.
Make sure you do it as soon as new roots are formed, if you let the roots grow further it'll be difficult to transplant them.
Air Layering Method
Air Layering is a method that is carried out to propagate bigger dieffenbachia Memoria corsii plants. This method is slightly complex and needs to be carried out with precision. Air Layering is the best method to follow if the leaves of your plant are leggy or if their color is paling.
Following are the steps you need to perform to carry out air layering of your plant:
Carefully examine your plant and pick out the stem with a healthy leaf bud. Take one and cut an upward slit of 2 inches on the stem.
Insert a small toothpick in the portion you've cut to make sure that the slit section doesn't come in contact with the main stem. Now, clean the cut portion with the help of some rooting medium.
Next, take a handful of Sphagnum and moisten it with water. Squeeze the sphagnum to release excess water. Make sure it's moist but the water doesn't drip from it.
Now put the moss into the section of the item you've cut and tie it with some string or electrical tape.
Wrap the moss using polythene film and ensure that there are no air pockets and secure it further by wrapping electrical tape around it.
In some days the root will start to propagate from the portion you've cut and in no time, you will see it shooting out.
Once there is some growth remove the polyethylene sheet with the help of a knife and take out the newly rooted branch.
Place the newly rooted branch in a high-quality potting mix and cover it with a piece of polyethylene sheet so it doesn't lose its moisture.
After the roots develop place the plant in a bright spot with indirect sunlight.
Related Posts:
Common Problems and Their Solutions
Diseases
Plant diseases are rarely a concern in the home. The major problems include too much or too little water, as well as insects and mites. Root rot is most often caused by a soil combination that does not drain well or by overwatering.
Mealybugs and aphids feed on plant fluids, and severe infestations will deposit sticky honeydew on plant leaves. Excessive fertilizer might cause leaf burn on the margins. Plants that aren't getting enough nutrients may turn yellow, grow smaller leaves, and become stunted.
Pests
The plant isn't pest resistant. Having a dieffenbachia Memoria corsii at your home means you can face pest problems like spider mites, mealy bugs, aphids. Your plant's problems could be due to spider mites.
In this regard, the first step is to separate your dieffenbachia from other plants so the spider mites don't affect them. Take the plant outside and spray it with a strong stream of water to lessen the mite population. For the best results, insecticides may be required.
Frequently Asked Questions about Dieffenbachia Memoria Corsii
Where should I place my plant?
The plant requires bright indirect sunlight so you should place it against a west-facing window with partial shade. The plant can also grow in dark but its growth speed will drop down dramatically.
Is it a rare Dieffenbachia specie? Can I grow it as a beginner?
No, it isn't a rare species and you can easily find it. If you're a beginner then this is one of the best plants to go with. They only have some basic care requirements which you can take care of as a beginner.
Does this plant need repotting?
Yes, the plant requires repotting every 2-3 years. Just as soon as the roots of the plant occupy all the space you need to re-pot it.
Conclusion
Gardening is a great thing to do in your spare time. If you're new to this then Dieffenbachia Memoria Corsii is one of the best plants to get going with. It requires you to carry out only a few basic care requirements which you can as a beginner. Its striking foliage will give your office spaces and rooms a tropical and lively look.