Calathea plants are famous for their attractive foliage. We are going to describe another member of the Arrowroot family, the Calathea Medallion. This Brazilian native is a hybrid of the famous Calathea roseopicta. The mature plant can grow up to 2 to 4 feet tall. The leaves are round in shape with beautifully layered patterns in green with burgundy undersides.
This bright Medallion Prayer plant makes a nice choice for pots and containers including both indoor and outdoor plantations. This beautiful member of the Prayer Plant needs a bit extra care of those pesky leaves. Coming with its high-maintenance requirements, this peep is still a desirable option to add the desired 'oomph' in your surroundings. Let us learn more about 'the bold and beautiful', Calthea roseopicta 'Medallion' plant.
Calathea Medallion Classification
Family: Marantaceae (Arrowroot family)
Genus: Calathea
Species: C. roseopicta
Cultivar: 'Medallion'
Genus Calathea
Calathea is a genus comprising dozens of flowering plants. These plants are capable of staying both indoors and outdoors. The large, attractive and brightly colored leaves of these American natives make them stand out. Another prominent feature is its large and spacious flowers. This refers to the name of the genus derived from the Greek word meaning 'Basket'.
Calathea Medallion Plant Features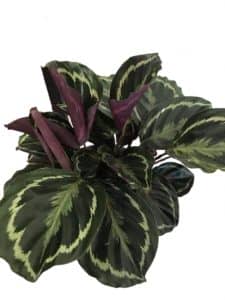 Size
A common Medallion can get about 2 to 3 feet tall on maturity.
The bright Medallion leaf can get about 5 to 10 inches in size.
Calathea Medallion Flowers
This flowering species produces light green flowers on stalk-like inflorescence growing from the base. However, you will hardly see them blooming indoors.
Calathea Medallion Care
Moist soil, indirect light, and high humidity are what they need to stay happy. Let us get a deeper understanding of the requirements of these plants;
Water Requirement
They like to stay in moist buy soil. However, make sure it is never over-wet or soggy. Water generously and wait for the upper layer to get partially dry.
You need to understand the drying ability of the soil according to the weather and temperature. In summer, you may need to water about once to thrice a week. Alternatively, once every ten to fourteen days is usually enough for the cold days.
These plants will adjust with you forgetting to water time and again. However, they are not drought-tolerant and cannot bear long water-less periods.
Additionally, never over-water the plant. Soggy soil leads to serious issues like fungus and root rot.
Sunlight Requirement
Medium to bright indirect light keeps these round leaves happy. Just make sure you never let them stand in direct sunlight.
Soil Requirement
Calatheas need porous soil to hold the moisture without being soggy. Using pebbles at the base of the soil is a good way to increase moisture retention.
Take any peat-based mixture. Moreover, you can mix peat and perlite in 2:1 for growing your Medallion Plant.
Temperature Requirement
The ideal temperature for your Calathea plant ranges from 65 to 85 °F. These are warmth-loving plants with poor tolerance for cold and frost. Keep them warm on cold days. Moreover, protect the foliage from cold drafts and sudden temperature fluctuations.
Humidity Requirement
The beautiful Medallions love to stay in a humid atmosphere. On dry days, you need to maintain the moisture of misting with lukewarm water. Moreover, you can introduce a humidifier or a pebble-water tray under the pot.
The love of humidity makes these peeps an ideal plant for bathrooms and kitchens.
Fertilizer Requirement
Use a common domestic plant fertilizer every four weeks in spring and summer. The low temperatures decrease the nutritional requirements of the plant. So, you don't need to fertilize after the fall arrives.
Yellowing of leaf edges is one of the signs indicating the use of fertilizer.
Pruning Requirement
Cut the half or fully yellow and brown leaves with sterilized scissors or gardening shears. This will help you to enhance the health and appearance of the plant.
Grooming Requirement
The leaf structure tends to trap dust particles. Weekly cleaning with a washcloth will help to keep the foliage clean and healthy.
Repotting Requirement
It is better to repot the plant annually or once in two years. This provides fresh soil with more nutrients to enhance the health of your Calathea Medallion Plant.
Growth Zone
The ideal USDA growth zones for the majority of the Calatheas are USDA zone 10 and 11.
Calathea Medallion Propagation
The best method to propagate this cultivar is by the division of the plant. You can simply make a few new plants by dividing the plant while repotting.
Season
The ideal time starts around the middle of the spring up till the middle of the summer season.
Method
Select a well-grown plant. Loosen the soil around the base with a proper gardening tool.
Take the plant out of the soil along with the roots. Be very gentle, as you don't want to damage the roots.
Now, again very gently, divide the roots with your hands. Make sure you keep at least a few shots and leaves on each division. You can make about 2 to 3 plantlets, depending upon the size of the parent plant.
Plant each division into moist porous soil.
Place the set up in a warm and moist place and keep watering frequently. Make sure you water mildly in the first 2 months as you don't want to flood the new peep. After about eight weeks, the roots get firm in the soil.
Simply follow the Calathea Medallion Care explained in the previous section and enjoy the growth of the enchanting Calathea roseopicta Medallion plant.
Related Posts:
Summary
Calathea Medallion is a Brazilian native hybrid flowering plant. The leaves are round with bordered patterns in shades of green and burgundy undersides. Each plant can grow up to 4 feet on maturity. The compact grower blooms with light green plants on warm days. Howbeit, blooming is common in outdoor plantations only. This plant is somewhat high-maintenance in nature. Additionally, it needs moist soil, indirect light, and a humid atmosphere.
You can get this beauty to make pots and containers suitable for both indoor and outdoor plantations. Apart from the attractive appearance, this peep is non-toxic for both humans and animals. Concludingly, if you are looking to brighten up your interior with some bold hues, don't forget to consider the Calathea roseopicta Medallion plant.