Do you want to add some lively vibes and a pop of color to your surroundings? The Calathea triostar can help you out with its beautiful tricolor foliage. This native of South American rainforests is popularly known as the Calathea sanguinea plant. The green elongated leaves are beautifully splashed with cream and pink variegation having purplish undersides.
One more interesting fact! These beauties curl up their leaves at night and unfurl them with the dawn. Sounds cool, right? You can grow these color-pops to enhance both your indoor and outdoor spaces. Interesting eh? Let us know more about the Calathea Stroman the triostar plant, along with its care and propagation.
Calathea Triostar Classification
Family: Marantaceae. (Arrowroot family)
Genus: Calathea.
Species: C. triostar.
Genus Calathea
Calathea is a genus of a large number of perennial flowering plants native to tropical America. The name Calathea is derived from Latin which means 'basket'. This is in reference to the large flowers of these plants. The large brightly colored leaves and flowers are the main features of the majority of the Calatheas. These plants do equally well both indoors and outdoors. However, the majority of these are popular as indoor pot plants.
The Calatheas along with their cultivars are relatively pricy in the market. The thick leaves of these plants are used in the packing and handicrafts industry. All the members of this genus are commonly named as 'Prayer Plant'.
These plants have a unique quality of 'curling up' at night. The morning sun comes to wake them up and they unfurl to enjoy the day. This is possible with the help of an inner 'joint' which connects the leaf and the stem.
Calathea Triostar Common Names
Calathea Stromanthe Triostar
C.triostar pink
Calathea sanguinea
Stromanthe sanguinea
Stromanthe thalia
Tricolor stromanthe
Prayer Plant
Features of the Calathea Triostar Plant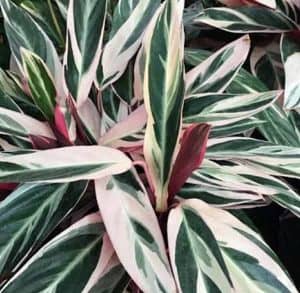 Let us have a look at the plant features in detail;
The height of an average plant is around 2 to 3 feet. Moreover, it spreads in a range of about 2 feet.
The plant grows in the form of small shrubs.
Leaves
A mature leaf is around 5 to 8 inches in length. Additionally, the width is about 4 inches.
Dormancy
Your Calathea Sanguinea will show slow or even stunning growth in winter. Thus, don't worry! The spring season will make it flourish once again.
Toxicity
Calatheas are usually non-toxic for both humans and pets. However, letting the kids and pets mingle with domestic plants is not a very healthy idea.
Air-Purification
These beautiful leafed Calathea stromanthe are air-purifiers. Thus, as a part of enjoying their beautiful foliage, you get the air purifier as well. Isn't it a nice deal?
Uses
This is a perfect choice for indoor decorative pots and containers. In addition, they are perfect to beautify your patios, gardens, and flower beds. When grouped with suitable plants, they are colorful enough to add a pleasant tint of colors to your surroundings.
Calathea Triostar Care
Just like many other Calatheas, the Triostar Calathea is not much suitable for the beginning peeps! The reason being it is not an easy plant. But to be honest, the best plants out there seldom are! Let us get to know what all you need to do to enjoy these pinkish beauties;
Water Requirement
The water requirements of the plants change with the weather. In summer, you need to keep the upper layer moist. Thus, you can water the plant around thrice a week to maintain the moisture. On the other hand, fall and winter need you to water just after the upper layer gets dry.
Be careful folks! Your Calathea Sanguinea does not like over-watering and soggy soil.
Sunlight Requirement
Looking at the natural habitat of these plants will help you understand their light requirements. They live as understory plants in the forests. Moreover, they need highly filtered sunlight. Thus, bright indirect light and dappled shade are their game. Make sure you keep the Calathea triostar Pink away from exposure to direct sunlight.
Overexposure to sunlight makes brown spots across the foliage. Moving the plant to some shadier place should be your first step.
Soil Requirement
Use any well-drained porous soils for the plant. A mixture of peat and perlite in ratio 2:1 also goes well.
Temperature Requirement
The optimum temperature range for the Triostar Calathea plant is between 18 to 27°C (65 to 80 °F). These peeps are not hardy to lower temperatures. Thus, we recommend keeping them at a temperature above 15 °C.
Humidity Requirement
These tricolor Sanguinea plants are humidity lovers. A moisture level of above 50 % is necessary to maintain the freshness of the plant baby.
Browning or crisping of leaves edges is a telltale sign that the plant is feeling dry. Yes, you need to adjust the moisture. You may add a humidifier in the surroundings or a pebble-water tray under the pot. Additionally, you can simply group the plant with other friends to maintain the desired humidity level.
Fertilizer Requirement
These plants love the additional nutrition. Use a good house plant fertilizer once a month in spring and summer. Moreover, using a high-quality slow-release fertilizer can be used about thrice a year. In colder days of fall and winter, the Calatheas do not need extra nutrition.
Pruning Requirement
Remove a few leaves from the lower sides, usually the unhealthy ones. This will help you to maintain the plant in good health and a nice outlook.
Calathea Triostar Propagation
Just like other family members, the Calathea Triostar Pink can be propagated by the division of rhizome. You need a well-grown healthy parent plant that can be divided during repotting.
Season
The best time to propagate a Calathea is between the middle of the spring till the summer ends.
Loosen the soil around the mother plant and take it out gently.
Take a sharp garden knife and divide the rhizome carefully. The ideal proportion for the baby rhizome is about 1/3rd of the parent.
Now replant the plants in well-drained pots.
Just follow the Triostar Calathea Care mentioned above. The baby plant will develop new shoots which will be a sign of your success. Boom!
Related Posts:
Summary
Calathea triostar is a popular prayer plant famous for its beautiful foliage. The leaves are dark green in color with splashes of off-white and pink variegation. Moreover, the elongated leaves have a prominent purplish underside. This plant is perfect for both indoor and outdoor environments. This is a relatively high-maintenance plant.
The Calathea triostar Care includes warm temperature, indirect light, high humidity, and moist (but not soggy) soil. Apart from all the cool appearance, this mesmerizing beauty is an air-purifier and a non-toxic plant. Next time you think to add some colors to your place, don't forget to consider the Calathea triostar plant.