Seeing some nasty black spots on the leaves of your beautiful succulent? Oh! Don't worry, as you are in the right place to understand and combat the issue. Succulents, in general, are known to be resilient plants. These thick leaves usually don't get pest attacks. However, some insects can infest the foliage. Besides, these Black bugs on succulents can cause serious and hard to recover disfigurement in your plant.
You may consider the outdoor ones at higher risk. Howbeit, the indoor peeps are not safe either. Want to know more? Keep reading to learn more about the identification and common solutions to save your succulent babies.
Types of Black Bugs on Succulents
Several types of pests may appear in the form of black bugs on succulents. Once you find these worrisome spots appearing on your plant, identification is the next step for treatment. These black spots could be:
Hemiptera Bugs.
Sciarid flies.
Let us get to know about each of the above in detail;
Black Aphids on Succulents: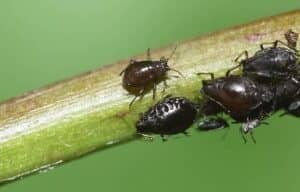 You are reading about the most common type of black bugs on succulents. They have tiny soft bodies, each about 1mm in size.
You can find them in various colors including black, pink, yellow and pale green. The majority of these are wingless pests and crawl slowly over the leaf surfaces.
However, white flying aphids are also seen in strong infestations. These wings help the pests to find new plant hosts, thus resulting in further destruction.
They colonize under the leaf sides and floral buds of the succulents. This selection of place not only helps them against predators but also protects them from being washed out. So, if you want to check for the Aphids, you know where to raid at first!
Earlier stages of infestation make the plant go stunted. On the other hand, if left uncontrolled, these nasty creatures lay their eggs in the depths of the foliage. This makes it hard to get rid of them, which may even kill the poor plant.
Honey Dew on Succulents:
This is another effect of the Black Aphids on Succulents. Besides eating up the leaves, these nasty pests leave a sticky residue, popularly called the honeydew.
This excretory matter makes the leaf surface sticky which may further develop into a fungal infection called the Sooty mold. The mold not only damages the foliage but also blocks sunlight obstructing photosynthesis. (The natural process by which green plants create their food with the help of oxygen, water and sunlight is called Photosynthesis).
How to Treat Black Aphids on Succulents?
The earlier, the better! Yes, it is always better to detect pest attacks as early as possible. Experts always recommend inspecting the plant once every two weeks. This will help you to pick and combat any occurring issue at its earliest stage, saving your plant baby!
Insecticidal soap sprays are commonly available in the market. Get one to spray the plant to get rid of these silly pests.
Experts recommend doing a patch test of the spray before using the spray thoroughly. Apply it on a small part, say a leaf or two, and wait for about 48 hours. This will help you to check for toxicity or any possible side effects of the product.
Ants on Succulents: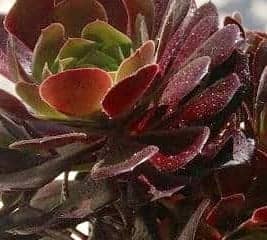 This is another possible culprit of seeing Black bugs on succulents. These look like common house ants, Yes, the ones we see around commonly. Generally, these ants don't damage or harm the plant.
However, they have a beneficial relationship with the Aphids. They visit to eat the sticky Honeydew produced by Aphids. In return, they protect the Aphid colonies from other predators. Moreover, they collect the nectar from the flowers of the blooming succulents.
How to get rid of the Ants on Succulents?
It is the Aphids that attract the ants in the first place. Treat the plant for the Aphids and you will get rid of the Ants as well.
Hemiptera Bugs on Succulents:
Seeing pale patches on the upper leaf surfaces around half an inch in size with clusters of black bugs? Hemiptera Bugs are the next culprits on our black bugs on succulents.
These are tiny bugs with sucking mouthparts. There are different species of these bugs, among which hesperolabops gelastops are the common ones. These have black bodies topped with tiny redheads.
Halticotoma Bugs are another species, commonly found on the Yucca Succulents. These are about one-fourth of an inch in size with greyish bodies. A slight touch makes these small colonies of black bugs scatter and hide quickly.
How to get rid of the Hemiptera Bugs on Succulents?
Dinotefuran or imidacloprid is the solution that kills these bugs. Contact some professionals and get Systemic insecticide sprays with proper chemical formulation to get rid of this enemy. These sprays are usually used in the spring season.
Sciarid Flies on Succulents: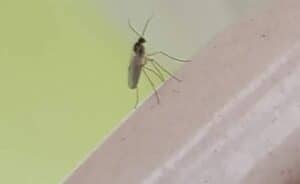 The black bugs on succulents can be sciarid flies as well. Commonly known as soil midges, these are tiny winged insects. They like to dwell upon leaf litter and damp soil.
The larvae attack and eat up the lower sides and roots of the plants standing in soggy soil. So, poor ventilation and overwatering are the main causes of attracting these flies.
Indoor succulents are the common victims. On the other hand, sunlight and airflow create a common safety for the outdoor peeps.
How to get rid of the Sciarid Flies on Succulents?
As they say, prevention is better than cure. So, avoiding overwatering is the best way to save your succulent from Sciarid Flies and many other issues as well.
If you find black bugs attacking mostly on the lower sides of a plant standing in soggy soil, these are possibly the Sciarid Flies.
The first step is to cut watering and let the soil dry out. Place the plant in some well-ventilated spot to remove the sogginess. This will help the plant to get rid of the flies which will not be able to dwell on dry soil anymore.
Avoiding peat-based growing mixtures is another important way to avoid soggy soil. Hence, make sure you always use a suitable succulent mix for your plant to avoid future complications.
Related Posts:
Summary
Succulents, although known for their resilience, may also become victims of issues like black bugs on succulents. Aphids are the most common culprits. However, these black bugs can be Ants, Hemiptera Bugs or the Sciarid flies as well.
The best way to keep your plant safe from such issues is to use a suitable succulent growing mixture. Moreover, selecting a well-ventilated spot and avoiding over-watering are other crucial points for a healthy succulent.
Experts recommend checking your plant thoroughly at least twice a month to inspect and combat any possible issues.
In case of a pest attack, over-the-counter insecticidal sprays are usually helpful. Besides, contacting professionals is always better to save your plant from further damage.