When it comes to love and friendship symbolizing anthuriums, Anthurium Pulcachense is not the one to be missed. This Heart-warming anthurium is an exotic tropical plant that is leathery in touch. This is one of a kind of anthurium due to its unusually velvety texted leaves. Unlike other anthuriums with rounded petioles, Pulcachense has broad triangular petioles.
Its exciting features of being evergreen, low-maintenance, and air-purifying plant make this plant an ideal houseplant. So, if you plan on gifting yourself or someone else this adorable species then, keep reading and discover this plant in more detail.
Anthurium Pulcachense Classification
Family: Araceae
Subfamily: Pothoideae
Genus: Anthurium
Ecology
Anthurium Pulcachense is endemic to Rio Huallaga in Peru. It grows in Premontane wet forest close to Pulcache. This species is hence named "Pulcachense" due to its endemic region.
Features of the Anthurium Pulcachense Plant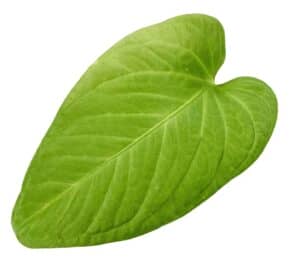 Foliage
The leaves are erect, medium green to dark green in color, and velvety in texture. The petioles are 22-46 cm in length. The prominent veins are another characteristic feature of this species. The midrib is broad and continues as 6-12 pairs of primary veins on each side of the leaf.
Blooms (Inflorescence)
The peduncles usually bloom in the growing seasons of spring and summer. You may observe the brown to grey fluorescence of 6-7 flowers on the primary spiral.
Fruiting Head (Infructescence)
This plant produces 6-7 mm green oval-shaped berries.
Height
Anthurium Pulcachense is a slow-growing plant. A mature plant can grow as tall as 13.5 inches.
Evergreen
When it comes to picking the right houseplant you want to make sure that the plant can be used as decor and only an evergreen plant can add a flair of beauty throughout the year. Isn't great that Pulcachense is an evergreen plant hence can be displayed as a statement of natural beauty to your plant collection. Given the ideal conditions, this plant stays lush and healthy all year long.
Air Purifying Plant
Enjoy clean and healthy air by keeping this plant indoors. It has been proved by NASA that this plant removes the harmful organic pollutants in homes and helps freshen up the air.
Growth
The slow growth rate may be a kick in the shins for impatient plant enthusiasts out there as this plant takes many weeks to grow new leaves. All you can do for its maximum growth is to provide ideal growing conditions.
Anthurium Pulcachense Drought Resistance
The thick velvety leaves can retain water for a long. Its structure is naturally adapted to the drought days when the water availability is low. This feature is quite handy for those who find it hard to maintain the plants every day.
Easy Maintenance
Overall, this plant is fairly easy to grow. It just needs a little less light than other species. As long as you follow routine care (mentioned below), your plant will thrive throughout the year.
Toxicity
Make sure you keep the children and pets away from this plant. The foliage consists of oxalate crystals if ingested can cause gastrointestinal irritation.
Disease and Pest
Unfortunately, the Anthurium Pulcachense plant is susceptible to bacterial disease and pests attacks. Beware of any damaged leaves and mushy roots because if left untreated, it can kill the plant.
High moisture content in the air attracts insects like mealybugs, spider mites, scales, etc. It's best to routinely check the plant for any pest invasion. Use insecticidal or neem oil spray to keep the pests away.
Dormancy
As for survival, this plant likes to stay dormant in winters and harsh conditions to prevent dying out. If you observe a slow growth rate in winters, don't be alarmed as this is natural. Reduce the watering frequency and avoid adding any fertilizers in winters.
Anthurium Pulcachense Maintenance and Care
This plant care involves,
Watering: Medium watering (once a week)
Sunlight: Bright filtered sunlight or indirect light
Temperature range: 20-40°C
Soil Type: Fast draining soil mix of ⅕ portion of potting soil and ⅕ portion of orchid soil or perlite
Soil pH: 6.5
Humidity: Above average humidity (almost 65%)
Fertilizer: High phosphorus fertilizer. It's best to fertilize twice a month
Propagation: By divisions or seeds
Water Requirements
Just like most tropical plants, Anthurium Pulcachense loves to keep the soil moist but not wet. The ideal watering frequency is to water once a week. Always check if the topsoil is dried 1-2 inches deep before watering again.
In summers, you can water the plant after every two days as the soil dries out faster. In winters, your plant may not need routinely watering. You can minimize the watering frequency as the plant stays dormant in winters and the soil stays wet for long.
This Anthurium gives visible signs of water stress. If your leaves are turning brown. Re-evaluate your watering schedule.
Soil Requirements
Potting soil mixture for this plant is fairly easy as Pulcachense isn't too picky about the soil. You can use a regular potting mix and add perlite or pumice to allow fast drainage. You can use equal parts of potting soil and perlite. The potting soil holds the mixture and the perlite keeps the roots healthy by allowing fast drainage. The soil pH needs to be 6.5 (slightly acidic).
Sunlight Requirements
In the tropical forests, Anthurium grows under the shade of other big plants to get direct filtered light. Anthurium Pulcachense is no different from other species of Anthurium. It loves semi-shaded light or partial light.
Provide the right amount of light for your plant as low light exposure can slow down the growth and cause fewer blooms whereas, direct sunlight can scorch the leaves. If you observe leaves tips turning brown then, change the spot of the plant to a more shaded area. Rotate the plant to allow even exposure to light and to let the leaves grow evenly.
Temperature Requirements
Anthurium Pulcachense grows in the San Martin areas at low elevations of 630-950 meters where the temperatures are relatively warm. This shows that this species thrives in warmer temperatures.
This plant should be grown at 20°C to 40°C temperatures. This requirement is easy to maintain as above 20°C is the indoor temperature. However, in extreme winters and summers, you may want to move the plant to a hot or cold spot respectively.
Humidity Requirements
As this tropical plant is native to Peru, it enjoys high levels of humidity. This species stays lush and healthy at a humidity range of 60-70%. To maintain the ideal humidity levels, you can install a humidifier, mist the plant occasionally, or put a pot on a pebble tray. Grouping this plant with other humidifying plants such as spider plants, Jade plants, and golden pothos can keep the Anthurium healthy.
You can keep the plant in the bathrooms for decoration purposes where the moisture is ideal for growth. Allow good air circulation if you are planning on growing this plant in the terrarium or greenhouse.
Fertilizer Requirements
Anthurium Pulchachense is a mild feeder for fertilizers. Use all-purpose fertilizers and dilute to one-quarter of the strength. If you are using diluted fertilizer then feed the plant twice a month in the growing season of summer and spring.
In case of extended-release fertilizer, fertilize the plant after every 3-4 months. Feed the plant with high phosphorus fertilizer before the blooms as this helps grow more inflorescence.
Pruning
In the winters, you may observe some leaves turning yellow or brown. These dead leaves usually fall on their own. If these leaves stay on the plant and don't fall by the end of dormancy, then use sterilized equipment to remove the leaves.
Repotting
Most of the Anthurium needs reporting after 2 to 3 years. Common signs that may indicate the requirement for a new pot are the root outgrowth from the draining holes or cracks of the container or the visible circling of the roots on the topsoil. The container needs to be at least 2 inches larger with a new potting mix. Early spring is the season for repotting.
Propagation of Anthurium Pulcachense
If you want to grow more of this species without seeds or getting a new one. You can try the division method. Here are easy-to-follow steps for the propagation of this plant.
Take the whole plant out of the pot and shake the plant to remove excess soil. You can use the water to remove the soil from the roots.
Hold the plant in a way that both hands have different half of the foliage.
Gently move the foliage in opposite directions to separate them along with the roots
Now place the plant in separate pots.
Lastly, follow the mentioned above care guide.
Related Posts:
Summary
Peru-based Anthurium cf Pulcachense is a great indoor houseplant. The unique foliage of this plant with triangular-shaped leaves and velvet texture makes this Anthurium one of a kind.
This species is a beautiful indoor decor with an air-purifying feature. This rare plant can also enlighten your mood and add a welcoming touch to your indoor space. Just make sure to keep the plant away from the reach of pets due to its gastrointestinal toxicity.