Do you want to know about a low-maintenance plant for your indoor ornamental plantation? Cheers to a famous and beautiful Aroid variety, the Aglaonema Sparkling Sarah. The tolerance for artificial and low light levels makes it perfect for your home or office.
The compact bush grows beautiful leaves which are stripped amalgams of pink, yellow, and green with pinkish main-vein. Moreover, the plant can get about 1.5 to 4 feet in size, depending on the available space. This Asian native plant is a nice option to add some color to your "not so sunny spots". Still with us? Let us share a summarized guide about the Sparkling Sarah Plant.
Aglaonema Sparkling Sarah Classification
Family: Araceae
Genus: Aglaonemateae
Variety: Sparkling Sarah
Genus Aglaonemateae
This is a genus of flowing plants coming from the popular Araceae family. They belong to Asia and New Guinea. The members of the genus are extensively cultivated and hybridized to form a large number of beautiful plant varieties.
All these evergreen plants are believed to bring good luck to the place. Moreover, they are commonly known as Chinese evergreen plants.
Features of the Aglaonema Sparkling Sarah Plant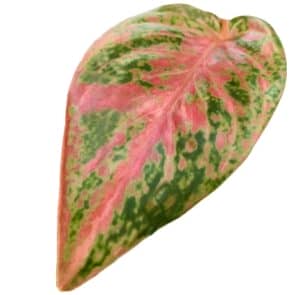 Size
The size of the plant usually depends upon the environment and growing space. An average plant gets about 3 to 4 feet in size.
Leaves
Each mature leaf may get about 6 to 8 inches long.
Flower
All the genus members get lily-like flowers in white to pink shade. Moreover, these plants keep flowering for a long duration on warm days.
Air-purification
These beautiful plants are known to be great air-purifiers. They remove toxins like Benzene and Formaldehyde, giving you a fresher air around.
Toxicity
All the members carry the toxic legacy of the Aroid genus. Higher levels of calcium-oxalate crystals in the foliage make them toxic for both humans and animals.
Ingestion can show health issues like ulceration of the mouth and throat, diarrhea, and nausea. Thus, keep an eye on kids and pets and don't let them mingle with the plant. Also, don't forget to consult emergency medical assistance in case of an incident (ingestion).
Aglaonema Sparkling Sarah Care
Just like all the members of the genus, your Sparkling Sarah Aglaonema is an easy to care plant. Carry on with the typical Aglaonema Care to keep the plant happy.
Quick Guide:
Water: Moderate (After the upper half of the soil gets dry)
Sun: Indirect sun and artificial light
Humidity: Average
Fertilizer: Mild concentration in spring and summer.
Let us move forward to learn the details;
Water Requirement
Aglaonemas come with average water requirements. Water thoroughly and let the soil get dry between consecutive watering. Moreover, the watering routine should be moderate without letting the plant dry out completely.
The watering schedule varies with the light conditions. In bright light, water after the upper half or quarter of the potting mix in the pot has dried. On the other hand, a plant in a medium to low light needs the soil to get completely dry before watering again.
As far as frequency is concerned, it is decided by the weather, temperature, and light conditions. In warmth, the soil dries out quicker. So, water every once to twice a week in spring and summer. On the other hand, the watering requirement decreases with the fall in temperature. So, don't water about for more than once every two to three weeks.
Over-watering is strictly harmful. It can suffocate the roots causing them to rot. All this if goes unnoticed can freeze and even kill the plant.
Light Requirement
Just like other siblings, the Chinese evergreen Sparkling Sarah can tolerate different levels of indirect light. However, bright indirect light is ideal, keeping the foliage in the best of health and appearance.
Low light can make the foliage turn thin and leggy. So, you need to compensate it with artificial growing or fluorescent light. This adaptability makes it perfect for indoor plantation in homes and offices.
The only unsuitable situation is direct sun. Longer exposures especially at the peak hours can scorch out the plant and even kill the foliage.
You can place the plant in any corner of your home or office. In case you don't have a suitable sunny spot, you can simply compensate for it with artificial light. Just keep a decent distance of about 6 feet between the plant and the light source.
Considering to grow them outdoors? A shade with plenty of sun around is a suitable place in your yard or patio.
Temperature Requirement
These peeps generally like to stay in warmth with intolerance for cold and frost. So, you need to keep them warm, ideally between a temperature range of 65 to 80°F.
All the Aglaonemas need your attention in lower temperatures. This is for the ones placed outdoors especially in colder regions. So, don't forget to transfer your plant to some warm indoor spot before the fall approaches.
Humidity Requirement
Aglaonemas are natives of the tropical and sub-tropical regions. So, their love of humidity is natural. However, these tolerant peeps can stay happy in the average moisture level.
On extra dry days, however, you need to pay a little attention. Cold weather and indoor heating system may put a troll on the moisture level of the plant. So, you need to maintain it by following any of the several methods.
Misting is a popular method to maintain the moisture level. You can mist the foliage mildly three to four times a week. Howbeit, make sure the plant is doesn't stay wet for long. Also, it should be placed at a well-ventilated place to avoid staying wet for long. This is necessary to avoid plant issues that are attracted by wet and soggy foliage. Other methods include grouping the plants, using a humidifier or a pebble-water tray under the pot.
Soil Requirement
Grow these plants in well-draining soils. You can choose a common houseplant mixture. In addition, peat-based mixtures with perlite or sand also show good results.
Fertilizer Requirements
Mild doses of fertilizer on warm days show good results in the plants' health. Use a low concentration of a balanced house plant fertilizer once or twice a month in spring and summer. Using almost half of the stated dose is a nice idea to avoid over-fertilizing.
The majority of the Aroids go through a sleeping phase in the cold season. The plants show slow or nill growth and do not need any extra nutrition. Fertilizing in this state can scorch out or even kill the plant. So, it is prudent to avoid fertilizing right after the end of the summer.
Potting and Repotting Requirements
Choose a small to a medium-sized pot with drainage holes at the base. These plants like to stay a little root-bound. So, your Sparkling Sarah will be good without repotting for about good three years.
Pruning Requirement
The bushy plant may show a few damaged leaves. Removing these leaves helps the plant to look good and healthy.
Pinching Requirement
The plants can be made bushier by removing a few of the new leaves as they appear. This should be done with hands and not with scissors. Gently pull the new leaf from the base of the petiole while having a firm grip on the stem. Make sure the leaf and the petiole come out completely without leaving any stump. The reason being wounds and stumps of leaves and stems are a source of inviting fungus and pest attacks.
Aglaonema Sparkling Sarah Propagation
People love to enhance their collection of these beauties. You can do it as well, as these are easy to grow and propagate.
Season:
The period between mid-spring to mid-summer is ideal for the propagation of Aroids.
Propagation by Root-division:
The method is popular to get the exact replicas of the cultivars or plant varieties.
These plants grow and spread in form of clumps which can be separated to form new plants. However, like some other Aroid genera, they don't have rhizomes and just the roots gathered to form a root ball.
Select a well-grown plant by loosing the soil around it. Shove the soil to view the root ball.
You will see several clumps. Each clump is formed by a few shoots growing out from adjoined stems and roots. Take a closer look and separate each of the clumps along with the roots.
Cut the secondary and tertiary roots with the sterilized scissors.
Now, plant these plantlets at a distance of 5 to 8cm each in a pot. A mixture of cow dung and coco-peat in 4:1 is a good option.
Water the soil mildly without drenching it. Place the pot in low indirect light. If placing outdoors, a shady tree with a few hours of morning sun is a good option.
Wait for 45 to 55 days for the baby roots to develop. You can take out these mini Sparkling Sarah Aglaonema plantlets and plant them in your desired place.
Water Propagation:
The plant divisions will root equally well in water. Just submerge the roots in glass jars containing about 40 to 50%of water. Place them in low indirect light. Now, wait and see them rooting out in 40 to 55 days. Apart from that, just make sure you change the water every week to avoid contamination.
Propagation by Stem-cuttings:
This is a comparatively simpler method for Aglaonema propagation.
Just cut a few cuttings of 5 to 8 inches with the help of sterilized shears. Make sure you are cutting from older stems with at least 5 shoots.
Plant these cuttings 3 inches in the well-draining potting mixture.
Water the soil very mildly and place the setup in indirect light. Wait for about 50 days until the baby roots are developed. Finally, you can plant them at your desired places.
Initial Care:
Never drench the soil/growing mix of the new plantlets completely. Keep misting the soil mildly for the initial month. Moreover, keep them in medium to low indirect light giving a few hours of the morning sun. After about 4 to 6 weeks, you can simply follow the Care Aglaonema Sparkling Sarah Care mentioned above.
Related Post:
Summary
Aglaonema Sparkling Sarah is a popular cultivar from the Aroid family. The beautiful foliage and ability to tolerate low and florescent lights make it suitable for indoor plantation. The leaves are green with an irregular yellowish shade on the veins. Also, the pinkish tint and the central pinkish veins further enhance the beauty.
The plant grows in the form of a compact bush getting about 1.5 to 4 feet high. The toxicity of all the members of the genus is unavoidable. Ingestion can cause health issues in both humans and animals. Hence, never allow kids and pets to mingle with your Sparkling Sarah Chinese Evergreen plant.