Succulents are famous for their unique and beautiful foliage. We are going to introduce another attractive succulent, the Sedum pachyphyllum. This plant grows to erect up to 30 cm after which it starts trialling to form bushy ground covers. The leaves are small and look like jelly beans in a bluish-green shade. Moreover, the tips of the jelly beans turn red in summers. Tiny yellowish flowers bloom on the plant to enhance the beauty of this succulent.
This unique peep is perfect to form shelf pots and fairy gardens. Well, it wouldn't be wrong to say that any succulent collection will be pretty incomplete without these jelly beans. Interesting? Let us learn more about the care and maintenance of this cutie-pie, the S.pachyphyllum plant.
Sedum Pachyphyllum Classification
Family: Crassulaceae
Genus: Sedum
Species: S. pachyphyllumm
Genus Sedum
Sedum is a genus of flowering plants with about 600 species native to the Northern Hemisphere. The genus was officially introduced by Carl Linnaeus in 1753. To your surprise, more than 100 species were later classified and categorized into other genera like Hylotelephium and Rhodiola.
The current number of species in this genus is around 400. Moreover, they are commonly known as 'StoneCarps'. This genus is proud to be one of the most diverse genera of the family. These plants include different types of plants with life cycles and living habits. The most attractive feature of these plants is their thick and unique-shaped leaves. The flowers are multi-petaled with 4 to 8 petals.
Sedum Pachyphyllums Common Name
Jelly Beans.
Many Fingers Plant.
StoneCrop Plant.
Sedum pachyphyllum Rose.


Features of the Sedum Pachyphyllum Plant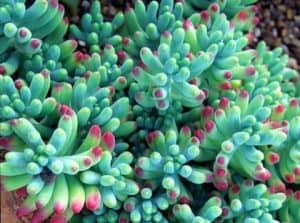 Height and Structure
The Plant forms a ground cover by expanding and growing on its own. This bush grows upright in the beginning. It doesn't get taller than about 30cm (12 inches) and starts trailing on the ground where it spreads in the range of around 92 cm (36 inches).
New growths are smaller and look neat. However, the spontaneous and uncontrolled growth and expansion make the older plants look somewhat untidy.
Leaves
Each jelly bean leaf gets about 5 cm long on maturity.
Flowers
The plant produces flowers with tiny yellow petals. These flowers have uneven, club-shaped sepals and short trout stamens.
Toxicity
This unique and cute-looking plant is toxic for both humans and animals. So, don't let kids and pets mingle with these jelly beans.
S.Pachyphyllum Hybrid
The plant is extensively hybridized to form a number of new varieties.
Sedum burrito is commonly known as Giant burro's tail. It is a cross of Pachyphyllum with sedum morganium.
Sedeveria humbellii, a popular Sedum pachyphyllum hybrid, was developed by crossing it with the Echeveria derenbergii plant.
Sedum pachyphyllum Rose is one of the most common among these. It is often considered the parent plant. Moreover, its name is also used as a common name for the main species.
It is important to mention here that all these varieties show else resemblance with each other and the parent. Additionally, the care and maintenance for all of them are almost similar to the parent plant as explained below.
Sedum Pachyphyllum Care
The small jelly beans are as easy as they look! Yes, these are no-fuss and low-maintenance succulents, pretty suitable for beginners and busy peeps. All they need is succulent soak and dry watering and indirect light. Let us learn in detail;
Water Requirement
The simple soak and dry technique for watering succulents are enough for this plant. Water generously and let the soil get dry before you water again.
The watering frequency depends upon the weather and humidity. In summer, the plant will require watering once to thrice every week. Howbeit, once or twice every ten to fourteen days is usually enough.
Like all succulents, these plants are sensitive to over-watering. Soggy soil can lead to serious issues including droopy and dropping leaves, even root rot.
Sunlight Requirement
These cutie-pies go well along with bright indirect light to partial shade. Howbeit, they can't tolerate exposure of the direct sun. So, make sure you are letting them go scorched out.
South and west-facing windows provide a suitable level of light. On the other hand, the ones facing the North are not suitable.
Temperature Requirement
The ideal temperature range for the succulent is between 65 to 80 °F. These delicate plants have poor tolerance for cold and frost. A temperature below 20 °F can freeze and even kill the plant. Thus, for the people of the cooler region, it is better to use containers or pots for growing these peeps. This way you can easily transfer them to a warm spot before the weather gets fierce.
Humidity Requirement
The thick leaves of succulent can tolerate a range of humidity levels. On dry days, consider introducing a humidifier around the plant.
People commonly ask about misting the Jelly Bean Plants. Well, it is better to avoid misting these plants. Excess water and humidity on the foliage is a warm invitation for fungus and rot.
Soil Requirement
Well-draining soil is the topmost requirement of these plants. They can't stand with wet feet and in soggy soil, so the soil needs to drain and get dry quickly. An equal mixture of peat moss and succulent mixture shows good results for growing these plants. Ready-made Cactus Mix is also a good option.
Fertilizer Requirement
Use any good quality succulent fertilizer once a month in spring and summer. These delicate plants don't like in fact can't bear fertilizer overdose. So, always follow the instructions on the pack. To be on the safe side, it is better to use half of the stated dose.
Secondly, never fertilize after the days get cooler in fall and winter.
Cutting and Pruning Requirements
You can remove the older leaves to make the plant look fresh. Moreover, you can also manage the size by cutting some of the branches.
Repotting Requirements
Unless the vigorous grower is getting prominently bigger from the pot, you don't need to repot. Moreover, it will be fine in the same place for about 2 to 3 good years.
Growth Zone
This plant is hardy in USDA zone 9a with a minimum temperature of 20 °F(-6.7 °C).
Sedum pachyphyllum Propagation
These plants are one of the easiest in terms of propagation. You can propagate them by;
Leaf -cuttings.
Stem-cuttings.
Season
Spring and summer prove to be the best time for propagation.
Propagation from Leaves
Twist the leaf gently or cut it with the help of shears to remove it from the stem. Just make sure you cut wholly without damaging the leaf. You can also use the dropped-off leaves for the purpose of propagation.
Let the leaves stay for 24 to 48 hours. This will form the callus tissue around the cutting point.
Now, simply place the leaves on moist well-draining soil. These leaf cuttings will form roots and eventually grow out little shoots, turning into baby plants.
Place the setup in some warm places with indirect light. Water the soil about twice every week or when it gets dry. Over-watering at this stage can fail the propagation by making the leaf go bad.
Propagation by Stem-cutting
Take sterilized shears to cut a 5 to 7 inches stem from the plant.
Allow it to form callous for about 2 to 3 days.
Now, place it on moist soil and follow the procedure explained in the previous section.
Growth TimeLine
We frequently share an estimated growth pattern for the plant. This is supposed to help you understand the procedure of propagation on a better level.
Day 1 to Day 60: In the initial days, just keep an eye on watering. Water the soil mildly right after it gets dry. The leaves will start developing baby roots after about the third week. This will be followed by shoot development after the 5th week.
Day 60 onwards: Once the plants start developing, you can simply follow Pachyphyllum Care, as explained in the previous section.
Enjoy having more Bean plants around you and gifting them to your circle. We would love to know your interesting experiences in propagating these plants.
Summary
Sedum Pachyphyllum is a unique succulent perennial. The plant starts trailing after the initial erect growth of about 30 cm. The leaves look like small jelly beans of bluish-green color with reddish tips in bright sun and warm days. The plant blooms tiny yellow flowers in the summer season. This small shrub is excellent to grow in gardens and make shelf pots and hanging baskets.
Apart from the unique and cute appearance, these succulents are easy to grow and propagate. Indirect light and watering after the soil get dry is enough to keep these peeps happy. Well, while enjoying the beauty, don't forget about the toxicity of these plants. Make sure you keep the kids and pets away from mingling with the Pachyphyllum Jelly Bean Plant.