Human beings have a special love for plants. Nature has blessed us by creating abundant varieties of all kinds of plants. From the peaks of the mountains to the depths of the oceans, different kinds of plants are present beautifying the atmosphere and benefitting us in their unique ways. Philodendron serpens is a common type of indoor plant popular for their low maintenance, resilience, and uniquely beautiful outlook.
Philodendron Serpens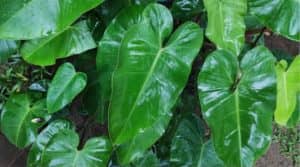 The serpens is a variety of the genus Philodendrons Schott which are evergreen, monocotyledonous, herbaceous, and flowering plants belonging to the Family Arads (Araceae). Philodendrons are the second largest genus in their family Araceae. They are native to central and Southern regions and rain forests of America. Although they were present in folk art and medicine in the sixteenth century, they were officially introduced to the experts of Europe after the mid of 16th century by Charles Plumier.
Common features are large leaves and a mixture of aerial and subterranean roots. They are popular indoor plants where the tallest varieties may reach up to a height of 3 meters however they can grow up to double this height in the wild environment.
In this article, we will highlight important features of Philodendron serpens and an introduction to the members of the genus Philodendron.
Types Of Philodendrons

The philodendrons are divided into two subgroups:
The Climber philodendrons and the Nonclimber philodendrons.
Climber Philodendrons:
The philodendrons with nature to climb up on nearby support are known as climbing or vining Philodendrons. These climbers are commonly seen beautifying the indoor corners or even walls outside the houses.
Common examples are;
Heartleaf philodendrons
Blushing philodendrons.
Non Climber Philodendrons:
These plants have a growth pattern in a horizontal direction and they don't climb like the other ones. Their height is about half of their width. These are also called self-heading or non-trailing philodendrons.
Common examples are;
Bird's nest philodendron
Lacy tree philodendrons.
Varieties Of Philodendrons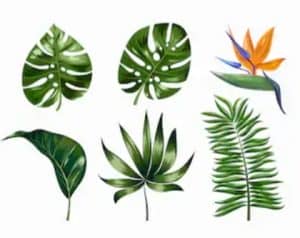 Philodendrons have around 500 different varieties. The total number of species varies in different sources from 400 to 700. In 2015, the world checklist of elective plant families mentioned 489 species in total. Some of the famous ones are mentioned below:
Philodendron erubescens
This variety is a non-climber and may grow up to 2 meters in height. The big green leaves with bronze hues on the lower side and the reddish color of the stalks make it look pretty. They are commonly known as a pink princess or red leaf philodendrons.
They are only suitable for indirect sun exposure because of the pink areas of leaf chlorophyll.
Philodendron bipinnatifidum
This variety is a non-creeper and has a dark green leaf that is heart-shaped and feathery. They are commonly called Hope Plant, P.Selloum, and Lacey tree.
They need a wide space to grow as they expand up to 5 feet.
Philodendron Hederaceum
These are the most common type and are commonly known as P. Schadens, Heartleaf, and Sweetheart philodendron. These have shiny green heart-shaped leaves and are climbers. They can reach up to 4 feet. This is very easy to grow and care for and is preferred for beginner gardeners.
Philodendron Bipennifolium
This variety is a quick grower and climber with large beautiful green leaves. The plant may reach up to a maximum height of 2 meters.
Philodendron Laciniatu
This slow-growing climber has shiny green leaves which make it look beautiful. It may grow up to 1.5 meters.
Philodendron Serpens
Philodendron Serpens are climbers who have their scientific name as Philodendron Serpens Hook.f. They have large leaves and petioles are covered with dark brown scales of fibrous nature. The leaves are bright green which is usually 35 to 45 cm in length and around 15 cm wide.
Other Common Varieties of Philodendron Are
Philodendron Brasil ( P.Cream splash), Philodendron Rugosum(Pig Skin), Elephant ear philodendron, Fiddle-leaf philodendron, Philodendron Hastatum(Silver Sword), Red leaf philodendron, Philodendron Micans(Velvet-leaf philodendron), Philodendron Moonlight, Split-leaf philodendron, Philodendron White Knight, and Philodendron Xanadu (P.Winterbourne).
FAUX PHILODENDRONS
These are the variety of plants that have a close resemblance with the philodendrons and have the term "philodendron" in their name as well but are not a part of this family.
There are many popular plants in this group are Scindapsus pictus (Silver Philodendron) and Monstera Deliciosa (Cheese plant).
Difference Between Philodendron And Pathos
Pothos is a common plant variety, which is frequently confused with the philodendrons. The differentiating factor is that they have much larger leaves (about 30 cm) as compared to the philodendrons (usually around 12 inches) and have yellow spots on them, especially in sunlight. Both these varieties have heart-shaped leaves and both thrive greatly in an indoor environment.
Features of the Philodendron Serpens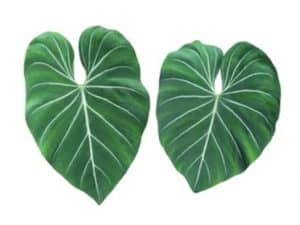 Important features are highlighted below:
Peculiar petioles
The beautiful creeper possesses red-colored velvety petioles with little fuzziness that not only enhances the beauty of the plant but also soothes the eyes.
These petioles only appear after their juvenile stage. Its petioles also have brown hair-like structures and grayscales that make them different from other plants. These structures help the plant while creeping.
Unkillable plants
These philodendrons are resilient enough that they are considered unkillable plants. It does not mean that they are immortal rather it means that they possess adaptive qualities and can both survive and thrive with little care and effort. They are popular among houseplants for indoor decoration due to their perennial nature and ease of growing.
Variation in leaves
The most interesting feature of this vivacious plant is that every leaf has variation within its pattern. Except for some features like the shape of the leaf, the rest of the patterns vary in the case of every leaf. Each leaf from its young stage to maturity evolves differently and dramatically varies from each other.
Air purifier
Like other philodendrons, this plant also performs the role of air purifier perfectly. In fact, this plant is a step ahead of its family members as it also absorbs toxic pollutants from the air that we inhale.
This is the reason that NASA has declared it as a biofilter and they are the most suitable ones in absorbing high concentrations of formaldehyde.
Disease resistant
The disease resistance is another reason for which it is preferred for ornamental purposes. The only problem observed is the yellowing or paleness within the leaves that is usually because of overwatering, inadequate light, or low drainage within the soil.
Toxicity of Philodendron Serpens
These plants are toxic to both humans and pets. They possess crystals of calcium oxalate which is injurious for the throat and esophagus of humans. The leaves if ingested by pets can also cause serious harm to them. Therefore, you must place this plant away from pets and babies.
Easy to grow
These popular philodendrons are very easy to grow and this is one of the reasons that they are widely used for indoor decoration.
Propagation Of Philodendron Serpens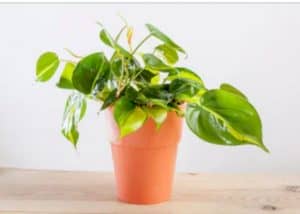 Propagation of these plants is pretty easy. "Cutting" is a common method used to get new plants in this group. Important steps are mentioned below:
Cut about 6 inches from a part of the stem. There are certain nodes on the plant which are small little bumps on the stem. Make sure you cut a little low (about ¼ of an inch) from the node. Use a sharp knife or shears for this cutting purpose. It is better to take the cutting from the tip of plants especially in the actively growing season.
Keep two to three leaves on the upper region of the stem and remove all others.
Now put the stem inside the growing medium while keeping the leaves upright and out of the jar. At least one of the nodes should be submerged inside the growing medium. The growing medium can be soil with added peat and moss or organic material of the fertilizer category. You can dip the base of the stem in growth hormone before putting it in moist and well-drained soil. Or you can use simple tap water in a jar. If you use water, make sure to keep it in the jar for at least one night to let the chlorine content settle down.
Now put the jar with the cutting in a safe place with warm temperature and exposure to indirect sunlight. A temperature of about 70 to 75 degrees Fahrenheit is optimum for root formation.
Now, wait for some time. You will see roots sprouting out in about 3 to 4 weeks. If this was is soil and you want to check for the formation of the roots, you can do so gently tugging on the stem. Resistance is a sign of the formation of the roots. If the propagation was in the water you can now shift them in the soil pot. You can also get new plants by dividing a mature overgrown plant and shifting the divisions into new plants.
Note:
Please make sure you use gloves while handling the Philodendron Serpens and wash your hands thoroughly after handling them. This is important to avoid any kind of toxic effect on your body.
Possible Problems In Philodendron Serpens
Yellowing of Leaves
If the leaves of any plant in the Philodendron genus are turning yellow, this is an indication of the undermentioned:
Excess of water.
low drainage of soil or
Insufficient light.
Leaf Drop or Death of The Plant
Excess watering and poor drainage may cause the roots to rot leading to Pythium root and stunning growth. You can check the roots while pressing or pushing away the soil which will be mushy and brown in appearance. In this case, the soil needs to be drained and dried quickly and the plant needs to be in the usual light.
In case you observe the yellowing of leaves you need to see the conditions from above and manage the plant accordingly or you may consider contacting a professional gardener for help.
Disease Effects And Resistance
The members of the Philodendron genus, including the serpens are usually resistant to diseases in optimum conditions. However, if the leaves are turning brown or yellow and you have already checked and it is not the root rot issue, it may be an indication of the bacterial infestation.
Spots on leaves, dead or brown leaf tips and torn edges are all signs of some disease. The humidity level should be decreased and leaves should be kept drier in case you notice any such issue.
Care Of Philodendrons Serpens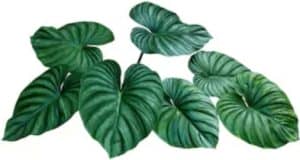 The Philodendrons Serpens have their basic care requirements similar to the other members of the genus Philodendrons. The important details are mentioned below:
Water Requirements
These plants are pretty resilient but one important requirement is that they need moist soil. Please note that the upper two inches of soil should be dry before you water again. Excess watering may lead to health issues for the plant.
Humidity Requirements
The philodendrons are adaptive to a wide range of humidity levels in the atmosphere. However, an occasional mist of the plant or splash some water and clean the leaves will promote a bright green appearance and a healthy growth pattern for the plant.
Soil Requirements
The plants need well-drained soil. Experts advise adding little amounts of perlite to the soil in the pot of the plant to enhance the growth. In the indoor environment, the pot should be potted at the base to ensure the drainage of the soil. Do not forget to keep a tray under the pot because you don't want the water to seep out and spread in the room.
Sunlight Requirements
Philodendrons Serpens are adaptive towards bright indirect light and warm environments. These plants enjoy their trip outside on a bright sunny day, but that is only once in a while like once in three months.
If the leaves are turning yellow, it is an indication that the plant is not receiving optimum light. You need to select a more lighted corner of the room.
Temperature Requirement
The optimum temperature ranges are 23 to 30 degrees centigrade at the daytime and 18 to 21 degrees centigrade at night. They are somewhat not suitable for cold temperature ranges.
Fertilizer Requirement
Experts advise adding the under-mentioned fertilizers in the growth phase to expedite the growth process.
An all-purpose fertilizer in liquid form.
A slow-release fertilizer is available in the form of small beads.
Growth Zones
The Philodendron Serpens thrive best in the USDA winter hardiness zones 9 to 11.
Resilient Nature
The plant variety is resilient and can easily adjust if converted from indoor pot to outdoor soil or the garden. However, repotting is preferred after at least three years to let the roots get strongly rooted inside the soil.
Uses Of Philodendron Serpens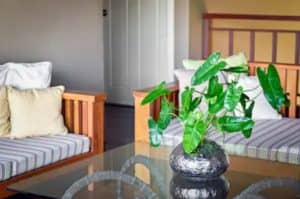 Air Purification
The Philodendron serpens like the other members of its genus Philodendron are famous for their air purification properties. These are tested by NASA for absorbing higher concentrations of formaldehyde; a toxic component found in the air that is unhealthy for our health.
Indoor Decorations
Philodendron Serpens is one of the most famous plants for indoor decorations. The reason behind it is their low maintenance, indirect light requirement, and resilient nature.
The Office Plant
Because being the popular indoor plant and artistic look, Philodendron Serpens is popularly known as "office plants." The resilient serpent looks amazing while leaning and climbing on a totem.
Related Posts:
Conclusion
The beautiful Philodendron Serpens are low maintenance, resilient and attractive plants with big beautiful green leaves and hairy petioles. These have the power to purify the air and give healthy air to our indoor environment to breathe in. The next time you want a decorative plant for your home or office; don't forget to consider the Philodendron serpens which will be easy to keep, an air purifier, and a treat to your eyes.