If you are searching for something to beautify your lounge and give it some exclusive and tropical look, then stop, because we have something exactly what you need. Presenting Philodendron Millions – a one-in-a-million plant with a super aesthetic feel to make everyone fall in love with your decor skills.
Native to tropical America, these aroids come with big, cordate leaves with a glossy texture to them, making them an ideal plant for your house.
If you have decided to give this philodendron a try, then read this guide to learn striking facts about it, and also know how to take proper care of this perennial beauty to keep it thriving for years to come. So, let's begin.
Philodendron Millions Classification
Type: Herbaceous evergreen
Form: Scandent chamaephytes
Family: Araceae
Kingdom: Plantae
Order: Alismatales
Genus: Philodendron
About:
As mentioned before, philodendron million is a tropical plant that hails from the family of aroids. You can find these plants in South and Central America. The plant gets its name from two Greek words – 'Philos' and 'dendron' which together mean 'love tree'.
These herbaceous perennials come as shrubs and are known to grow fast. They can climb up to 3m in height and 1.5m in width if given proper support. The leaves of this plant are broad, glossy, and heart-shaped with a beautiful dark green color. These plants are classified as hard-line indoor plants as they enjoy cold, shaded environments.
Common Name And Synonym
The philodendron millions don't have many common names and are known by either Philo millions or millions plant. However, it is commonly mistaken for some other types of philodendron including Philodendron scandens and Philodendron erubescens.
Features of the Philodendron Million Plant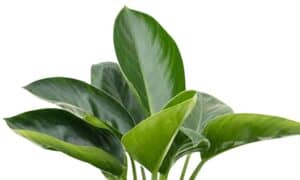 Height:
Philodendron Millions can grow up to a height of 3 meters if given proper support.
Width:
The plant can have a maximum width of 1.5 meters.
Growth Habit:
It is known to be evergreen herbaceous perennials and come in the form of shrubs.
Foliage:
These plants have broad, glossy, dark green, and heart-shaped leaves. Also, they are commonly known for their rich, orange-reddish color with a green hue of newly borne stems. It gives this plant a striking appearance and makes it look artistically beautiful.
Flowers:
The philodendron million is a flowering plant and the flowers are found to be small, light green in color, and borne on an inflorescence.
Evergreen and Durable:
The plant is an evergreen perennial, meaning it doesn't lose its leaves in winters and can last for years if given proper care. However, it is advised not to keep the plant in an environment that is too cold as it can make the leaves turn yellow and eventually die.
Toxicity:
All parts of the philodendron millions plant are toxic if ingested and can cause irritation in the throat and mouth. Therefore, it is advised to keep this plant away from pets and small children.
Maintenance:
The plant is quite easy to maintain and doesn't need much care. It can live in both direct and indirect sunlight but prefers shaded areas.
Dormancy:
The philodendron million plants are known to go into dormancy in winters and the leaves start to fall off. However, this is a natural process and the plant will start growing new leaves as soon as the temperature outside starts to rise.
Drought Tolerance:
The plant is known to be quite a drought-tolerant and can survive for long periods without water. However, it is advisable to water the plant regularly to keep it healthy and happy.
Air Purification:
Like all other philodendron plants, philodendron million is also known to be an excellent air purifier. It removes harmful toxins from the air and makes it clean and fresh.
Philodendron Millions Care
The Philodendron million requires little care and upkeep. This rare Philo thrives in low-light, high-humidity conditions with minimal care. If you want the plant to thrive, there are a few things you need to keep in mind.
Quick Care Guide:
| | |
| --- | --- |
| Water | Only when the soil feels dry |
| Light | Bright, indirect sunlight |
| Humidity | High Humidity, 60-80% ideally |
| Fertilizer | Once every month, a weak solution |
| Repotting | Larger pot to plant, every 2-3 years |
| Soil | A moist, well-draining soil |
| Grooming & Pruning | Only when needed |
| Placing | Warm and moist place |
Watering Requirement
This plant thrives in damp soil. But don't allow its roots to become saturated. This isn't going over well with the plant. Aside from that, it's risky. That's because root rot can occur if the roots are left in water for a long period.
This occurs because roots require equal amounts of air and water to survive. A lack of drying time results from very frequent watering. And as the water level rises, the roots begin to rot under the weight of the extra moisture. Make sure to water it only when the soil feels dry to the touch.
Light Requirement
It prefers indirect sunlight but can also tolerate low light. If you live in a place that doesn't get much sun, don't worry. The plant will still do just fine.
The leaves may not be as big and the plant may not grow as quickly, but it will still survive. Just make sure to give it some bright light every day so it can photosynthesize and produce the food it needs to grow.
Temperature Requirement
The ideal temperature for this plant is between 60°F and 80°F (15°C – 27°C). It can tolerate lower temperatures, but only for a short period. If the temperature drops below 50°F (10°C), the leaves will start to turn yellow and eventually die.
So if you live in a place with cold winters, it's best to bring the plant inside or keep it in a greenhouse where the temperature is controlled.
Humidity Requirement
This plant loves humid conditions. It's native to tropical rainforests, after all. If the air in your home is dry, the leaves will start to turn brown and become crispy.
To raise the humidity around the plant, you can do any of the following:
–Put it on a pebble tray: Fill a tray with gravel or rocks and add water until it reaches just below the top of the stones. Then, set the plant on top of the gravel. As the water evaporates, it will increase the humidity around the plant.
–Use a humidifier: This is the easiest way to raise the humidity, but it can be costly if you have to use it all the time.
–Group plants together: When you group plants together, they create their microclimate. The evaporating water from the leaves will raise the humidity around all of the plants.
Fertilizing Requirement
This plant doesn't need a lot of fertilizer. Too much fertilizer can be harmful. It can burn the roots and damage the plant.
If you do decide to fertilize, use a weak solution and apply it sparingly. Once every two weeks is more than enough.
And during the winter, when the plant is dormant, don't fertilize at all. Just let it rest.
Pruning Requirement
This plant doesn't require a lot of pruning. You can trim off any dead leaves or stems as they occur. But other than that, there's no need to do any extensive pruning.
Pruning can be harmful. That's because it can damage the plant and make it more susceptible to disease. So unless you have to, it's best to leave the plant alone.
Repotting Requirement
This plant doesn't need to be repotted very often. Once every two or three years is more than enough. When you repot the plant, make sure you use a big enough pot. The roots will need room to grow, and if they're confined, the plant will suffer.
To repot the plant, simply remove it from its current pot and place it in the new one. Water it well and give it a few days to adjust to its new home. If possible, repot it in an 8-10 inches planter with good soil media on a moss stick.
Placement Requirement
This plant does best in bright, indirect light. But it can also tolerate low light conditions. Just be sure to avoid placing it in direct sunlight. The leaves will scorch and the plant will eventually die.
When choosing a spot for the plant, make sure it's not too hot or too cold. The ideal temperature range is between 60-75 degrees Fahrenheit.
Propagation
The easiest way to propagate this plant is by stem cuttings. Just take a cutting from an existing plant and pot it up.
If you want to root the cutting in water, that's fine. But it's not necessary. The plant will do just as well if you pot it up directly in the soil.
The only thing to keep in mind is that the cutting needs to have at least two leaves. Otherwise, it won't be able to photosynthesize and produce the food it needs to grow.
Once you've taken the cutting, pot it up in a well-draining potting mix. Water it well and place it in bright, indirect light.
The roots will start to grow within a few weeks. And once they've taken hold, you can treat the plant as a mature one.
Common Problems of Philodendron Million Plant
One of the most common problems with this plant is root rot. This occurs when the roots are sitting in water for too long. The excess moisture will start to break down the roots, and eventually, the plant will die.
To prevent this, make sure the pot has drainage holes and that you're not watering the plant too often. Let the soil dry out completely between waterings.
Another common problem is leaf drops. This usually happens when the plant is stressed. It can be caused by too much or too little water, low humidity, or temperature fluctuations.
To fix this, try to create a more stable environment for the plant. Water it regularly and mist the leaves frequently to raise the humidity. And if possible, try to keep the temperature consistent.
Once you've done that, the leaf drop should stop.
Pests And Diseases
This plant is relatively disease and pest-free. The only pests you need to watch out for are mealybugs and spider mites.
Mealybugs are small, white, fuzzy insects that suck the sap out of plants. They can do a lot of damage if they're not removed quickly.
To get rid of them, you can either use insecticidal soap or neem oil. Just be sure to follow the instructions on the label.
Spider mites are small, red, spider-like creatures that spin webs on plants. They, too, suck the sap out of plants and can cause a lot of damage if left unchecked.
To get rid of them, you can either use insecticidal soap or neem oil. Just be sure to follow the instructions on the label.
Conclusion
The philodendron millions is a beautiful, easy-to-care-for plant that makes a great addition to any home. Just be sure to give it bright, indirect light and water it when the soil dries out. With a little care, this plant will thrive for years to come.