The Philodendron golden dragon is one of the most beautiful and easily grown members of the philodendron genus. It is a fast-climbing variety plant therefore is a great choice to hang in homes. Golden dragon philodendron is quite suitable for indoor spaces due to its air purifying qualities.
Other than that its gold mottled leaves will add to the aesthetics of your home. Its leaves are large, dark green, and sometimes mottled.
Philodendron dragon's leaves also show some intricate patterns. It qualifies both as an indoor and outdoor plant. Philo golden dragon is quite easy to maintain so it doesn't matter much if you're a lazy person. Let's look further into the care and maintenance of the philodendron golden dragon.
Philodendron Golden Dragon Classification
Family: Araceae
Genus: philodendron
Species: golden dragon
Genus philodendron:
Philodendron contains approximately 450 species and is the second-largest member of the family Araceae. It is naturally present in tropical environments and is found clinging to trees with the help of its roots.
The genus philodendron is divided into climbers and non-climbers. A lot of research work is being done for hybrid philodendrons.
This genus is particularly toxic if ingested by animals or humans in massive quantities. Apart from this fact, it requires little to no effort to grow and in some days your space will be filled with beautiful, dark green foliage.
Distribution
Golden dragon philodendron originated from central, north, and South America. This plant is distributed all around the world in tropical regions as it loves humid, warm temperatures.
Features of the Philodendron Golden Dragon Plant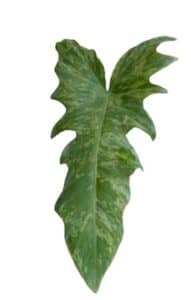 Size
Philodendron golden dragon is a moderate size plant but can grow up to 25 inches if properly cared for. Usually, the philodendron dragon ranges from 6 to 12 inches in length. If a pole is given for support this climber will easily grow more than 12 inches.
Leaves
As the name golden dragon indicates its leaves have gold mottling. It has large, dark-green leaves with golden hues to add an extra aesthetic to your space. This mottling is not permanent though.
Toxicity
The philodendron genus is toxic to ingestion. So the philodendron golden dragon should be kept away from pets and children. This plant has raised levels of calcium oxalate crystals which are highly toxic to both humans and animals. Unfortunately, if ingestion occurs call for emergency services right away.
Philodendron Golden Dragon Care
Philodendron genus plants are quite easy to take care of. The same is the case with the philodendron golden dragon. It does not require much maintenance or extra effort. Regardless of this, it adds to the beauty of your home and purifies the environment of harmful gases.
Quick guide:
Water: Only when the soil is dry
Sunlight: Bright, indirect light
Humidity: Average
Soil: Well-draining
Let's further look into the care and maintenance of the golden dragon philodendron.
Water requirements
Philodendron golden dragon is originally from tropical regions so it requires frequent irrigation. In the growing phase, you need to keep watering your plant. Proper and timely watering will help your plant grow to its maximum size.
Once its size is about 8 to 10 inches then you can space out your watering time. When fully grown this plant only needs water when the upper layer of soil becomes dry.
So you have to check the upper layer, if it's still wet from the previous watering you don't need to water it. If the soil is dry then watering is necessary otherwise your plant will start withering.
You need to avoid overwatering as it's dangerous for its growth. The soil needs to be moderately wet otherwise it will cause damage to the roots and eventually your plant will die.
Light requirements
This plant loves bright, indirect light. Its green foliage will grow much faster in well-lit rooms or shady areas. Direct sunlight hitting the plant will damage its beautiful leaves. Growth will also be stunted due to extreme exposure to the sun.
So for the plant's optimal growth, it should be kept away from direct sunlight. As it is a climber, most people like to hang them in front of windows. In such a situation you need to put some shade on your window so that direct light cannot hit your plant.
A very dark or shady environment will also affect the plant's growth and development. So you need to avoid such settings for this philodendron.
Substrate/Soil requirements
For the optimal growth of a healthy plant, organic soil should be preferred. This plant requires a slightly acidic pH (4.5 – 6.0) of soil. Well, draining soil will be the best choice for a substrate.
Well, draining soils are a mixture of activated charcoal, medium perlite, worm castings, and pine bark. This mixture of soil holds moisture and therefore frequent watering is not required. The plant grows best in such soils.
Very dry, very wet, or sandy soils will cause more harm to the growth of your plant. A wise decision should be made while choosing the right type of soil for your plant.
Humidity requirements
Philodendron golden dragon loves a moderately humid environment. As it's originated from the tropics and warm temperatures it requires humidity. This plant can tolerate a low humidity level as well. But a very dry environment is not good for its growth.
If you live in areas that usually have dry and cold weather you can place a humidifier in your home so that your plant stays alive.
Other than this you can also mist your plant to survive the dry surroundings. You should keep in mind that misting should be within limits. Otherwise, pests will damage your plant due to wet leaves. You can also add a pebble water tray under your plant pot. It will keep the plant's surroundings humid.
Temperature requirements
The optimal temperature for philodendron golden dragon during the daytime is 65 to 78 degrees Fahrenheit and 60 degrees Fahrenheit at night. Extreme temperatures are not good for its growth. Frost and very cold weather have a very harmful effect on the golden dragon philodendron's growth. The scorching heat is also not a good weather condition for this plant.
A moderate temperature is great and if your surroundings are having extreme temperatures then move your plant accordingly.
Fertilizer requirements
A good quality fertilizer should opt for the philodendron golden dragon. This plant should be fed with fertilizer about 3 times a year.
The right way to fertilize this plant is to put fertilizer 6 inches away from the base. If not done right, fertilizer can do more harm than good to your plant. It will grow slowly and not attain its maximum length.
You should avoid using any low-quality fertilizer as they are also harmful to the optimal growth of this plant. Any general-purpose fertilizer will work well for the golden dragon philodendron. Another tip is to never over-fertilize your plant. It is not good for the plant's health.
Repotting requirements
If you want to move the plant to a different container then it is preferable to do so in springtime. This is a great tip concerning the growth of new roots in the spring season. As springtime starts, the plant comes out of its dormant stage, and repotting can be done at this time of the year.
Repotting will be necessary if you notice your plant overgrow the pot it's already in. If the roots start coming out of the drainage holes in the pot. So you need to get a new pot for your plant.
Pruning requirements
Grooming and pruning should be done whenever you see the need. All the dried leaves fall off themselves. If they do not fall, you can pluck those dried-out dead leaves with a soft hand.
Keep in mind to not harm any fresh or alive leaf as it will stunt the growth of the alive leaves.
Philodendron Golden Dragon Propagation
This plant can be easily propagated without much effort. All you need is an extra pot, some sterile scissors, and gloves. You should wear gloves for personal care. Scissors should be sterile so that you leave no pests on your parent plant or your new plant. The process is explained in a stepwise manner.
Look for a stem to cut from your plant,
Once you determine the stem, cut a piece about 4 to 6 inches long with your sterile scissors,
Now remove all the leaves from this stem except for the ones on the top,
In another pot put some aroid soil mixture,
Put your stem into that soil pot and make sure that the leaves are not embedded in the soil,
Keep this pot in a window sill so that it gets a good supply of Indirect, bright light,
Water it regularly and you'll start to notice it blooming in about 2 weeks.
Related Posts:
How to Display Philodendron Golden Dragon
This Philodendron plant will enhance the beauty of your living space with its presence. But the key is to display it properly. Window sills are a great place to display them. The plant will keep getting indirect light and will add a pop of color to your window as well.
The toxicity should always be kept in mind while displaying this plant. If you have toddlers or pets in your home you might want to hang these. They can be hanged in the window but you will have to put some shade on your window to save it from direct light.
Summary
Philodendron golden dragon is a plant of tropical regions which is a great choice for both indoors and outdoors. This plant will add freshness to your living area and act as an air purifier as well. It is very easy to maintain and does not require much effort.
It helps remove the harmful gases in closed spaces and this health benefit has made it quite popular. But you should be very vigilant if you have any pets or children in your home. If any unforeseen events take place, do not hesitate to call for emergency services.