Are you looking for a houseplant for your dark and small space? You might be finding it difficult and confusing. Well, not anymore. We are introducing the Janet Craig Compacta plant. It is native to sub-tropical regions of Africa and Asia. The plant is admired for its dark-green, stiff, glossy, and thick leaves that grow and form rosettes around the canes.
Moreover, a mature indoor plant grows around 3 to 6 feet tall. This resilient baby can gracefully handle low light, poor infrequent watering, and dry air. Well, with an attractive appearance and a hardy nature with minimum maintenance, what else does a plant lover need? Thinking about getting one for your home or office? Let us learn more about the evergreen yet slow-growing, Dracaena Janet Craig Compacta Plant.
Janet Craig Compacta Classification
Family: Asparagaceae ( Agavaceae according to the previous classification)
Genus: Dracaena
Species: D. deremensis
The compacta are considered as a sport of the Dracaena Janet Craig Plant. Well, if you don't know the sport, it is a part of the specie's body but shows morphological differences. These variations include differences in features like size, color, and growth speed. Some experts even consider 'Compacta' as a mere 'other name' of the same Dracaena jc plant.
Genus Dracaena
Dracaena comprises of about 120 species of evergreen woody plants and succulent shrubs. These belong to subtropical regions and are commonly grown for their statuesque appearance and decorative foliage. These plants belong to the famous 'lily family' and are look like small trees or shrubs.
The majority of these plants are native to Africa while a few come from South East Asia. They love to grow in medium to low light. This makes them popular in the indoor ornamental plantation.
Common Names of Janet Craig Compacta
The Dracaena deremensis Janet Craig compacta are known by different names;
Compacta Janet Craig.
Pineapple Dracaena.
Dwarf Dracaena.
Dracaena Compacta.
Features of The Janet Craig Compacta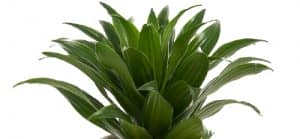 Size
The indoor plant can get about 3 to 6 feet tall on maturity. The name 'Compacta' refers to the smaller size and slow growth rate in comparison to the other family members.
Leaves
The leaves are deep-green, stiff, shiny, and have pointed ends. Each leaf may get about 2 to 5 inches in length.
Flower
The Dracaena jc compacta flower is white to light pink in color, growing from the centre of the rosette. It gives a typical honey-like fragrance. Howbeit, the plant rarely blooms. So, whenever you see this rare bloom, don't forget to take a few clicks. We would love to see and display it here!
Growth Rate
This compact rosette grows at an unexpectedly slow rate. 4 inches (10 cm) per year! Surprised, eh?
Toxicity
Just like other members of the family, it is toxic in nature. If ingested, the reactions include vomiting, depression, and hypersalivation. In cats, it may cause dilated pupils as well. Thus, make sure you keep it away from pets and kids. In case of ingestion or even if you suspect slight chewing, seek medical help as soon as possible.
Janet Craig Compacta Care
This plant is commonly grown indoors. These are usually easy to grow if you follow a few basic principles. The need for warmth and the low light makes them a little difficult to grow outdoors. However, rarely though, people of warm climates grow them in their lawns for decorative plantation.
Quick Guide:
Water: Low water requirements. Mist water the soil after the upper 2 inches get dry.
Light: Medium to low indirect light.
Humidity: Average.
Fertilizer: Low.
Let us have a detailed understanding of 'how to grow the Dracena Janet Craig Compacta Plant'.
Water Requirement
Watering is an important and a bit tricky part of growing a Dracaena. The plant prefers to stay on the drier side of the watering spectrum. Water the soil mildly and let the upper layer dry out between consecutive waterings. Howbeit, don't let the soil of the container get thoroughly dry.
Watering frequency depends upon different factors like temperature, light, and humidity of the atmosphere. You need to check the soil by hand or the moisture meter, at least for the new plant. Once you understand the drying pattern of soil, you are ready to set a schedule. Don't water the soil, unless the upper 2 inches of the soil feels almost dry to touch.
To give you an estimate of average levels, once in two weeks is good for the warm days. In case the plant is standing in bright indoor light, you may need to water it every week. Whereas, once every 3 weeks to 4 weeks is enough for the plant in fall and winter.
The slow-growing speed delays the visibility of the symptoms and results of inadequate watering. Brown tips or brown spots are common symptoms. The poor soul usually takes a few weeks to show the damage it has already faced. Over-watering is pretty harmful, just like the majority of the plants.
Brown Spots on the Leaves:
These plants have poor tolerance for trace minerals in the water, like boron and fluoride. Brown spots are the common and initial symptom of mineral reaction. So, it is better to avoid tap water and use distilled water for your Dracaena plant.
Sunlight Requirement
Grow the plant in a medium to low indirect light. However, the indoor peeps can happily stand in bright fluorescent light. The only difference is that the ones in bright light will need more water. So, if the plant is directly under or around a bright fluorescent light, make sure you water it adequately.
Temperature Requirement
The ideal temperature range for the Dracaena craigii Compacta is between 65 to 80 °F. However, it shows tolerance for low temperatures with a value of around 40 °F.
Soil Requirement
Quick draining soil providing good aeration goes well with this plant. The rich soil with more than 50% organic mixture shows good results for the health of your Dracaena jc compacta plant. Alternatively, you can use lava rock or a bagged potting soil like the African violet soil mix as well.
Humidity Requirement
Humidity is another important part of the Janet Craig Compacta Care. A moisture level around 25% is ideal to keep the foliage happy. In case of low humidity, the leaves may dry out. On the other hand, high humidity will result in spontaneous overwatering of the plant. Both of these conditions may lead to serious issues and even kill the plant.
Fertilizer Requirement
These slow-growing peeps don't crave additional nutrition. However, if you haven't repotted the plant for more than 3 to 4 years, low dose nutritional doses are of no harm. Feed a good quality liquid houseplant fertilizer every once to two months in spring and summer. Make sure you don't add any fertilizer after the fall starts.
Pot requirement
Use a medium-size pot with drainage holes at the base.
Repotting Requirement
Frequent repotting is not required for the slow grower unless the plant grows considerably larger than the pot. The best way is to check the roots of the plant every year in the spring. When you find them filling the pot, it is time to repot.
Grooming Requirements
You can clean the foliage with a damp cloth every month. This will ensure a healthy and fresh plant in your surroundings. These slow growers need considerable time to replace the unhealthy leaves. Consider cutting a few of the older or damaged ones to maintain the plant's health.
Growth Zones
The majority of Dracaenas are hardy for outdoor growth in USDA growth zones 10 and above.
Janet Craig Compacta Propagation
The common methods of propagation include;
Planting the Stem tip cuttings.
Placing the Stem cuttings on humid soil.
Season:
The middle of the spring is the ideal time to make some new Dracena Janet Craig Compact plants. You can try up to the middle of the summer. Howbeit, fall, and winter do not support new growth at all
Planting the Stem-tip Cutting
Use a sharp sterilized knife to cut 4 to 6 inches long tip cuttings.
Remove the leaves from the lower side keeping a few at the upper end.
Dip the base of the cutting in growth hormone and shed off the excess.
Now, plant the cutting in a small 3 inches pot.
Place the pot in a warm shady place.
The planted cutting will develop the roots in a period of 4 to 6 weeks.
Let the plantlet develop its rooting system for 2 to 3 months.
After about 3 months, roots and tiny shoots will be observed.
You can finally transfer it to some larger pot, about 6 inches in size.
Enjoy the new plant with its attractive rosette and slow growth.
Placing the Stem cuttings on humid soil
Cut about 3 to 4 inches of the stem and remove a few leaves.
Now, simply place it on moist soil. The setup should stay in a warm and shady place.
After about 2 months, the twig will develop tiny roots. This will be followed by shoot development in the 3rd
You can finally plant it in your desired place to enjoy your new Dracaena Janet Craig compacta rosette.
Janet Craig Compacta Problems
Pests
The plant is susceptible to mealy bugs. These insects look like tiny cotton particles on the leaves which can develop in the base of the rosette. Make sure you keep a monthly check up on your plants to pick and combat it at an early stage.
Dip the paper towel or cotton cloth in alcohol and gently wipe off the pests. Alternatively, you can use commonly available commercial sprays or Neem oil as a natural solution.
Related Post:
Summary
Janet Craig Compacta is a popular plant, perfect to beautify your small and under-lit space. This evergreen subtropical plant can grow around 3 to 6 feet. Dark-green, glossy and elongated leaves grow in rosettes to form the plant body.
This is a slow-growing plant and doesn't grow more than 2 to 4 inches annually. Go ahead and get them for your indoor plantation in pots and containers. However, the people of warm zones can grow these in outdoor lawns as well.
The Janet Craig Compacta Care includes a warm place with medium to low indirect light and watering after the topsoil gets dry. The foliage of these rosettes is toxic in nature. Make sure you keep them away from kids and pets and contact immediate medical help if required.