Calathea vittata can be handled easily and does not require much. They cannot adapt in outdoor situations, hence beginners who try to look for plants that they can care for by keeping them inside the house, are keen to buy this.
Moreover, this plant is very rare and not easily available, and like most indoor plants it requires indirect and bright sunlight. They require high humidity and warmth.
A few of the features of this plant are that they have beautiful patterns on their leaves which will put you in deep thought that if it's a plant or a piece of art. But as people say; nature is art. They are likely to open and close their leaves depending on the time of the day.
This plant is often referred to as "prayer-plants". They have luscious, dark green leaves. And under those leaves is a beautiful burgundy-purple that really pops out.
Calathea Vittata Classification
Family: Marantaceae
Genus: Calathea
Species: Calathea vittata
Genus's calathea:
Genus's calathea was introduced by G. Mey, and it's a vast genus and was introduced in the 16th century. Calathea is a genus of flowering plants that belongs to the Marantaceae family. It started to get popular, and calatheas were found in the homes of almost every individual who had a passion for plants.
Calathea has up to 200 species of various textures and designed leaves. One of those plants is calathea vittata, and some people like to keep these at homes or offices because they are easy to take care of.
Features of the Calathea Vittata Plant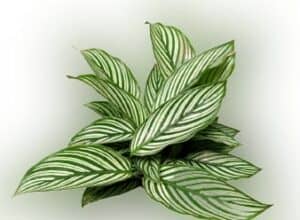 Size:
The plant can grow up to 24-26 inches in size, so clearly, it's a small plant and can be kept on the office table or dining table, however, an individual wants.
Growth:
Vittata calathea has the potential to grow their full size if they are given the right requirements because they are fast-growing.
Toxicity:
The good news is that these plants are not toxic, so they can be around children and pets but they do contain harmful substances like every other plant such as bugs, pesticides, etc. So, it's for the best if they are at arm's length from children and pets.
Calathea Vittata care
People are at this assumption that calathea vittata do not require much care, but the truth is that they also have certain needs that have to be met, for them to grow. These are quite rare and have water requirements, sunlight requirements, humidity requirements, fertilizer requirements, repotting requirements, and pruning needs, which are discussed briefly.
Quick guide:
Water: high
Sunlight: indirect but bright
Humidity: high
Fertilizer: twice every month
Light requirements
Every plant loves light especially calathea vittata, but the direct light can harm them and the leaves will turn brown and dry, and so for that, a better approach would be to give them indirect, but bright sunlight.
That can be well-lit rooms or behind sheer curtains, or anything suitable for the plant and the owner. This plant is known for its beauty, and the direct sunlight will only take away the beauty, and the plant won't grow to its full potential.
Watering requirements
Vittata calathea, requires a lot of water and not just any type of water, they also have requirements for the water such as the water should not have any salts or minerals in them. If there is, that can be rough and harsh on the delicate roots of this plant.
In a tropical forest, calathea vittata receives water from rain, and they are located in an area where rains are very common, hence, they want more and more water.
Calathea plant is totally okay if you over water them, but isn't okay when you don't water them and punish you by getting brown bits on the end of their leaves. These plants require watering every 5-6 days, so keep that in mind.
Soil requirements
Calathea vittata care is not easy, as it seems, it requires a certain kind of mixture of soil and that is of peat and half that amount of perlite. Soils texture is a key element, it should be able to hold the moisture but should be well-draining as well, so the excess water can seep out from the holes.
In the spring season, you should restore the upper soil so that it can hold onto fertilizers and nutrients in a much better way. Charcoal can be used as well, as it's one of the best because it enhances the pH of the soil. And also kills the toxins and absorbs more water. This is necessary for the plant's growth.
Temperature requirements
Calathea vittata is keen on living in warm climates and so the key element is to provide a temperature that gives them a sense of home. The plant can live under 18-23 degrees Celsius which is 65-75 °F.
They do not like sudden temperature changes, so stay on one chosen temperature. Temperatures that are above 15 or 16°C can be harmful as the plant can freeze to death.
Humidity requirements
For vittata plant, high humidity is a must. If you live in a dry area, you should purchase an indoor humidifier. If you can't buy that, then the method called "pebble tray" would work wonders. You just have to put a tray filled with pebbles and water. Water droplets will convert into water vapor and evaporate, leaving the plant with all humidity for it to absorb
Fertilizer requirements
Nitrogen fertilizer is best for calathea elliptica vittata, and not every day or every week, but only twice a month. And that also especially in summers and springs because those seasons are considered the growing seasons.
There are many fertilizers available so choose wisely before using them on the plants because the plant may react in a bad way by changing its color to yellowish-brown.
Repotting requirements
Vittata plant also needs repotting, because even though the plan is quite small, it still requires a larger space-time to time. Look at the drainage holes, and you will know that it's time to shift it into a larger pot. When it's time, the roots start popping out of the holes and the soil isn't being drained properly, that's when you know. One way is to divide the plant into different parts and repot them one by one.
Pruning requirements
Calathea elliptica vittata sometimes suffers in breathing and so the surface of the leaves has to be cleaned from the bacteria on there, and for that, a damp cloth can be used to clean or misting the plant. This should be done every week to avoid bacteria growth and attacks from pests.
The leaves can also take the color of brown, now that has multiple reasons, maybe the care isn't being done the way it should, or simply because they are aging. When you see brown tips, you can trim them off. Sometimes the entire leaf turns brown, in that case, cut the leaf.
If the color is fading away, one reason can be that it's exposed to direct sunlight, change its location. To trim the tips off, use sterilized tools. Renewing your plant is always great, so do it often.
Propagation of Calathea Vittata:
The best time to propagate calathea vittata is march. So, it's done before the growing season has begun. These are best propagated if done in divisions. The process, however, is a piece of cake, any amateur can do it.
To begin, fill the pot with the soil into which you will put the section of the plant that you want to propagate
Take the plant out
After the plant is out, see if any stems have to be cut off, if yes, then cut them off so they can grow separately.
Remove the roots that are coming in between
The stem that you have separated should be kept in a smaller pot and have a bit different requirement than the original calathea vittata.
The stem should be in even lesser light from the original plant, so it can grow
Humidity is important, for that cover the plant with a clear plastic bag.
Once the stem has started to grow, keep it with the original plant
They have the same requirements now
Let it grow to its full potential
Related Posts:
Summary
Calathea vittata is rare but beautiful, that has a lot of different requirements that have to be fulfilled for them to grow fully. Besides how beautiful this plant is, calathea vittata's care is no easy, but once you get a hang of it, even an amateur can do it. The requirements are water, sunlight, fertilizer, soil, temperature, repotting, and pruning.
This plant has a height of 24-26 inches and is a smaller plant compared to others. It has to be kept in a warmer area, needs high humidity, indirect but bright sunlight, and soil that can hold moisture, and it would grow to its full potential.
Vittata calathea is from the Marantaceae family, and almost all the plants from this family stay indoors and are great for beginners. People who own greenhouses can keep these plants there. This plant is not toxic but does contain harmful substances such as bugs, pesticides, etc, so keep them at arm's length from children and animals.