Planet Earth is a rich planet with copious varieties of plants producing different kinds of fruit and vegetables. All these natural eatables have their specific and irreplaceable nutritive values. Each of them has its own importance to create a balanced and delicious diet for us which not only ensures our survival but a healthy lifestyle as well. Black Vernissage tomato is a vegetable and a unique cultivar of common red tomatoes with iridescent reddish-green patterns on the upper layer.
The skin is thick and cracks resistant. The taste is sweet, tart, and slightly smokey which makes it different from the other tomatoes. In this article, we will highlight some important points about the Black Vernissage Tomato plant.
Black Vernissage Tomato History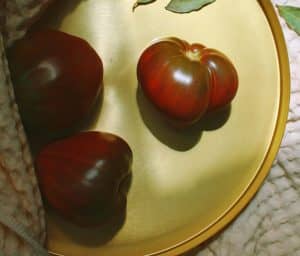 Black Vernissage tomato is a cultivar of Heirloom tomatoes and is Indeterminate in nature based on growth habit. Heirlooms are one amongst the many other types and are the basic and the most ancient cultivar of tomatoes. These are available in a variety of colors from red, orange, yellow, and green. The fruit is meaty with a good number of seeds inside it.
The taste ranges from sweet to tangy and serves in all the uses of tomatoes. Vernisazh Chernyi is the other name of Vernissage Tomato. They are prolific in nature, producing large quantities of fruit. It is important to discuss here that tomato is botanically defined as a fruit because it is developed from the flower and has seeds inside it. However, in 1893 the Supreme Court of the USA ruled it out as a vegetable on basis of its culinary uses.
Growth Habit of Black Vernissage Tomato
Tomatoes are basically classified into two groups based on their growth habit.
The Determinate Tomatoes:
The tomatoes which grow on bushes are called determinate tomatoes.
The Indeterminate Tomatoes:
The tomatoes which grow on vines are indeterminate. The Black Vernissage belongs to this group.
Common Types of Tomatoes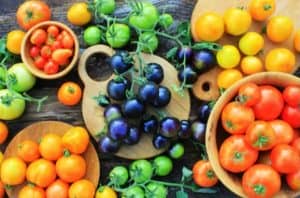 Black Vernissage belongs to the famous Heirloom types of tomato. Other common types of tomatoes are mentioned below:
Red Beefsteak Tomatoes.
Green Beefsteak Tomatoes.
Grape Tomatoes.
Cherry Tomatoes.
Cocktail Tomatoes.
Roma Tomatoes.
Black Vernissage Tomato Origin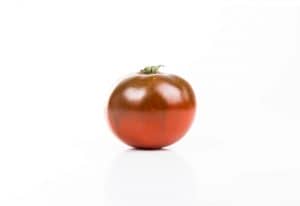 Ukraine is the country of Black Vernissage Tomato origin. This is a state near Russia. They are commonly grown in Cascade and Virginia. The term 'Vernissage' means 'exhibition of an artistic product' given to it due to its beautiful appearance. It belongs to the family Solanaceae, the genus is Lycopersicon and the species is Lycopersicum. The Tomato Black Vernissage is a perennial plant. It reaches up to a height of 4 to 6 feet on average, however, the height and spread of the plant and leaves vary widely among the species. It grows in clusters and large quantities.
Size of Black Vernissage Tomato
The Vernissage tomato species are available in two types of sizes;
The small size is equal to cherries.
The medium is the size of common tomatoes and weighs less than one pound.
The Black Vernissage Tomato Plant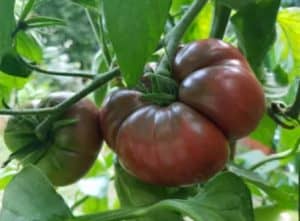 Some of the features of the Tomato Black Vernissage are mentioned below;
Toxicity:
The roots and leaves are toxic in nature and can create health issues and ulceration on being ingested.
Pollination:
The Black Vernissage follows pollination by insects and is also a good self pollinator.
Flower Of Black Vernissage Tomato Plant:
The flower is yellow in color and the height of bloom is around 1 inch. The flowering season varies amongst different species and depends upon different features including the time and conditions of cultivation.
Deer Resistance:
One great feature of this plant is that it is not a preferable food by deer and it is also a reason for its high production quantity.
Black Vernissage Tomato Growing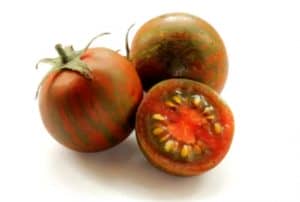 The methods commonly used for propagation are mentioned below:
Propagation by Seeds
The seeds of Black Vernissage are processed in a specific manner before sowing them directly into the soil of the garden.
Storage of seeds:
The fruit in good quality is allowed to ripe and the seeds are collected. After drying and cleaning, they are fermented and then stored in the next step.
Sowing the seeds:
The seeds of Black Vernissage are sown 1/8 to 1/4 inches deep into the sterile seed-starting mixture which is commonly available in the market.
After they germinate in the mixture taking about one to two weeks of optimal care, they are then transferred into the ordinary soil.
Time of Sowing:
It is important to sow the seeds before the first expected frosting as this season will suppress the growth due to the harsh weather.
Care of seeds after sowing:
The seeds need to be in moist soil and the temperature should be in the range of 75 to 95 degrees Fahrenheit.
Propagation by Stem Cutting
Another popular method of growing this plant is by cutting the stem.
Use sharp scissors to cut the stem of a healthy Black Vernissage and plant it in a pot with soil and some organic fertilizer in low quantity. Wait for the sprouting of the baby leaves as a sign of the successful cultivation process of the plant.
Black Vernissage Tomato Care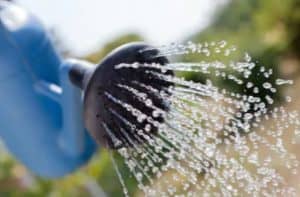 The important features are mentioned below:
Water Requirement:
The plant needs medium quantities of water, provided regularly.
Overwatering leads to common plant issues like root rot or yellowing of leaves.
Sun Requirement:
The Black Vernissage plant needs full sun exposure for its growth.
Temperature Requirement:
The Tomato Black Vernissage has an ideal temperature range of 40 to 50 degrees Fahrenheit.
Pot Requirements:
The Vine varieties of tomatoes (Indeterminate) like the Tomato Black Vernissage require huge pots of 5 gallons or more, unlike the determinate ones which can easily grow in common gardening pots.
Growth Zone:
The hardiness growth zone is 11.
Uses of Black Vernissage Tomato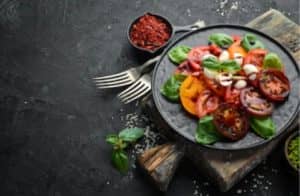 Vernissage tomatoes are used in many forms. Common uses are mentioned below:
They are eaten raw.
Used in fresh salads.
It is used in sauces and ketchup for its rich taste.
Used for roasting.
It's also used in many recipes in cuisines of different cultures.
Used for drying and Canning to be used easily by customers in all seasons.
Related Posts:
FAQs
Is black vernissage tomato indeterminate?
Black tomato is an indeterminate tomato even though the fruit is small. It is bright red with green and black markings.
Are vernissage tomatoes determinate?
The determinate varieties of tomatoes can easily grow in common gardening pots, unlike the vernissage tomatoes. They are vine-like and they require large pots and massive space to grow.
What do black tomatoes taste like?
Black tomatoes are less acidic than red tomatoes. Their taste is specifically said to be smokey, wine-like, and salty. They have a mixture of sweetness and salt.
Conclusion
Black Vernissage tomatoes are a unique variety of indeterminate tomatoes having thick skin of dark reddish color with green striped patterns. The juicy fruit with its sweet and tart taste is available in different colors. Popular uses are in sauces, purees, sandwiches, canning, roasting, salads, and even eaten raw. Next time you see the Black Vernissage tomatoes in the local market; consider getting some for you to be added to your daily diet!!