Are you a fan of unique plants? The answer would be definitely a yes! You are surely going to love one of the most photogenic plants, the Begonia maculata. This begonia is attractive enough to attract your eyes and win your heart. The leaves are dark-green, irregular, and angel-wing shaped with silvery grey dots and purplish-red undersides. Sounds interesting? There is another surprise!
This Polka Dot Begonia is pretty low-maintenance and grows happily without any fuss. This delicate perennial peep is excellent to form indoor decorative table pots, containers, and terrariums. Take my word, you and all the visitors are surely going to fall in love with this fairy tale plant.
Let us know more about the mesmerizing tropical Brazilian native, the Maculata Begonia along with its care and propagation.
Begonia Maculata Classification
Family: Begoniaceae.
Genus: Begonia.
Species: B.maculata.
Genus Begonia
Begonia is proud to be one of the largest genera among the flowering plants. This diverse genus comprises more than 1,800 perennial species of different natures. These natives to the tropical and subtropical areas of Africa, America, and South Asia include both indoor and outdoor plants.
Bright, colorful, and unique foliage is the main feature of these plants. Moreover, they grow petal-less, single-petal, or bisexual flowers.
Begonias have been extensively hybridized to form a wide range of plant varieties. In addition, this genus is yet not discovered completely with a number of species queuing to be described.
Begonia Maculate Common Names
Angelwing Begonia.
Clown Begonia.
Polka Dot Begonia.
Trout Begonia.
Spotted Begonia.
Features of Begonia Maculata Plant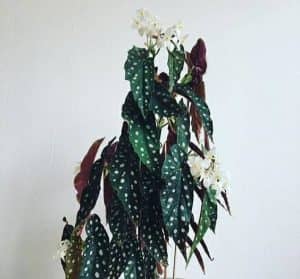 Height
Maculata can grow up to 60 inches or 1.5 meters in height.
Leaves
Each mature leaf can grow in the range of 20 to 25 cm in size.
Begonia Maculata Flowers
Clusters of angelic white flowers enhance the beauty of this peep in the warm days of spring and summer. These have bright yellow centres, 4 to 7 solid petals, and grow on bamboo-like knotty stems.
Each mature flower is about 3 to 5 inches in size.
Toxicity
Unfortunately, more than 1000 members of this genus are a part of the ASPCA list of toxic plants. The sap and juice of the plant contain microscopic toxic crystals. Ingestion of even chewing can lead to salivation and burning in the pet's mouth. Moreover, this is followed by nausea, vomiting, and other health issues. So, be careful fellows! Make sure you keep these beautiful Polka-dot plants away from kids and pets.
Begonia Maculata Wightii
The beautiful peep has several varieties. Each plant shows slight differences in the foliage, especially in the shape, size, and variegation on the leaves. Howbeit, these differences are pretty minimal, even some are hard to distinguish.
One popular variety is the Begonia Wightii. People may only know the Maculata in the form of this variety. The names of these varieties are even used as the common names for this plant.
Begonia Maculata Care
Your angle-winged Begonia needs moist soil, low to bright indirect light, and high humidity. Let us have a detailed look at the care and requirements of the plant. The requirements and care of almost all the varieties including the Begonia maculata Wightii are the same as below;
Water Requirements
These plants like to stay in moist soil and dried upped the layer between consecutive waterings. Just water the plant generously and let it drain out. Now, wait for the upper 2 inches of the soil to get about 90% dry before you water again.
The water requirement of the plant varies with the temperature and light in the surroundings. In summer, you may need to water once to thrice a week, depending upon the weather. Howbeit, in winter, water less often and in lesser quantity. Once in every 10 to 14 days usually seems enough to keep the Begonia happy.
Over-watering, wet and soggy soil is very harmful to the plant. It can lead to all sorts of issues including root rot and fungus.
Sunlight Requirements
The plant goes well along with different levels of indirect light. You can select any place with bright to low light exposure. However, plants staying in lower light levels for a long duration may get weak and leggy.
Direct sun can scorch out the foliage. Make sure you keep them away from the fierce sun.
Temperature Requirements
These Brazilian native plants love to stay warm. Ideal temperature ranges between 65F to 86F (18 to 30 C).
People of cooler zones, don't forget to transfer them to some warm spot before it gets cold.
Humidity Requirement
Tropical Plants generally need to be in humid places. Make sure your Clown Begonia is staying at a minimum moisture level of 45%.
You need to fix the moisture level in a dry atmosphere, especially in winter. The easiest way is to introduce a room humidifier. Additionally, you can group some plants or use a pebble-water tray under the pot.
Some people mist Begonias, but only if they are in a well-ventilated place. Well, we don't recommend misting Begonias because they are susceptible to powdery mildews.
Low humidity doesn't kill the plant but it doesn't flourish either. Moreover, the humidity should be moderately high and not exceeding above 70%.
Withered foliage, leaf loss, and inability to bloom are the possible symptoms of inadequate moisture. While extra humidity leads to pest attack and fungus.
Soil Requirements
Begonias need well-draining soil. You can use any light houseplant potting mixture. Perlite helps to enhance the drainage capacity of the soil.
Fertilizer Requirements
Begonias are not heavy feeders. Use a good quality houseplant mix in diluted form. A monthly or bi-monthly dose in spring and summer days is enough for a healthy plant. Never fertilize the plant on colder days because the nutrient consumption is relatively low.
Pruning Requirement
Remove the old and unhealthy leaves at least twice a year. You will help your Polka Dot Begonia to look good and get healthy.
Repotting Requirement
The plant generally likes to stay root-bound. Howbeit, this quick grower quickly grows out of the pot and soil. Annual repotting is a nice idea. You can only add fresh potting mix/soil and keep the same pot as well.
Begonia plants are annual in nature. So, they do not simply grow back every year and need re-plantation. You can save the tubers and save for the next year. When the foliage starts to fade in the autumn, simply dig them up from the soil. Now, store them indoor at a warm spot waiting for re-plantation until the middle of the spring.
The Maculata growing in containers can be left to stand in the same pot at some warm spot. However, they should be watered minutely and the soil should not be moist.
Growth Zone
The USDA zones of hardiness are 10 to 12. People of these areas can grow them easily throughout the year. However, others need to keep a check on the temperature levels.
Begonia Maculata Propagation
There are many methods to propagate your Clown Begonia plant. However, we are sharing the easiest one to help you get some more of these beauties.
Propagation by Stem-Cuttings
Just cut a 5 to 8 inches stem from a healthy plant. Make sure you cut below the bud and there are no flowers n the cutting.
Remove the leaves from the lower side while keeping a few at the upper end.
Take a jar of water and fill it with sterilized water. If you are using tap water better let it stay for a night. This will allow the chlorine to settle down.
Now dip the cutting at least 3 inches in the water. Place the jar in a warm place with indirect light of medium intensity.
Change the water every week to keep it clean.
You will see the development of the root after a period of about 5 weeks. You can transfer the cuttings to soil or let them grow in water.
Soil Propagation:
You can directly plant the cuttings in moist and well-drained soil or potting mix. Water the soil with a mild spray every third to fourth day to maintain the moisture.
Root and development will be seen after about 4 to 7 weeks. Let the plant grow for up to 2 months.
After about 3 months, follow the Begonia maculate Care in the previous section.
Make as many plants as you want! We hope you get all the praise by gifting these unique peeps to your plant lover friends.
Related Posts:
Plant Problems
Diseases
Common Diseases include;
Bacterial Leaf spot
Blight
Botrytis Blight, and
Powdery mildew.
The main reason for these issues is excessively high humidity and over-watering. The first two are caused by Xanthomonas Campestris PV. Moreover, the later one is the result of the Botrytis Cinera attack. These diseases result in holes in the foliage. Uncontrolled, they are strong enough to kill the plant.
Solution
Keep a regular check at the plant. This will help you to sort out any occurring issue in time without it getting severe.
The first possible solution is to remove the affected leaves. Secondly, get any good antibiotic spray that is easily available in the market.
Pests
The common possible Begonia pests include Caterpillars, Earwigs, and Snails. These insects feed on the foliage and make small holes in the leaves. Try your best to keep the plant away from such fussy creatures. In case of attack, separate the plant from the healthy ones at your earliest. Follow this by a good grade pesticide spray, easily available in the market.
Summary
B. Maculata is a rare and exotic annual plant. This tropical Brazilian native can grow up to 2 feet. The leaves are elongated, dark-green with silvery grey spots and reddish undersides. In the warm days of spring and summer, the plant looks even more beautiful by blooming white flowers. These Begonia maculata flowers have yellow centers and grow in clusters on dangling stems. This unique peep makes an excellent indoor and terrarium plant.
The plant has several closely resembling varieties including the Begonia Wightii as a popular one. In addition to the beauty, these Begonias come with another plus point of being low-maintenance. A warm humid space with indirect light and moist soil is all you need to keep all of these Maculatas happy. Finally, enjoy the beauty of these Begonias, but don't forget the toxicity. Thus, make sure you don't let kids and pets mingle with this mesmerizingly beautiful, Begonia Maculata.