If you are of Italian origin, then at any point in your life you might have grown basil plant. Thus, Indian originated plant is used vastly in Italian cooking. It has a plethora of different flavors ranging from licorice to cinnamon. It has smooth leaves. And the color of the plant varies from tender green to purple.
They are used in a variety of foods like pasta, pizza, etc. but the most famous is an Italian sauce that is made by this very plant called Pesto. It is a very famous sauce and many people enjoy it. Now let me tell you ways in which you could grow healthy basil leaves at your home.
How Basil Leaves Grow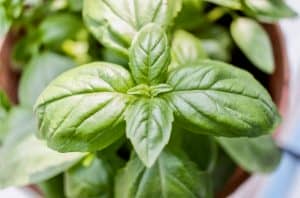 The ideal zone to grow this plant in zone 10 at least. After the seed is planted it takes about 60 to 90 days for the plant to reach maturity. Once it is mature you could start the harvesting process. The more leaves you take from the plant the more beautiful and fresh the next batch of the leaves would be.
This plant could get as high as 6 inches, to stop this blooming process you should pinch the top leaves of the plant as frequently as possible. The seeds are grown after the flower is grown in the plant. After the seeds are grown then the flavor of the present leaves start to its flavor with respect to time. To avoid this all the leaves should be plucked and used. The flowers of this plan can also be consumed.
The maximum height of your plant depends on many reasons which include the amount that you harvested, the plant's variety, growing conditions of the plant, etc. For the majority of the gardeners, it's about 2 to 3.5 feet but it can grow as long as 6 feet. The shortest variety is of 6-inches.
The best time to plant basil leave is at the end of frost when the environment is warm. Plant it at a place where it has full access to sunlight, in a well moist soil containing essential nutrients. In case you want to plant it indoors then the heating cable is very essential for the plant. This is because the plant is tropical and can't stand cold weather.
Methods to plant basil plant
By seed compared to other plants Basil plant germinates at a faster phase, you could get a plant in 6 weeks after the seed is planted. We just need to make sure that the soil has an ideal temperature that is 70 degrees Fahrenheit.
By propagation method
the stem of the basil plant is put in water it starts developing roots. The stem selected should be 4 inches long and it's better if there are no flowers in it as if there is a flower in the stem then the plant will spend more energy keeping it alive rather than growing new roots. In a week you will see the formation of new roots. Once these roots are healthy enough you should place it in a container or anywhere in your garden as you desire. As compared to the seeding method the plants grow faster in the propagation method of growing basil plants.
Water required by the basil plant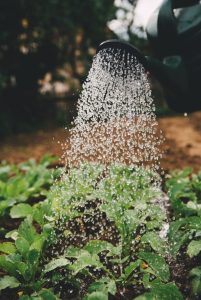 The soil of the Holy Basil should not be dry; a person should water it when it feels dry. Do not overwater the plant as it could harm it and water it on the soil, not the leaves.
Spacing
Spacing is done between the plants so that they could grow freely without getting in each other's domain. The spacing of 12 to 16 inches is highly encouraged between the plants. If you don't have vast space then you can consider growing spicy globe basin as it doesn't take enough space and its leaves piles up in a particular place.
Companion planting
Basil plant is usually planted along with parsley and tomatoes as they complement each other many farmers are also of the opinion that basil plant brings a sweeter and better taste in tomatoes. It could be grown alongside other plants too like a peer, lettuce, oregano, etc. Basil protects tomatoes against harmful pests that attack tomatoes. Basil leaves are also a great mosquito repellent.
The light required by basil leaves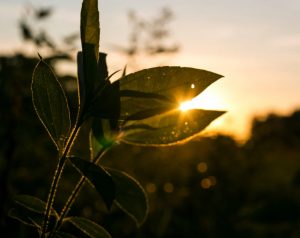 Each day at least 6 to 8 hours of sunlight is of uttermost importance for this plant to grow properly. The sunlight gives the plant a natural tendency to resist many kinds of diseases and has strong leaves. But in regions where there are extremely hot climate basil leaves should be planted in a partially shaded region.
Soil requirements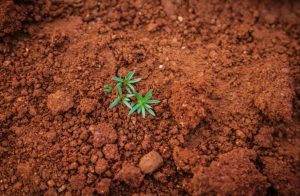 Well-Drained moist soil is needed for planting basil leaves. The soil should have essential nutrients but if they don't then the soil could be improved by applying mulch like compost. Make sure the soil is not too rich, as if it is then bail loses its flavor vastly. The PH of the soil should be neutral for this plant.
Required temperature and humidity
Basil strives in a heated environment. It won't grow up to mark if the daytime temperature is in the 70s in the morning and 50s degrees Fahrenheit at the night. This is the minimum requirement of the basil leaves and they won't grow at any other temperature.
The plant is highly susceptible to frost and would fall at a faster phase-in frost than any other plant. You can help the plant by putting row cover. This would only decrease the rate of falling leaves but not entirely stop it. the cover of the row should be far from the leaves as it could damage the vulnerable plant and turn the leaves black.
In a place where there is no frost it is encouraged to let the basil plant have flowers and thus let the plant self-seed the resulting production of many basil plants with minimum efforts.
Potting of the basil plant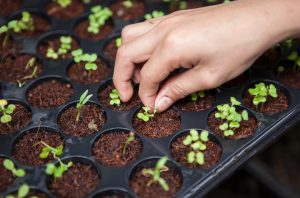 There are a variety of ways that this plant can be grown these include planting seeds, by propagating with the help of already existing plants. Always provide it with a heat source inside the house. Add feed once every month for better growth. If the plant is not fed well then the leaves would have pale green color irrespective that it was planted inside or outside the house.
Harvesting basil leaves
It is highly encouraged to clip the leaves of the basil leaves as usually as possible. The more the leaves are taken the fresher the new leaves would be. You can also clip a vast amount of leaves as it won't have any negative effect on the new growth. It is encouraged to pluck the leaves before the flowering of the basil plant. You can plug the basil flower too.
People can consume bail flowers too if they wish. After plucking the flowers the plant's energy is directed in one place only, making more fresh and tasty leaves. If you plug more than 2/3 of the plant then there can be some complications in the new production of leaves so only 2/3 of the leaves should be plugged at once.
Is Basil a Perennial?
Is Basil annual or perennial? This is a common confusion among the peeps interested to grow this shrub. The plants which complete a lifecycle of growing from seeds, blooming, and then producing seeds again in a year(one growing season) are called annual plants. The seeds are replanted and serve as the connecting link between two generations. On the other hand, plants growing for more than a year are called perennials.
Now, coming towards the common question, is Basil a Perennial? The life span of Basil depends upon the climate. Commonly, these plants are annuals in nature living up to a year only. It usually dies after a year, needing you to replant them. However, in warmer regions, it lives a little longer like a tender Perennial. The Mediterranean and tropical climates including regions like Africa skip the frost letting the Basil Shrub live for around 2 years.
Different kinds of basil
There are many varieties of basil each with different texture and taste some of them are as follow
The first variety is 'Cinnamon' or 'Mexican Spice' it has a spicy taste with a beautiful smell of cinnamon. This variety also has a purple flower that adds to its beauty
Another variety is 'Genovese' this has a very sweet taste and its leaves have a larger size than other varieties.
'sweet Lemon Dani' is another variety of basil plants as you can judge by the name that it has a lemony taste and is usually used in pesto to give it that lemon touch. Although it has large leaves its predecessor has small leaves.
Another of the most famous variety due to its purple color is 'Red Rubin'. It retains this color from the beginning. It also has a wonderful flavor and is mostly used for the flavoring of vinegar.
'Red Rubin' is also called 'Finissimo Verde a Palla'. It is used to add to the beauty of gardens by acting as filler in the pots.
Pest infection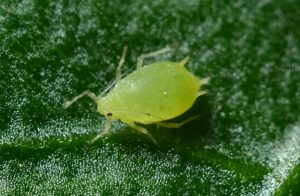 When it comes to indoors the most common pest found in the plant is Aphids. When the basil plant is outside slugs and beetles can cause harm to the plant. Basil leaves with the hole in them are a sign that they are infected by pests. A home remedy can be made to eliminate these pests. To make the said solution we need liquid soap and water. Take a gallon of clean water and mix it with 4 to 5 teaspoons of liquid soap. Dishwashing soap is preferred. Then add this solution to the plants.
Things that could be cooked with basil leaves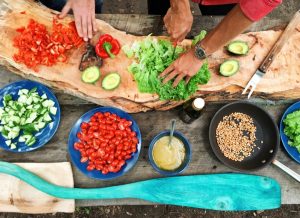 Basil is used for cooking a variety of different things apart from the most famous Italian sauce pesto it is also used in sandwiches, ratatouille, and salads. People also use it as a topping for their pizza. They are used in cooking as it adds on to the flavor of the food because of its delicious fresh leaves.
Methods to preserve basil leaves
There are two ways this could be achieved either by drying them or freezing the leaves. If you dry your basil it will lose some of its flavors. Frozen basil will not lose the flavor as compared t dried basil but it would lose its texture. Frozen basil is less convenient than dried basil.
Garden design by basil Plant
Basil plant is usually grown with tomato plants. This makes things very convenient at the time of harvesting and both of them complement each other when they are grown together. Basil leaves are not only found in the vegetable section of the garden they are also found in types of the garden like the variety of basil plant "Spicy Globe," that is found in the ornamental section of the garden. Any variety of basil can sustain in containers we just have to place it in that part of the garden that has ample sunlight.
Basil variety that flowers
One of the basil varieties that have flower is sweet basil, it grows about 1 to 2 feet and has a very attractive white flower. Its leaves are very glossy.
Other varieties that grow flowers are red Rubin and dark opal they both grow a purple beautiful flower that is also known as purple basil.
Salient features of Ocimum basilicum variety of basil plant
Ocimum basilicum has many names like sweet basil, tropical basil, and Thai basil, and sometimes it is even referred to as common basil. It's from Labiatae or Lamiaceae Family. It has beautiful white and purple flowers that blossom in early summer. You can witness the flowers growing in this plant from august till September. Male and female both organs are found in these species. Many insects especially bees are very attracted to this plant. Its seeds and leaves both can be consumed by people.
Medical uses of Ocimum basilicum
This plant has a history of more than thousands of years for its medical uses. Ocimum basilicum has proved to be miraculous in curing problems related to digestive tracks and the nervous system of the human body. It can ease any problems like colic, stomach cramps; it eases flatulence and is particularly helpful in case of indigestion. The tops of flowers and leaves are stomach cramps, galactagogue, carminative, antispasmodic, and much more. They can even be consumed in case of antispasmodic, feverish illnesses, gastro-enteritis, insomnia, exhaustion, depression, and relief against many other illnesses.
In ancient times and even now a day in some places they are used to treat acne, insect stings, various skin infections, it also cures loss of smell and the poison of snake in case of snakebite can be reduced by this basil herb. The opacity and film of the eyes could be removed by this plant. Bowl complaints by children could be easily cured by this plant. This plant is also bactericidal and internal parasites can be treated by it. In ancient Chinese, this plant was used to treat gum ulcer and kidney diseases.
Other benefits of Ocimum
This plant is also used in making essential oil that is used for many purposes like the making of perfume, as a food flavoring, etc. flowering tops provide about 1.5% of essential oil. This plant is very helpful as it is both mosquito and insect repellent. You could rub it in your skin to be saved from mosquitos. Or plant it in your garden or the greenhouse so that insects could not harm your plant.
Precautions
Although this basil variety has many benefits it contains estragole an essential oil that has no harm to normal people but can cause harm to pregnant women and small children under 2 years old. So keep them away from the range of small children.
Salient features of Holy Basil
Holy basil is also known as Ocimum tenuiflorum or in some countries as Niazbo plant, tulsi, or Tulasi. It is also from the Lamiaceae family of plants. It is widely grown in Southeast Asian tropic regions and its country of origin is said to be India. Nowadays they are grown widely in West Africa, Australia, and some regions of the middle east. It has many benefits and is considered a sacred plant. They call Ocimum tenuiflorum Tulsi which translates into "the incomparable one" . they plant it in their temples.
Medical benefits of holy basil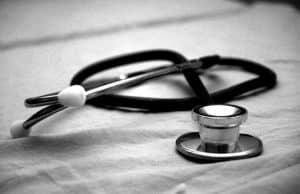 Holy basil is considered to treat many diseases from ringworms to eye diseases. It is considered that it can cure all mind, body, and spirit. It contains many nutrients that are helpful for humans like zinc, iron, vitamin A and Chlorophyll, calcium, etc.it could be used as a supplement.
Use as anti-depressant
could be caused by many reasons they could be physical, infectious, emotional, or chemical. It cures many types of these stresses as it has an adaptogen that helps in coping with many of these types of problems. Holy Basil has shown to improve a person's swimming time, sleeping problems, sexual problems. It also reduces exhaustion and tissue damages.
Acts as anti-oxidant
protect against many harmful chemicals. It also helps in the reduction of cancerous cells from the human body thus preventing cancer.
Against infections
has anti-inflammatory, antifungal, analgesic, and antibacterial properties. Thus many people use it to heal their wounds. Because of these properties of holy basil, it can be used to treat acne, keloids, scars, and mouth ulcer.
Eases blood-related issues
has been found effective when used by people who had type 2 diabetes. They saw a normal sugar level as a holy plant makes an excess of insulin in the blood lowers cholesterol and reduction in weight gain is witnessed by the patents. It reduces blood sugar by up to 24 percent.
Helps in joint pain and stomach problems
suffering from fibromyalgia and arthritis can have relief from their pain by the use of the Niazbo plant (holy basil). Many people have stomach problems like acidic reflux in such a case holy basil could be consumed.
Properties of Ocimum canum
It is known by many names like Ocimum americanum or hoary basil or American Basil.it has lavender flowers. These are widely used for making medicines. They originated from China, Africa, Southeast Asia, and the Indian Subcontinent.
Ocimum canum is used to reduce blood glucose in the human body. It can relieve tooth problems. Linalool is present in these plants. The seeds of this plant can provide the necessary fibers to the human body and can cure constipation. They can also be used to cure the urticarial rash and asthma. They are also used in foods to add flavor.
Related Post
Features of Dark opal basil
Dark opal basil is also known as purple basil. It grows up to a height of 20 inches. Dark opal basil has small dark purple leaves. It can be grown as an ornament plant.it is made after selective breeding of Ocimum basilicum. It has many uses like the digestive tract can become calmer by its use. Purple Basil causes relief to muscles by calming muscle spasms. Nausea can be cured by chewing these leaves.
Like other varieties of basil it also has antibacterial properties and can provide relief against insects bites and provides relief against acne .dark opal basil has many vitamins like vitamin K, C, A, B6, tryptophan, calcium, potassium, and Iron.this can also be used as a supplement because of the presence of these vitamins.
These were some of the features of the basil leaves and the methods and techniques that could be used to plant them. This miraculous plant has a great many health benefits and should be used in our food to counter many diseases and problems.